Day 3 - Monday, 1st September 2003 - Toowoomba to Esk
After a lot of drinking yesterday afternoon and evening (we found a pub serving something other than XXXX) I left among the first starters, I was ahead of them. Due to riding through Toowoomba, there were lots of traffic lights, I don't think I got a single green light. Once leaving town the road was good with some nice varied cycling. Hoping to have a brief stop over at morning tea turned out to be a problem, the weren't set up by the time I went through. I kept going and we were riding through some beautiful areas, we were surrounded on both sides of the road by eucalypt forest.
I made lunch by about 8:10am and was one of the first through, I hung about at lunch until about 8:30am and set off again. From lunch we had a long steep downhill, it was about 2kms long and we lost about 200m. It was a bit scary at times as the road was not super smooth and I got hit by a crosswind about half way down. After that there was a lot of climbing to afternoon tea. Before afternoon tea there was a brief detour to a lookout, the climb was impossible on my bike but the view was worth it. Again afternoon tea was not ready so I only stopped long enough to stretch my back. Leaving afternoon tea I (along with everyone else) expected good downhills. We had to wait a while for them but the did not disappoint. I soon calculated that if I pushed at it I would be able to make camp by 10:30am, I had to work but I believed I could do it. After crossing Redman's Creek about 5 times and working hard I made camp at about 10:29am. I helped unload the luggage truck (it was the quickest way to get my bag) and set up my tent.
| | |
| --- | --- |
| Distance | 81.81 km |
| Average | 27.84 km/hr |
| Time | 2:56:19 |
| Maximum | 61.70 km/hr |
Images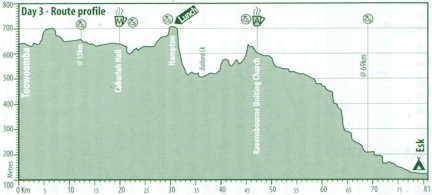 Day 3 Profile
Click Here
for more Photos from Day 3.