Day 9 - Sunday, 7th September 2003 - Kin Kin to Gympie
Last day, damn it felt good packing up the tent for the last time. I was going to get away later at about 7:30am but I was ready by 7am so I set off. I got about 500m before I realised that I had left my Camelbak behind at the gate. Better than a few k's down the road. For the first time since day one I was passing people, I hit the first big hill at about 6kms in and it was a pearler. It was steep and long. As is the case with my bike I was out of gears quickly. I powered through and made it but I knew there was worse to come. It was nice riding up until about 10kms came along, then we hit a hill called Gentle Annie, it was short but I couldn't ride it. I had to get off and walk. The local cycle club were half way up cheering people on, they had written the gradient on the road, 17%, that is steep in any ones book.
Leaving Annie behind we had 20kms to cover, another rider and I rode together and ploughed on, we stopped briefly at Morning Tea and kept going, apart from Sunday morning traffic we had the road to ourselves. ON entering Gympie we had to content with another Magpie. After riding through a few streets we were there, 553kms and 9 days out of Warwick. This ride was magical, we saw the side of Queensland that isn't advertised, the bush. Some of the riding was superb and the views fantastic.
I am still unsure if I will do next years ride or not.
| | |
| --- | --- |
| Distance | 32.84 km |
| Average | 26.70 km/hr |
| Time | 1:13:49 |
| Maximum | 61.40 km/hr |
Total
| | |
| --- | --- |
| Distance | 552.68 km |
| Average | 25.84 km/hr |
| Time | 21:29:34 |
| Maximum | 64.10 km/hr |
Images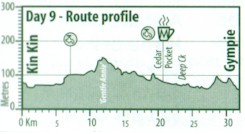 Day 9 Profile
Click Here
for more Photos from Day 9.