Day 1 - Saturday, 3rd September 2005 - Goondiwindi to Yelarbon
Day 1, yesterday my Aunt & Uncle gave me a lift to the start at Goondiwindi, it was about a 400km journey to get here. We have to ride about 580km to get back, so we are obviously taking a more scenic route. Last night walking through town I saw a few people who I recognised from previous rides. Most of the hotels had a "No Vacancy" sign up, so Gundy was pretty full for once. Even at Dinner I met a few people from last year.
I was up pretty early this morning to enjoy my last civilised shower for the next week. Registration opened at about 7:30am, so I rolled into town at about 7:00am to see what was happening. I again ran into people from last year. I was at registration a bit before they opened and once in I had my kit pretty quickly. On my way back I again met a heap of people from last year, subsequently it took about 10min longer than what it should have to get back to the hotel. The plan this morning was to have breakfast down at the park to give some money into the community. It was a good breakfast, as long as you wanted bacon, egg and sausages.
The start today was at 12 noon, so a bit later than last year. I had to grab a pump from the cycle support crew to properly inflate my tyres, I had only put low pressure in them with my hand pump the previous day. I then had to load up all of my luggage, this year, CQ were also carrying my bike box, which I had purchased last month to get the Pinarello safely to Queensland. At the weigh in I deliberately picked the queue that had a Vollie who knew I would help with the luggage truck. This meant that he was a bit lax on the weight restriction. Once loaded we had about 2 hours to burn until the start, I was chatting with Sue and Howard and then Bruce, who I met on my first Queensland ride. We chatted until about 20 minutes before the start. The start had the usual dignitaries speeches, and then pretty much at noon we were away.
The ride took us up the main street of Goondiwindi and a lot of the locals were out cheering us on. Although I was near the front it still took me a while to get enough open space to get going properly. Once I had the space I opened up the throttle and found my rhythm. Today was expected to be about 56km and very flat. I knew I could ride it fast, but ideally I wanted to get in a small bunch, early on I was passing a lot of cyclists quite fast, so I knew that although they might sit on my wheel, they would be too slow for me to sit on theirs. One guy did jump on my wheel, but he didn't stay there for too long.
I saw two riders ahead of me who I was slowly closing in on, and when I finally caught them, I found it was Wade and Yishay, who I had met on the RTA Big Ride this year. I sat with them as they were moving at a good pace, and we were working quite well together. The scenery today was a real mixed bag, at times the road was surrounded by trees on both sides, and at others we could see right to the horizon and the mirage. There was Prickly Pear along the roadside as well, except these weren't the small ones I am used to seeing in Sydney, these are 12-15 feet high, and cover a large area. All was going well until about 30km and I realised that my rear tyre was going down. I stopped and changed the tube, but Wade and Yishay rode on. I passed lunch soon after fixing the flat and I didn't stop. A few k's up the road, I caught up with Wade and Yishay again, Wade had flatted as well. I waited for them to finish fixing it and then we rolled out again. From there it was pretty much the same flat road to Yelarbon. There was the odd dip, but nothing major.
Towards the end we picked up another rider, but he couldn't take a turn on the front. My feet were starting to hurt at the end, from too long on the pedals, the curse of flat roads. The luggage truck was nearly unloaded so it wasn't too long before I had my bags. Peter, who I met last year was first in. I will see how I go tomorrow.
| | |
| --- | --- |
| Distance | 56.88 km |
| Average | 33.26 km/hr |
| Time | 1:42:53 |
| Maximum | 44.70 km/hr |
Images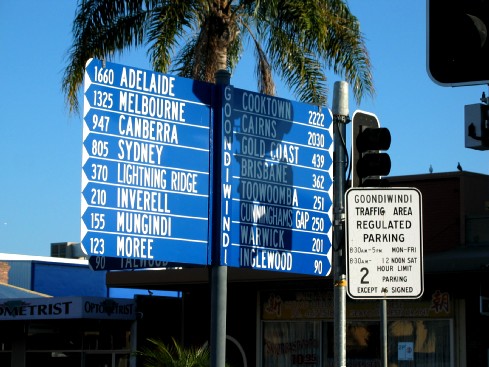 As you can see, Goondiwindi isn't close to much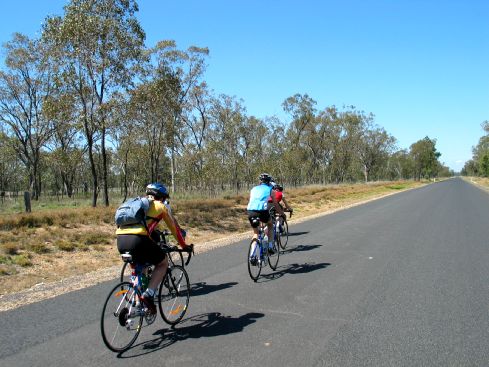 Some of the bunch I rode with on Day 1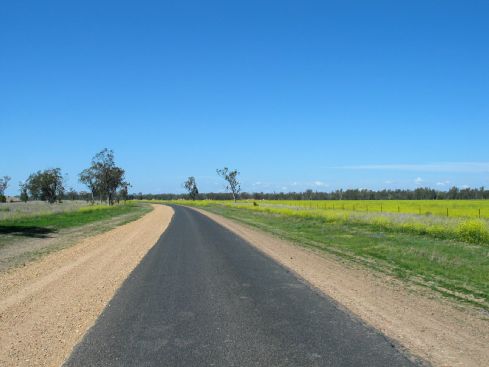 Yep, these roads are flat.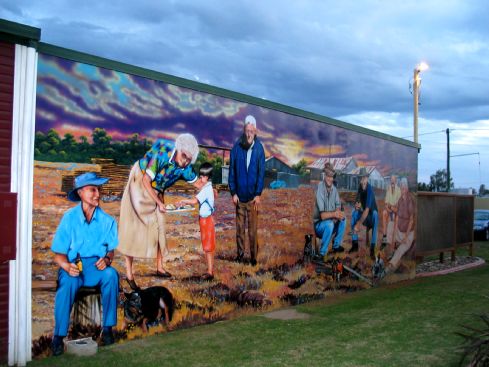 This mural was at the pub in Yelarbon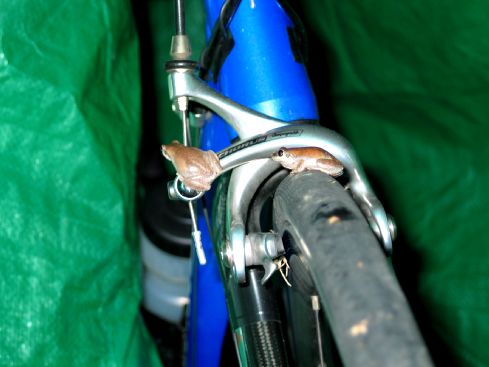 These guys tried to hitch a ride.