Day 2 - Sunday, 4th September 2005 - Yelarbon to Texas
I spent a lot of yesterday afternoon catching up with people from other rides, so that means a certain amount of drinking to go with it. I might as well open the tab early though. I had a surprising restless night though, I suspect that it was mainly due to my first night in a tent since Big Ride.
I was up at 5:30am and had no difficulty getting packed up in time for breakfast. I saw Peter at Breakfast who I knew was a fast rider, and I asked if I could ride with him today as long as I could keep up, this was due to it being another flat day. I left with Pete at about 7:00am, but a lot of riders were already out on the route. We had a short stint on the Cunningham Hwy today, but it was only for 5km and as it was Sunday Morning we didn't see any vehicular traffic. As we turned off Peter and I saw an Emu in a paddock off to the side, something you don't see every day. There was a bit of a wind today, left overs from last night where it was blowing a gale, but it was a bit of cross/tail wind. I had another flat tyre today, but I couldn't find anything in the tyre, so I suspect that it was a dodgy patch. I changed to another spare and then we were away again. We went past morning tea, as we had only been on the road for about 40 mins or so. We were both going to stop at lunch, but only to grab the food before moving on. The weather was overcast as well, and we were getting the odd sprinkle of rain. We made lunch after about an hour of cycling. Two had made it ahead of us, but not by much. It was Owen and Basil, who I knew from previous rides.
Lunch was barely set up, but we were able to grab the sandwiches and keep going. We had about 30 odd kilometers to go by this stage and it was more flat riding. Soon after lunch, the heavens did open up, but it was only light rain, it was pretty consistant, but it only really got the road wet, not enough to really soak us. It was also still quite warm, so it wasn't too much of an issue. Pete and I were really clocking along, our averages were in the high 35's or low 36's and we were pushing speeds up to about 38-40km/hr, we were both doing turns, but Pete was probably doing to Lions share. As we neared Texas, we turned a corner and went up a slight climb, it was also into the wind. It was a real shock to the system, and it slowed us both down considerably. We turned at the last intersection, and it was confirmed what we already suspected, we were the first riders.
As we turned into Texas, we passed the signage truck, but that meant we didn't know where to go. We missed a turn, but we found a radio point and he pointed out where camp was, but told us that the luggage truck wasn't in yet. We rolled back to town and met Wade and Yishay, so we all ended up at the Take-Away joint together. Several other riders started showing up as well and most of them joined us. Pete and I had rolled in at about 9am and a lot of cyclists showed up in the next hour. When I saw the luggage truck roll past I finally made my way to camp to help unload. Once my bags were off I set up and then grabbed a shower. Hopefully this wind will die down for tomorrow and once tomorrow is done we start hitting the hills. I think that a log of cyclists are learning how hard riding on the flats is.
| | |
| --- | --- |
| Distance | 64.28 km |
| Average | 35.59 km/hr |
| Time | 1:48:34 |
| Maximum | 47.30 km/hr |
Images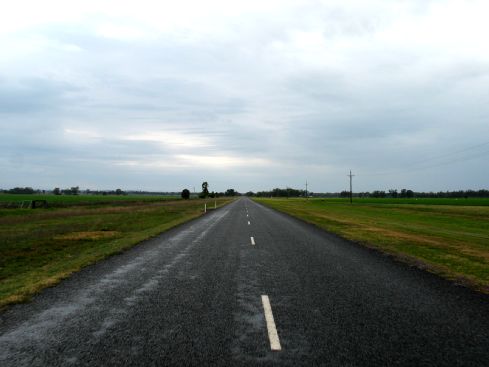 Not many hills today.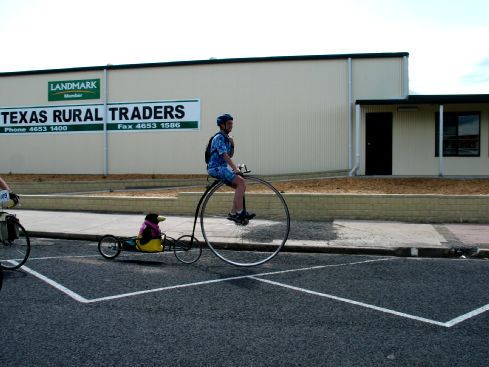 This woman rode a Penny Farthing on the ride, the Penguin followed her everywhere.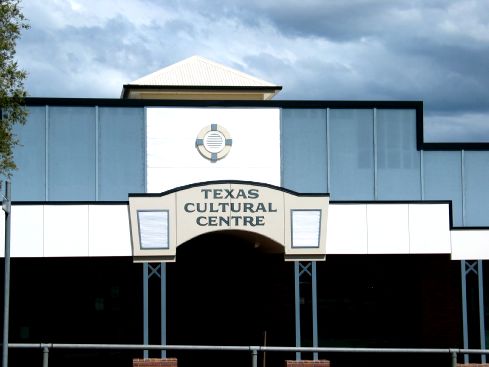 An oxymoron?