Day 3 - Monday, 5th September 2005 - Texas to Inglewood
We had some storms last night, they only lasted a short time each, but it got everything wet. It also lowered the temperature so it was very nice in the sleeping bag. It didn't rain once I was back in the tent, but it was still wet when I got up. It was also quite cool, but once the sun was up, it started to warm up. After the second puncture (or flat tyre) yesterday I decided to buy a new tube. I got away at about 7am again with no difficulty. As today was about 55km I wasn't fussed about doing it by myself. On top of that both Pete and I were feeling the effects of the previous day.
Once on the road I was really enjoying the route, it was a bit more rolling than previous days, and we had clear skies with no wind. There was a short hill not far out of town, and surprisingly I saw someone dismount at tht bottom and start walking. At first I thought they had a mechanical, but she admitted that it was embarrasing that she had to walk. I caught up to most of the cyclists who had left ahead of me, and then John Lindsay caught up to me. I picked up my speed, and then rode beside him. He reckoned that he would have got me on the next hill, I disagreed, and we ended up arguing about it and so we decided that we would race up the next hill to decide it. We caught up to a few cyclists who I rode with on the way to Woodgate Beach last year, the young lad, Simon, abondaned them and tagged on with John and I. We saw some kangaroos hop across the road ahead of us, and as we went past we saw them watching us from the bush. John and I saw a hill up ahead and so we took off up it side by side. After the dust had settled we decided to make it best of three. Despite the undulations today we weren't sure if we would find tow more hills.
A second hill appeared and again we raced up it. John didn't want anyone to know the final outcome, but I will say that the final score was 2-0. We approached lunch at about 8am and Simon dropped off to wait for the others. John and I rode on past. The road continued to undulate slightly, but there were no more significant hills. The main problem with the roadw as that it was a real Gun Barrel Highway. John thought that the planning for the road consisted of a ruling a straight line between Texas and Inglewood on a map. We were both taking it pretty easy and doing a good pace, nothing too hard after yesterdays effort and also planning on having something left for tomorrow. We rolled into Inglewood a bit beofre 9am, only to find camp was not ready, not that we expected it to be.
We asked a local where a coffee shop was and we made tracks to it. We were on the route through town, so we were hailing all of the cyclists on the way in. I hung around for the next hour or so before rollin back to camp. By this time the luggage trucks had arrived so I started helping unload. As it turned out, so manyu cyclists were in by this time that I was able to stand back and watch the hard work.
Tomorrow is the biggie, 110kms with some of the first climbs. I suspect that tomorrow is going to bring a lot of surprises for a lot of people. I know that I am looking forward to it. Today was really enjoyable, as we had some really gentle undulations that broke the flatness up. I hope that tomorrow has a few more climbs though.
| | |
| --- | --- |
| Distance | 56.08 km |
| Average | 30.42 km/hr |
| Time | 1:50:40 |
| Maximum | 45.20 km/hr |
Images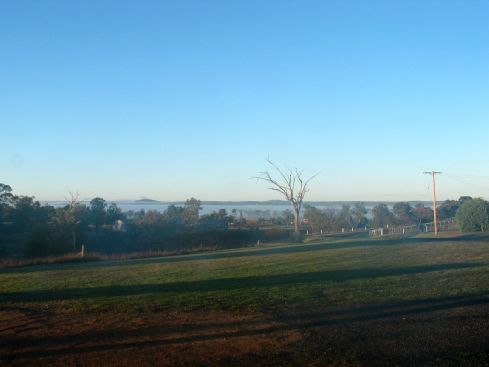 Dawn, at Texas.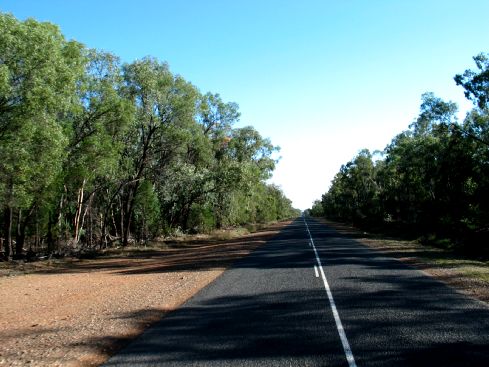 Gun Barrel Highway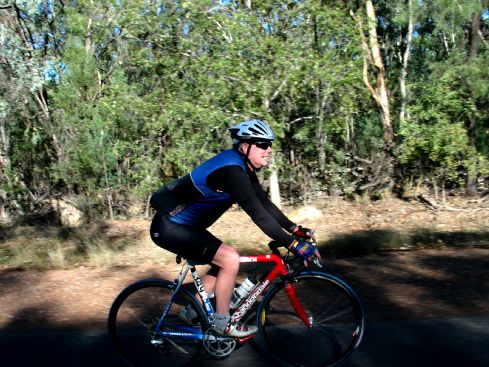 John Lindsay, my riding partner for the day.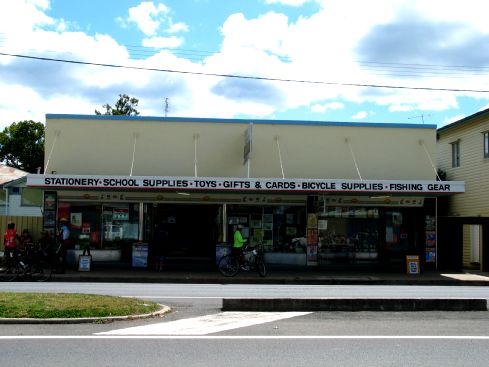 I asked for a Campagnolo Record Cassette, they couldn't help.