Day 5 - Wednesday, 7th September 2005 - Stanthorpe Rest Day
Last night, I heard that people arrived as late as about 7:30pm, some were pretty determined to finish the ride, despite the fact that they were riding with out lights. It was funny at Dinner, it was the first time that I got straight in without having to queue at 6pm. I did get down to the rest day party, I didn't stay long, but it did look like a pretty low turn out. Last night was cold, we were told that Stanthorpe was the coldest town in Queensland, I could well belive it. My sleeping bag was warm enough, but there wasn't a lot in it.
I got a bit of a sleep in this morning, I was still up early but later than 5:30am. I went with some of the WIG's (Wheels in Government) guys for breakfast at McDonalds. It was about a 10min walk, it was a bit different from what I remember. After that I went out for a spin, I grabbed a map from the Information Tenta and picked out what I guessed was about 60-70km to Ballandean. The map had no scale or distances, so it was just a guess. On the way through town, I saw a Visitors Information Centre, so I pulled in and asked. I revised my guiess down to 50-60km and then set out. It was a really enjoyable ride, especially after yesterday. There were some gentle rolling hills that while they made work, they weren't too hard.
The first problem that I encoutned was an enthustic Cattle Dog. He had a bit of a bark fest at me as well as making threatening moves at my ankles. He didn't make contact, and he left me alone after about a minute. I stopped a few times to take some pictures and it was really peaceful. There was a slight wind, but nothing compared to yesterday. My legs were feeling surprisingly good as well, I don't know if the massage made a difference, but it probably did. There were a few wineries along the road, one had a sign out welcoming cyclists, I suspect I was the only one they would see, and I rode past. At one point I pulled out the map to see how far to Ballandean, as I was folding it up, I saw the shadow of a magpie behind me, he didn't swoop but it was probably a near thing. On the approach to Ballandean, there was a good downhill that was a really good fun to go down. The only problem was I thought that I would habe to pay for it on the way back to Stanthrope.
I stopped at Ballandean at a small coffee shop. I had a Devonshire Tea and chatted to the owner about for about 30-40 minutes. After that I went straight back up the New England Highway, the loop road was actually better than the highway. It was only about 20km back to Stanthorpe and the hills didn't eventuate. All up the ride was a pretty easy 55 km, and really enjoyable, probably because there was very little wind. The last hill up to camp was a lot easier than yesterday.
Once back at camp my priorities were a shower, washing and then lunch. I caught the free shuttle bus in and had a civilised sit down lunch. I had to buy a new plate as well, the original one got cracked the other day, probably from the baggage handling and my poor packing. After that it was a stroll back to camp and a lazy afternoon.
| | |
| --- | --- |
| Distance | 55.04 km |
| Average | 30.67 km/hr |
| Time | 1:48:26 |
| Maximum | 61.30 km/hr |
Images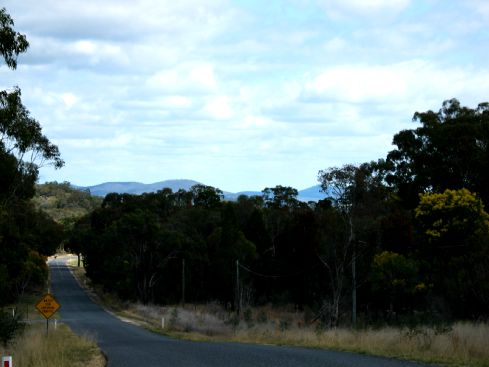 Some scenary on my rest day ride.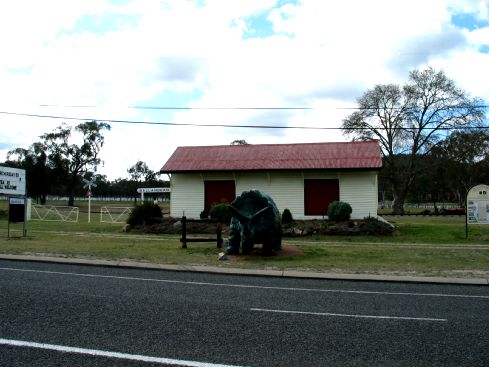 Ballandean Train Station, with Triceratops out front.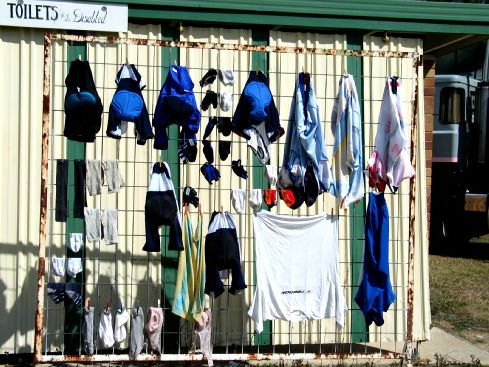 Anything is a cloths line on rest day.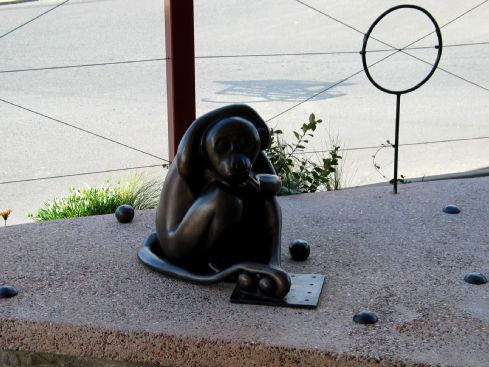 This monkey seems to have lost something...