Day 8 - Saturday, 10th September 2005 - Boonah to Canungra
Last night at briefing, we got a mention. It was about the four gun riders who shared a few short words on the first hairpin bend on the first descent. I heard from some other riders, that the rumour mill got into action and that we actually got into a fist fight. Last night I lay in my sleeping bag and read some of my book, the field lights were on and they were really bright, it was a bit of a shock when they turned them off. Last night was a bit warmer than previous nights, subsequently it was not too bad packing up the tent.
I was ready early so John, Pete and I rolled over to the start. The organisers thew us a curve ball as the exit was opposite the enterance of the camp ground. Again they kept us back until 7am, and then we were off. John, Pete and I started together and we were soon moving up through the riders. We caught up to another rider, David, who was a teacher supervising one of the school groups who are on this ride. He jumped in the bunch and we were all taking our turns. The route profile showed that todays route was supposed to be flat. It was nothing like it. There were quite a few hills and David dropped off on one. John, Pete and I kept going, a few hills later, I was setting tempo and when I peeled off the front, John was no longer with us. Pete took off on the descent and hit the next hill like a man on a mission. Up the next hill we passed an old meatworks, that absoutly stank. It was making my stomach churn, the problem was that Pete was setting a hard tempo, so I had to take good deep breaths. Pete wanted to put a gap on John as he wanted to have a steady ride, rather than a race.
We later found out that John rode to Beaudesert, and then went home for his van. Pete and I came into Beaudesert at about 8am and although Lunch was pretty set up, we went past it. Beaudesert Show was on this weekend, but luckily it wasn't open at the time we went past. This area has a very strong horse stud industry, as was evident by all the signs, Polo Centre and Race Course. Just out of Beaudesert we had a steady climb and a right hand turn at the top. From there we were in open rolling country, and any throughts of a flat profile were well and truely out the window by this stage. There were a lot of short sharp undulations, I tried powering up the first few but there were too many, I pushed down to the 39 chain ring and started spinning up them.
There were also a lot of horse farms up in this area as well, the undulations did end eventually and we soon saw Mout Tamborine. Pete told me that Canungra was at the other end and that a lot of Hang Gliders go off from the top. We turned right onto the main road, and for once it was actually flat. Pete and I made it in at about 9am, another very quick run. We didn't even bother going to camp, and so we rode into town and found a good cafe. We sat there for about 90 minutes during which time most of the other regulars showed up. On todays ride I really found my back giving me grief, and I suspected that it was because I wasn't helping to unload the luggage truck, because although it was hard work, it moved my back a lot. So I helped unload the truck today.
After setting up and showering, I went with some of the WIG's guys back to the Cafe for a lunch. While there, a lot of motor cyclists were going past and some were stopping. It is oibviously a popular ride with them, we saw some stop, decide the Cafe was too crowded and then moved on to the pub, which was no doubt was just as crowded. So, we have one short day tomorrow to finish theis, tonight we have the CQ Party, and we also find out about next years ride.
| | |
| --- | --- |
| Distance | 71.06 km |
| Average | 32.92 km/hr |
| Time | 2:09:35 |
| Maximum | 63.40 km/hr |
Images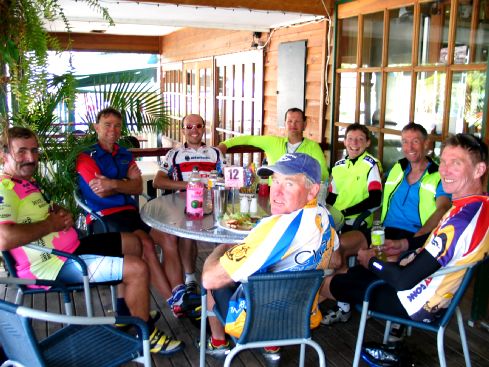 The usual crowd at the Outback Cafe at Cangungra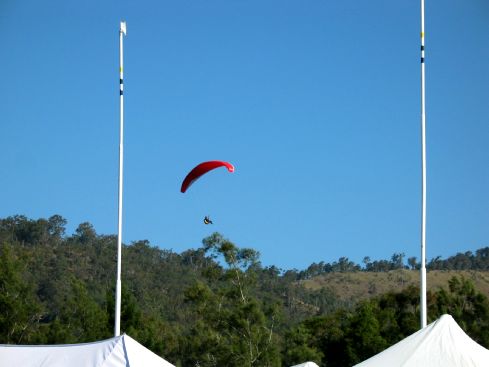 Luckily this guy didn't want to land in Tent City, I am not sure if there was space.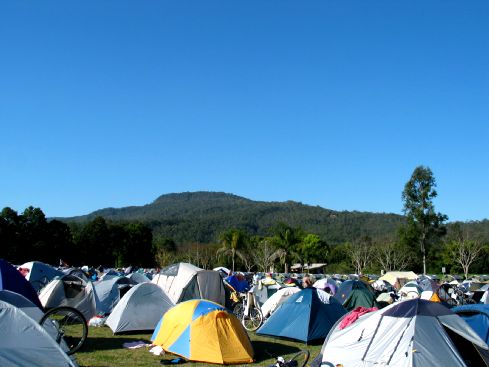 Tent City with Mount Tamborine in the background.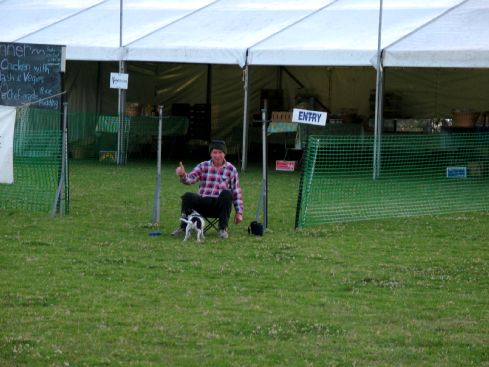 John Lindsay and "Tiny" in queue for dinner.