Day 9 - Sunday, 11th September 2005 - Canungra to BroadBeach
Last day, again, all good things must come to a close. The route for next year was announced last night. Port Douglas to Mission Beach, so the start is about 70 odd kilometres north of Cairns, and the finish is about 90 kilometers south of Cairns. So it is a long way north, and a lot further north than anything they have done previously. The announcement caused a lot of debate amongst the riders, trying to organise transport for the riders to the start and from the finish is going to be a real problem, my Aunt and Uncle say that the train trip is about 27 hours or so from Brisbane. It is probably too early to try and guess what they are going to do, but I think that the ease of getting to and from the ride is going to be the real issue.
We also had the C and Q Party last night, the live band they had were really good and they certainly got a lot of people on the dance floor. Some of the costumes were very good and original. As is often the case, they asked for the slow riders to leave early, and the fast riders to leave later, as I have also done in the past, I ignored that. I prefer to leave early so to avoid having to pass a lot of slower riders. This morning then I packed up I had no issues packing up the tent fast. I must be getting good at it. pity I don't have to do it again any time soon. I wore the Malliot Jaune (yellow jersy) today (thanks Luke), it was partly so I stood out for my Aunt and Uncle to find me and also because I had been in first most days I felt that it was worth it. I was easily ready by 7am and so I rolled out.
The start was a right had turn and straight up a hill, not easy with cold legs. In an attempt to warm up I instead turned left and went a few k's the wrong way to warm up a bit. When I came back past the turn off, the marshall had to hold up the leaving cyclsists as I had right of way. I took off up the hill and passed a lot of cyclsts who were either walking, or, depsite riding weren't going much faster. I found out later, that Pete, did the hill several times while waiting for his wife to ascend it. After the first hill we had a descent descent, and then another hill. Near the top of the second hill someone had put together some signs that had some cycling witiscims on them, I didn't read all of them, anmd can't remember all of the ones I saw. The ones I did remember were "Winds, heads = hell, tails = heaven", "Descents, where the gods of suffereing reward your pain". On the second descent, I passed Wade and Yishay, and they caught up to me soon after. On the next hill Yishay attacked, I countered, got a gap and eased off, Wade then caught me by surprise as he attacked and got to the top first. This of cause then meant that the gloves were off on the next hills and we were battling up them for the King of the Mountain Points.
Of course it was all a bit silly as we had been riding for the last 8 days and we were trying quite hard to beat each other to the top of each hill. At one point we were riding single file and a vehicle passed us, with very little space while leaning on the horn, unlucky for him that not only did I notice a unique identifier on the back of the ute, but there was a marshal about 200m up the road who I could tell it all to. A bit further up the road we saw a sign, 14% gradient, it may have hit that steep, but only very briefly, it wasn't an easy climb, but it wasn't as hard as the sign indicated.
Soon after that we were into the suburbs of the Gold Coast. We were riding on some main roads, some back roads and some bike paths. We were commenting to each other about the McMansions in the area, and also about the Gold Coast skyline, the mark that we were returning to civilisation. We hit our first set of Traffic Lights since Goondiwindi as well, so we covered about 540km without a set of lights, I think that the record in Sydney is about 10m. We ended up at the Marshalling area for the mass finish at about 8:30am, ahead of the crowd. We went looking for the Broadbeach Mall, we initially went the wrong way and although we stopped and asked at a convenience store for directions, I think that the shop attendant was still half asleep, subsequently he really didn't help much.
We kept going North, took a wrong turn that put us in a loop and we ended up back where we left the main road. In the end, we headed back South and followed the signs to BroadBeach, something we should have done in the first place. We made the Mall and met up with a friend of Wade & Yishay's and we had some morning tea at a Cafe there. At about 10am, I went to the Western side to join in with the mass finish, I arrived just in time and joined in with the lead riders.
And so another ride came to a close. My Aunt and Uncle found me quickly and easily. My plan was to get my Aunt and Uncle to carry my bags and bike box back to their place and I would ride back in my own time. I wanted to try and catch up woth people before they left, but so many already had other plans, so I ended up leaving earlier than I planned. Luckily my Uncle had given me some maps and directions to get back to their place. Despite this I managed to make a wrong turn virtually straight away. I quickly realised my mistake, and I got back on route. I was doing well, but then took another wrong turn near the end. But I did finally find their place.
| | |
| --- | --- |
| Distance | 51.03 km |
| Average | 29.34 km/hr |
| Time | 1:45:38 |
| Maximum | 73.40 km/hr |
Total
| | |
| --- | --- |
| Distance | 568.4 km |
| Average | 30.75 km/hr |
| Time | 18:29:14 |
| Maximum | 73.40 km/hr |
Total + Extra Riding
| | |
| --- | --- |
| Distance | 643.44 km |
| Average | 30.71 km/hr |
| Time | 20:57:07 |
| Maximum | 73.40 km/hr |
Images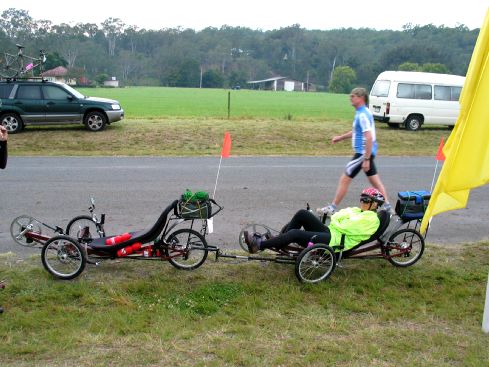 Not quite a true tandem, pedalling is independant on these bikes, but they can also seperate and go their seperate ways.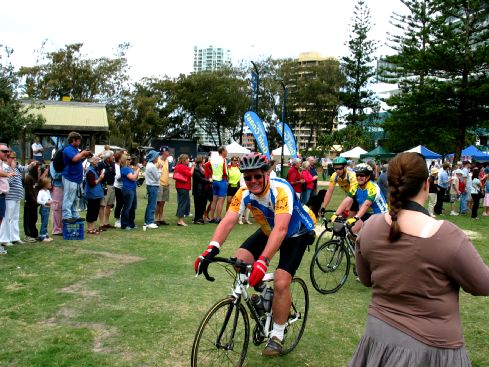 "Rabbit", finishes.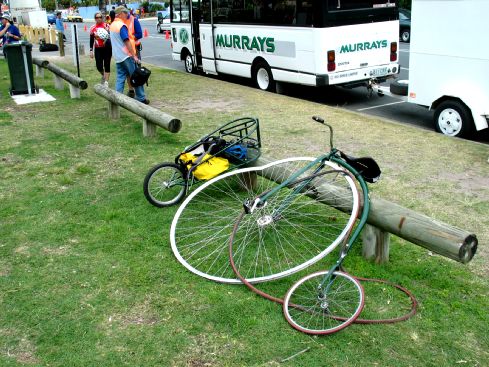 The Penny Farthing came to grief today about 10kms in, so close, yet so far.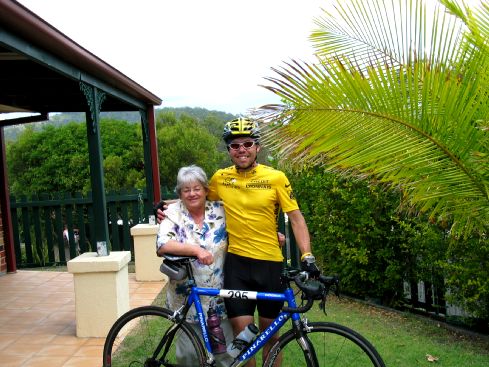 My Aunt Sue, who helped me to the start, and the Bike that got me to the finish.