Day 1 - Thursday, 25th June 2009 - Darwin to Adelaide River
Yesterday afternoon, I went back around to the Hotel where most of the riders were staying and checked in for the ride. There are a lot of new faces on this ride, but I still know a fair number of people from The Rock Ride that I did last year to Alice Springs. There is also a fair number of people who have never done an All Trails Ride. This is going to be an experience for them.
We were all welcomed by Phil and Susan. The rest of the crew has changed since the Territory Tour. The 2 Dave's have been replaced by three, Kirsten, who works with Phil and Susan is our massage therapist, and we have two mechanics, Peter from the Pegasus Crew who I know from CycleQueensland's, and NSW Big Rides, and Greg who I met on the Rock Ride last year. Barry, who I know from Sydney is along on this ride, and unlike the previous rides I have been on, there is a large percentage of female riders, making up nearly a third of the total riding complement.
Pat just managed to get his gear lever repaired while he was in Darwin. The bike was only ready to be picked up on Wednesday Afternoon, so he couldn't have cut it much finer. It would have been an interesting ride for him if he hadn't got it fixed. While I was in a similar situation last year, I was on a flat route, which made a limitation of 2 gears a lot easier to put up with.
After we had our briefing from Phil (not that anything he says is brief), it was off to get a meal. I hooked in with a large group, and we initially tried an Indian place that was recommended by others. We asked for a table for 13, but they asked us to come back in about 15 minutes. We decided to go elsewhere, and we didn't even get 10 meters when they suddenly realised that they could do something straight away.
It was a good meal, and I chatted with Fiona, Gill, Barry and Graeme for most of it. We had one of their banquets, which was a very nice meal. I enjoy a good Indian meal, and I have to say that this one made the grade. There was a good variation of curries and a nice amount of food.
After the meal, I headed back to my accommodation for the final night, and got ready for the morning's ride. I had unpacked pretty much everything, so I had to repack a lot of it as well as keeping out what I would need for the morning. Despite me sending stuff home while I was in Darwin, and having packed lightly to begin with, the bag still felt pretty heavy. I know that I haven't accumulated much more stuff, so I am not sure where the weight has come from.
I was up earlier than I needed to be this morning, as I needed to get myself over to the departure point. I had my breakfast, and packed up the room. The bike, which hadn't been ridden since last Friday was taken out, and I rode in the pre dawn light with my backpack on. Not the best way to ride a bike. I got there without incident, and met Phil and Susan out the front of the Hotel. I was told then that they were going to get two riders each day to help them out with the day to day running of the ride, just helping out with things at Morning Tea, Lunch and Afternoon Tea. It would make it a lot easier on everyone. Barry and I were on for the today, so at least it is over and done with, but knowing me, I won't be shy about helping out where it is needed.
As I had already had breakfast, I had a lot of waiting around this morning. I was able to help out where needed, but Phil and Susan have so much of this down to a fine art, that even with the new riders, we were ready for our final briefing at 8am, and our departure was only a few minutes late, shortly after 8:30am. We had a single Police Car escort for a section out of the City, and then we would ride in convoy for a further section, and then finally, we would be given free reign to Adelaide River.
I left pretty much at the back of the pack, and about 500m up the road, I realised that while my computer was recording my cadence, it didn't have my speed. I quickly pulled over and fixed the problem, the wheel magnet and sensor on the fork had been knocked out of alignment, and then I was back on my way.
I chatted with some of the riders at the back of the pack, but we were still in convoy, so it required a lot of attention on the road and the riders in front of you to ensure that there were no accidents. There is a real assortment of bikes on this ride, from top of the line road bikes (with Electronic Dura-Ace), to a dual suspension mountain bike with slick tyres.
Eventually, we were given our free reign, and by this stage, I had moved up a bit in the back. I wasn't far from Graeme and Pat, so when Graeme decided to jump across a gap, Pat and I were pretty much with him. Graeme is going to be a rider to watch on this ride, he was strong last year, and he is looking very fit this year.
By this stage, we were in the out edges of Darwin, and we were happily retracing our route in that we did last week. Our first break was at about 42km, and by this time, we were in a group that was working pretty well. Because it was dual carriageway, we were riding two abreast, and doing a slow rotation to change the riders at the front. I was on the front, with another rider, Lyn, when he wanted to rotate. He started to speed up, and at first I matched him. This caused some issues with Lyn as well as those behind us, until I was told that he was trying to rotate.
Graeme dropped off thinking that he had a puncture, and we continued riding along, knowing that he was strong enough to get back on if he needed to. A bit further up the road, Graeme tore past us, and that was like a red flag to a bull. I took off after him, passed him, gave him a cheeky wave and kept going. He was only toying with us anyway. My victory was short lived, as Pat then went past me like an express train, and Graeme and I then chased him down. It was only a few kilometres to go to our first stop, so we kept the pace up and rolled into Morning Tea shortly afterwards.
We were ahead of time, so I was able to help Phil and Susan get ready, it was basically cutting up apples for the riders, and putting out the Tea and Coffee. All pretty easy to do, but it is something that needs to be done to ensure that everyone is able to eat something. We all pretty much took our time at Morning Tea, it was starting to warm up, but the Heat wasn't too bad. It simply meant that you were drinking a lot of water throughout the day, especially when you are on the bike and also getting the heat radiated off the tarmac.
Barry and I helped pack up after Morning Tea, so we, along with Pat and Greg were the last to roll out. We had about 48km to cover to Lunch, and along the next section we would lose our dual carriageway and return to a single lane of traffic each way. The traffic was still noticeable, but it wasn't as heavy as it had been on our way into Darwin.
While I was in Darwin, I had purchased a compass which I was now carrying on my handle bars. It wasn't the best on bumpy roads, with the needle sometimes doing the full circle, but on the smoother roads, it was able to give me a pretty good indication of North. We had discussed this towards the end of the Territory Tour, as we often knew where the wind was coming from, but we had a lot of difficulty getting an exact bearing. It was certainly interesting to see the direction that we were heading as we left Darwin. Initially, we were heading either East, or South East, but from before Morning Tea, we were very nearly going due South. We were varying around a bit, sometimes slightly to the West and sometimes to the East, but not far to either side.
The wind was probably a NE, it was helping us, but there wasn't a lot of strength in it, so it wasn't a huge assistance. As I left Morning Tea, I was initially by myself, but Pat and Greg soon caught me. I wasn't sure if I was going to do the next section solo or not, so I initially tailed off the back. Barry was still behind us, but we couldn't see him. I caught up to Pat and Greg and set about riding with them.
We were doing good turns and setting a good pace, but as we were a few minutes behind the last riders leaving, it took a while before we saw any one else on the road. We slowly caught up to the tail gunners, but our main quarry for this section was Tassie Graeme. We suspected that he would have put the hammer down, so we weren't sure if we were going to catch him, but we were doing a good pace and we decided to stick with it.
Unlike on the Territory Tour, when I started at the back, I used to count the riders as I passed them so I knew how many were still ahead. I didn't bother doing that this time as there is a much larger group of riders, and given the lead time, there would be some reasonable gaps in between the bunches. On one of the small climbs, Greg dropped off, we eased up to get him back aboard, and he advised that we should just keep going if he was unable to keep up. It wasn't long before he was off again, and Pat and I kept on going. We saw some grass cutting at one point, and it was a really interesting machine. It had a slasher on the end of an articulated arm, this meant that the vehicle could stay on level ground, and mow the grass that was on an embankment. While I had seen plenty of road side grass cutting, I was really impressed with this ingenuity.
I had been doing some sums in my head, and I had worked out where Lunch was going to be. On our way up here, the group had stopped for a small rest break about 25km out of Adelaide River. There was a Rest Stop on the other side of the road, and I guessed that this would be Lunch for the day. My memory was also good enough that I knew it was only a few k's beyond the turn off for Litchfield National Park and Batchelor. By this stage were were near the front of the riders, but we knew there were some still up the road. Pat and I had been swapping turns, and we were both happy with our effort. I knew that I still wasn't 100% despite the 5 days in Darwin, but I had done a lot of walking while I was there. The main indicator that had was my cadence. Towards the end of the Territory Tour, it was often down in the low 100's, it was back where I like to keep it which was nearer to 110, this meant that I had mentally recovered something in my time in Darwin.
We passed the Batchelor turn off, and we were both looking forward to our Lunch Break, we had both been drinking plenty of water, but we still had a bit to go. We made it to the rest stop, to find nobody there. No riders, no Phil and Susan. I was pretty sure that Phil and Susan were ahead of us, and it seemed the logical place for lunch. We decided to press on, a bit further up the road, we saw a Willy Willy form up beside the road, unfortunately for us, it was moving towards the road, and I quickly realised that it was going to hit us. I informed Pat, and he thankfully gave me some space, and I checked behind us and moved out into the lane.
This was not a pleasant experience. I stopped breathing because of the amount of dust and crap in the air, and closed my mouth. I hung on to the handle bars, but it still struck me pretty hard. I felt the bike jerk underneath me, and I got buffeted by the winds and the loose grass that it had picked up. I came out of it with the death wobbles, but I soon smoothed them out. I think in future, I will stop if I have to. They are not a good thing to try and ride through and it could have easily ended up with one of us on the road.
Soon after this, we could see another group of riders ahead of us, and then Phil and Susan went past us. They weren't ahead of us after all. We saw them overtake the riders ahead, and then vanish around a corner. When we got there, Phil had pulled them over, and it turned out that Lunch was scheduled at the Rest Stop. We were encouraged to turn around, as it was much nicer there, and so it was a 6km ride back. We passed some riders who had also missed it, and so there were a few unhappy riders when we got there. Even so, we were still ahead of schedule, so there was plenty of time to get everything ready before all riders were in.
I helped Sue again with the cutting up, Lunch was some cold Chinese that had been purchased in Darwin. Because of the heat, I felt like something lighter, so I just had a sandwich and Rock Melon. Along with a lot of water. Barry decided that the opportunity for a swim was too good to pass up, he didn't win any fashion awards with his Budgie Smugglers though. Kirsten was also trying to tell us that caffeine and alcohol weren't good choices when trying to re hydrate. I pointed that she was wasting her time trying to convince cyclists that we shouldn't drink coffee or alcohol.
Despite applying Chamois Cream this morning, I was experiencing some chafing on my inner thigh, I purchased some other Cream from Greg, and applied that. It was only 25km to go, but I felt that anything would be better than nothing, and I didn't want any complications this early in the ride. Once lunch was done, I helped pack up again, and Kirsten has already offered me a job. Pat, Barry and I set off together, and we were doing good turns at a nice steady pace. We saw a big bunch of riders up ahead, and as they were pretty much all wearing All Trails Jerseys they looked really spectacular. It felt like there was a head wind while you were on the front, but it wasn't evident by looking at the grass or the trees at the side of the road. We again caught up to most of the riders, but Tassie Tiger (Graeme) wasn't one of them. Walter, who is on the mountain bike, jumped onto our group as we went past.
We passed over the two creeks that had been really cold on the way out of Adelaide River, but they didn't have any cooling affect on us this time around. We then passed the area that was being burnt on our way out of Adelaide River. While I was in Darwin, I found out that all of this Back Burning is something that goes on every year, pretty much in line with the way that the Aboriginals used to do it before European Settlement. Up this way, there is a lot of Spear Grass, which can grow up to 5m high in the Wet Season. By this time of the year, it is starting to Hay off, and it also stops a lot of new growth coming through. By burning it off now, the fires stay as a grass fire, and it is basically just a clean-up. The nights bring in a heavy dew, so they are often extinguished naturally. Then, new growth can come up from the ashes. The other reason for the burning, is that Darwin often gets some severe thunderstorms towards the end of the Dry, and if a fire starts from a lightening strike, then it will be a much more intense fire, one which can kill gum trees.
We pulled into Adelaide River, and despite the flour arrows, I knew where we were going. Graeme had beaten us in, but not by much, and from the look of him, he had pushed it pretty hard. I was rooming with Lyn, so I grabbed mine and his bags, and I managed to lose at Paper, Scissor Rock again, despite him not being there, so I am on the sofa bed again. I went through my post ride cool down, and then got some washing on. While the idea of packing light is a good one, access to a laundry is essential.
Today was a good first day. We are going back the way that we finished the Territory Tour, but these few days are going to be good. Nice rolling country that will get the legs warmed up. Pat and I are certainly looking forward to Katherine where we will turn right, and head towards Western Australia and Broome.
| | |
| --- | --- |
| Distance | 125.77 km |
| Average | 30.53 km/hr |
| Time | 4:07:10 |
| Maximum | 46.76 km/hr |
Images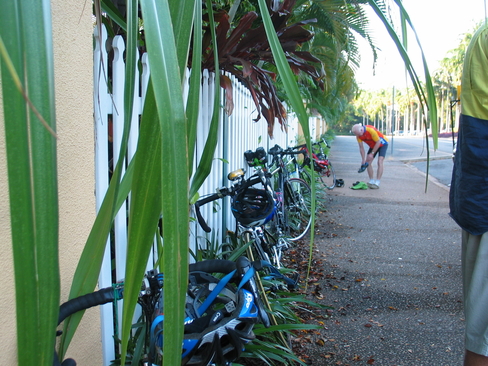 The line of bikes waiting for the start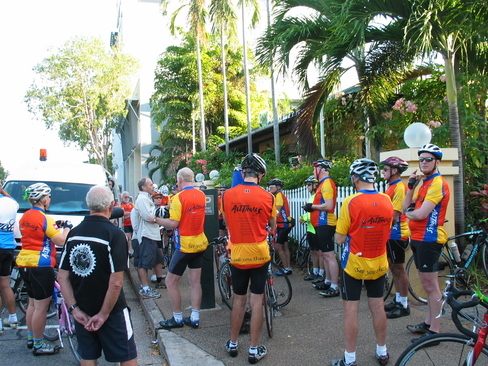 The riders getting a few final words from Phil before rolling out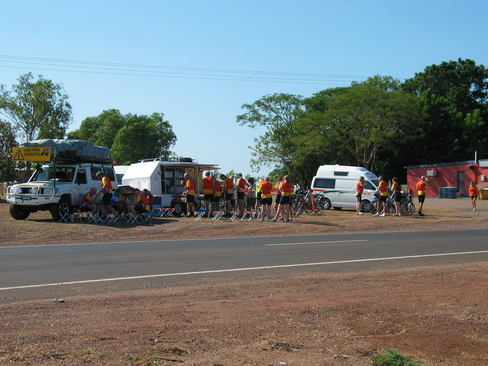 The crowd of cyclists getting their first feed and water for the day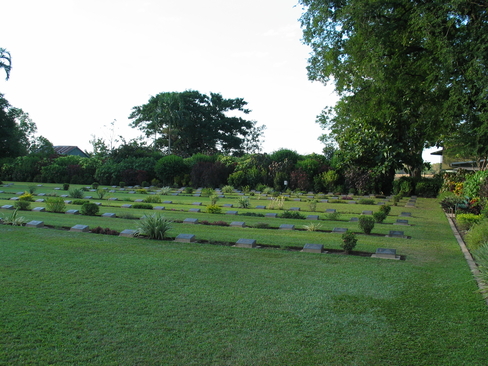 How the tragedy of War usually hits home...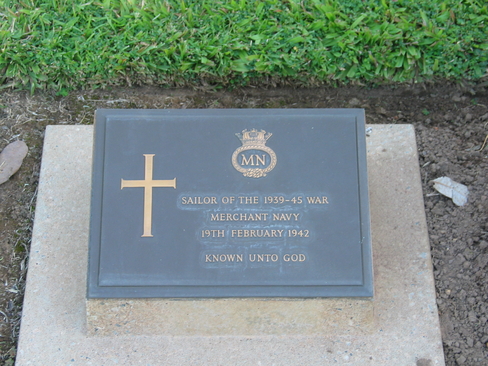 A casualty from the first bombing of Darwin, he wasn't able to be recognised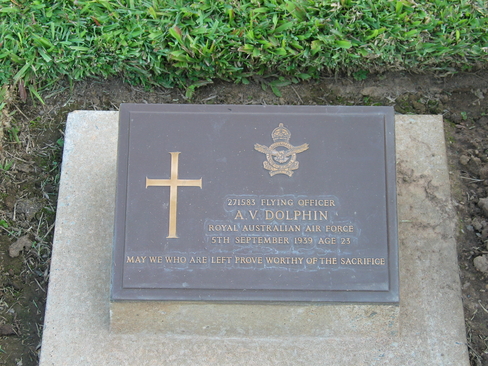 He died on the 5th September, 1939, 2 days after war was declared.
Click Here
for more Photos from Day 1.