Day 10 - Saturday, 4th July 2009 - Kununurra to Warmun
Last night, we arrived back from our full day tour of the Bungle Bungle Ranges quite late. So we decided to have dinner at the Hotel Restaurant as it was simply too hard to go anywhere else. Despite Kununurra being quite a large tourist town, with the population swelling considerably during the tourist season, there didn't seem to be an abundance of restaurants around. I think that part of the problem, is that the town is mainly used to dealing with Grey Nomads, and they are usually with a caravan in tow, so they normally cook for themselves.
It turned out that a large number of the riders had the same idea, and we had a quick briefing at 7pm, and we sat down for dinner at 7:30pm. I opted for the vegetarian lasagne, simply because it was the only pasta meal that I could see on the menu. Given that today was 197km, I felt that it would be a good idea to have a nice low GI food for dinner. I probably spoiled by having a banana cake and macadamia nut ice cream for dessert. Once back in my room, I changed the rear tyre on my bike. It was starting to get a bit worn out, and it had two slightly nasty nicks in it. When it was off the rim, it didn't look as bad, but I always knew that I would wear a tyre out on this trip, and it had done about 2,500km, so I didn't think that it was a bad idea to change it.
Because today was a longer day, we had a nice early start. 6am breakfast, followed by a 6:30 – 6:45 departure. Phil was determined to get a photo of all of us in front of a large Boab tree, so we had an extra stop at about the 30 kilometre mark. As I was taking my bag to the truck to get loaded, Barry asked if I had some chain lube handy. I handed it over, and put my bag on the truck. He was having problems, as I put the safety plug back in the bottle to ensure that it doesn't spill in my bag. I put it on for him, sent him for a quick ride to run it through the chain, and then we set off.
I was pretty much the last rider out of the Hotel, but not by a lot, and I soon caught up to and passed Pat, Graeme and Greg. Pat had taken the idea of a Rest Day rather literally, as he had got up for breakfast, went back to bed, got up for lunch, and went back to bed before getting up for dinner, and then having a good nights sleep. I think that he must have been tired. We joked that as he was fully rested, he could lead everyone out for the entire day.
I stopped at the Diversion Dam wall to take a picture, so the group I had just caught went past me again, but I wasn't long and I caught them as they started climbing the hill shortly after the wall. As I went past, Graeme jumped on my wheel with the exclamation "You can't drop me!" as we neared the top, I quickly spun my legs over and opened up a gap on him. I got a laugh from him for that.
I pressed on, and the scenery was simply amazing even this close to Kununurra. I actually had a Blue Winged Kookaburra fly overhead, they are related to the Kookaburra I see and hear in Sydney, but apparently, these ones don't laugh. There were a lot of really large sharp hills simply rising up out of the surrounding countryside, and the road was winding it's way between them. Because we had jumped time zones on our way into Kununurra, the sun is now rising very early, so it had already been up for about 30 minutes by the time we hit the road. This was both good and bad. Good because we had plenty of light to see by, and plenty to be seen by. But it also meant that it would get hotter earlier. Which given the temperatures that we have been getting lately, didn't bode well.
To top things off this morning, we were getting some winds again. It took me a while to work out their direction, as they were swirling around the hills a lot, but I finally decided that it was a South Easterly. This wasn't good. For the first 40 odd kilometres, we were heading almost due West, so the wind was beneficial, but after that, we headed almost due South, and at times we actually backtracked to the East. This meant that it would end up being a very hard day in the saddle.
I caught up to a couple of groups, and I rode on, knowing that we had a stop at 30km. Phil had given us plenty of time to get there, but if we all got there earlier, then it would mean that we could stay on track for the rest of the day. I slowly reeled in a bunch, and I could see a rider a bit off their back. He was wearing a red jersey, but at the distance I was at, I couldn't work out who it was, I could see that they were strong, as they managed to shut a bunch down very quickly. As I finally got close enough, I realised that it was Walter. I caught up to him, as he had passed the bunch, and we chatted for a bit, before I pressed on.
I passed a couple of riders who were obviously doing an unsuporrted ride. I assume they were a couple, and the female rider was behind, and not carrying anything other than a small backpack, and the male rider was in front and carrying two panniers. They were heading for Wyndham today, and I would guess that they are doing what is referred to as a Credit Card tour, so they are almost certainly staying at Hotels and the like.
Walter came with me initially, but he wasn't able to hold my wheel up a slight hill, but by this stage we were practically at the Boab. I passed Lyn, and he did sit with me for the last few kilometres to the big Boab. There were two Boab trees at the spot, and I initially ridiculed Phil, as one of them was pretty small. We all arrived at a reasonable time, because of the helping wind, and we all lined up for the photo. As is the case with these sort of shots, it is always "one more", a couple of times. I think that we all know the need for these sort of shots, but they can be a bit of a pain at times.
We rolled out, and it wasn't far to Morning Tea, which was at the Wyndham Turnoff. We were ahead of schedule, and so we could afford to take it easier, but we all pressed along pretty well. I set off solo, and so I arrived ahead of everyone else. I helped Susan set up for Morning Tea despite me not being rostered on, but it was better than standing around when things could be done. On the way to Morning Tea, I realised that I hadn't seen John and Angela at the Boab, or for that matter, all morning. I asked Phil and Susan, and John had been worried about his ability to cover the day, so he had left early with Angela in support so he would have a good chance at completing the day.
Barry arrived, and it turned out that he had broken one of his saddle rails, he had moved his saddle back so that the crack in the rail was now in the clamp. He had also suffered a flat on the way in. His spare tube had a hole in it, he grabbed one of Simon, which also had a hole in it, and he managed to get a good tube off Pat to get him in.
This was the point where we turned South for the day, so the wind which had been a really nice tail wind, would suddenly become a solid cross wind. Barry and I were the last ones to leave, Barry asked for me to tow him to the last bunch on the road. I commented that he always complained that I wasn't nice to draft behind, and he said that anything on a day like to day was better than nothing. I set off at the best I could do, which didn't seem very fast, but considering that the wind was pretty strong, it was strong enough that I was pedalling downhill in an attempt to even get a semi decent speed. We caught up to a small group which contained Pat and a few others, but Barry stayed with me until we caught a much larger group a few minutes later.
I pressed on, and as the road turned towards the East, so the wind was straight into our teeth. I just knuckled down, and got on with the job at hand. We were in the Western Carr Boyd Ranges, which forms the Western border of Lake Argyle. They were really pretty, at times they did give us shelter from the wind. We had a rest stop about 30km up the road, and I was soon chasing down the lead pack. I could see them for a long time, but they were riding well, so it was going to take me a while. As I got near them, they dropped one of their riders, and it turned out to be Trevor. I caught up to him, and I chatted with him for a few minutes before I set out to get Trevor back into the lead group.
Because it was a cross wind, I had to show him where to sit in relation to me to get the most benefit, but once he was shown where it was, he sat there very well, and we did regain contact with the group. It was made up of Graeme, Lyn, Walter, Rob and now Trevor and I. It took me a while to recognise Rob in the group, as I am not used to seeing him up the front. He is on the ride with his Partner, Amanda, and they usually ride together at her pace, this puts them more towards the back of the group.
Again, because of the cross wind we were riding in an echelon format, and as I trusted Graeme, and I could see that Rob was a steady rider, we were often riding very very tightly. The policy in this group was to try and keep the pace nice and solid, but you could spend as long or as a short as you wanted on the front. This allowed the stronger riders to sit there and get a good workout, and the weaker riders to do a shorter turn to avoid blowing themselves to pieces. We saw what appeared to be a bike and rider at the side of the road, and as we neared it, it was a male rider (with a very bushy beard) next to a bike that was very loaded. He even had a trailer. Someone commented that he had nearly everything bar the kitchen sink, to which I retorted that he did actually have one on there. We have seen a few bikes loaded very heavily, but I think that this just about takes the cake so far.
I was near the front with Graeme, and we could see a Rest Area sign ahead of us, we were debating about what the distance was. We could see some writing and numbers at the bottom, but we were surprised that it looked like double figures. I turned out that the distance to the next Rest Stop was only 2 km, and the numbers below, were the distances to the Rest Stops after that. Just as we neared the stop, there was a dead kangaroo in the middle of our lane, we gave the bunch plenty of warning, as I would have hated to see someone hit it, but Walter was feeling energetic and he bunny hopped it.
We pulled into the Snack Stop just as John and Angela rolled out, John had obviously been going really well, and he was making the most of his head start on the rest of us. I grabbed the chain lube in my day pack, and I got stuck into Walter's Chain. It had been really noisy, and I had an opportunity to do something about it. We didn't stay for a particularly long time, and we ended up rolling out just as the last bunch rolled in. We were told that Lunch was only about 30km away, and that it wouldn't be served until 11:30 am, at the pace we were going and the current time, we were ahead of schedule, but Lunch would bring us back into order.
I set off, slightly behind a bunch, and I soon passed a sign saying that Doon Doon, our lunch stop, was only 23km away. A bit up the road, I caught up to Fiona, who had been unceremoniously dumped by a bunch, and it looked like she was going to have a lonely ride. I initially tried to tow her back to the bunch, as she was only about 30 metres off them, but I couldn't do it without dropping her. I rode with her to keep her company, and it does make it a lot easier to ride something like this when you have some company, so it paid dividends to me as well.
We were now in the South Western part of the Carr Boyd Ranges, and they were still giving us fantastic views. As both Fiona and I did the full day Bungle Bungle flight yesterday, we were able to discuss some of it, compared to what we were seeing now. The Strata in the rock was amazing, and it is just awe inspiring to think of the forces involved to shift that amount of rock into the shapes that it is now in.
We had a fairly solid up hill, but because it was between two of the hills in the area, we got a lot of shelter from the wind. About 1/2 up it, we could see some riders at the side of the road. I went ahead of Fiona to find out what the issue was, and one of them had a puncture, they were on top of the situation and didn't require my help. I went on when Fiona caught up to me. When we started the descent, the wind was back, but the scenery was really stunning. We were leaving the Carr Boyd Ranges behind us, and we could see the Rugged Ranges in the distance. I asked Fiona to go ahead of me, as I wanted to get some pictures of the view. I go several before setting off after Fiona and rejoining her for company.
By this stage, we were discussing the distance to Lunch, and I didn't think that it was very far, she thought that the sign we saw said 28km, and I suddenly wasn't too sure. We saw another sign up a head, and she thought that it would say Doon Doon 2km. I bet her that it wouldn't, and I put a flavoured milk on the line. It was a bet I was willing to lose, and she was right, we were now 2km short of Doon Doon Roadhouse, our lunch stop for the day.
Just as we got to the entrance way, I looked back and a Road Train was bearing down on us. We felt that the safest thing to do was to get off the road, let him past, and then make the right hand turn into Doon Doon. We landed, and as per Phil at the previous stop, we had a bit of a wait for Lunch. I bought Fiona and I a flavoured milk to tide us over until Lunch was served. It turned out that over the last section, the lead bunch had disturbed a couple of wild horses. They came out of the bush at the side of the road, and crossed the road ahead of them before pacing them for a couple of kilometres. There was a Stallion and 3 or 4 mares. It reminded me of our day leaving Marla last year when a similar thing happened to us. It would have been amazing to have been in the bunch when it happened.
Lunch was a really nice meal, it was a piece of nicely cooked chicken, and salad. Not something I would normally eat when I am riding, but it was a very enjoyable meal. Today, there were a few more people in the Bus. Amanda, who had never planned on riding the whole distance was taking a breather in the middle section, Lesley joined her, and she had been having a tough day, and Renee was also in there. She picked up a Stomach Bug yesterday, and as a result she was a bit down on power today, not the best day to be lacking in oomph.
I probably ate more than I should have at Lunch, and I suspect that I would feel it for the next several kilometres until it finally settled in my stomach. I hadn't eaten a lot so far in the day, so I didn't feel completely stuffed. I rolled out of the Lunch Break solo, and I was soon catching those who had left before hand. I was soon off the front and enjoying the scenery and the riding.
On a day like this, I always feel that you have 4 basic options, you can sit it out, either by not riding if you have a choice, or taking a lift in the Bus. You can try and hide in a bunch, or work in a bunch which would limit your time on the front. You can ride solo and feel miserable about yourself and complain how much it hurts. Or, as I felt like doing, just knuckle down and deal with the job at hand.
I must admit, that by this stage the wind seemed to be easing, either we weren't being affected by the High Pressure System to the same extent, or they were being funnelled around by the hills to our North which increased their strength. Whatever the reason, I wasn't in a hurry to complain about it and so it allowed me to push the pace along very well. There were some very interesting rock formations in this area, and some of them almost looked like giant sized cairns. There were others that you could imagine looked like giant fossilised creatures. It is amazing the size of them, and to think that they are just remains of the mountains that were there millions of years ago, but have since been eroded to their present day size.
Phil and Susan passed me a few kilometres short of the expected distance for the next Rest Stop, which was good as it meant that I was then not going to miss it. I pulled in a good 5 minutes before the next group of riders, and so I chatted with then for a bit. It was only a Water Stop, so it was just a chance to refill my bidons and drink a bit more water before Afternoon Tea about 30km up the road.
The wind made the day a lot cooler and so we weren't drinking as much water today as we have in the past couple. It also made the riding a lot more pleasant. While I and the first bunch were at the Rest Stop, another bunch came past and didn't even bother to stop. It irked Graeme, and I was on the road a few minutes later chasing them down.
They had a fair lead over me, so I wasn't surprised that it took about 15km before I even sighted them, and another 10km or so before I finally caught them. There were a lot of road works along the next section, and at one point we had to take a gravel road detour. These road works are part of a major road upgrade along this particular section, and I can easily see why. The original road has a lot of single lane bridges that must be murder for the road trains, and other traffic, plus this section didn't even have a dividing line down the middle of the road, it was barely two lanes wide.
One of the other issues with this particular section, was that it was very up and down, and for Road Trains in particular, they would be wasting a lot of fuel trying to maintain their speed as they drive through it. I saw Kirsten had stopped ahead, and it looked like some of the riders in the group had to stop and get some water from her, but she had also put Lesley and Amanda back on their bikes, Renee had started at Lunch time.
A bit further up the road, I saw some signs for Lissadell Station, which we saw from the air yesterday on our flight. There was a large one, and then one showing a mustering yard number 4.
For the last few kilometres I was with the bunch before we reached Afternoon Tea, and we had one final single lane bridge to navigate. When I saw the first one of these, I thought that they were set up to give priority to North bound traffic, but on closer inspection, they seem to be a first come first served arrangement. So no matter which way you are going, if you are on the bridge, the traffic in the other direction has to give way to you. This last bridge we had to cross was longer than the others, and as we approached, a vehicle did approach it from the other side. I felt that it was prudent for us to let him cross first, and it seemed unlikely that we would reach the bridge first anyway. Ernie who was up the front, almost seemed to be riding oblivious to the bridge, but it turned out that he was just going to cut if very fine.
At Afternoon Tea, I helped out again to prepare for it, but there wasn't a lot that needed to be done. All of the bunches were going to stop here, but we did see one group start the bridge, and then turn around as a truck hit it from our side. I was near the cab of Phil's truck, and so I heard a Road Train radio that he was approaching the bridge from the South, and then at the Bridge, and we saw him cross it.
Again, I probably ate more than I should have at the stop, but I was probably playing a bit of catch up for the smaller dinner last night and the smaller meals in the morning. One of the groups moved off, and as Graeme and Walter were in it, I was soon on the road as well. We had about 30km to go for the day, and I was still feeling pretty good. I slowly chased down Rob and he had been dropped by Spencer. It turned out that Rob had done a turn, and then Spencer dropped the hammer and dropped him. I rode with him for a bit before he sent me up to get to Spencer. I hadn't seen Graeme, but I didn't think much more of it, as I couldn't see him ahead of me either.
I caught up to Spencer, and I did a long turn, and Spencer then said that he was going to drop off, I eased up so he could sit with me as it does make it nicer to finish with someone. He tried to get me moving a couple of times, but I simply eased up and allowed him to ride with me. In the end, Warmun came about 2 km earlier than we expected and when we arrived, Walter and Graeme were there waiting for us. Phil and Susan were there, and I quickly got my room key, but I helped Phil unload the Trailer a bit first. I needed to do some washing, so once I found out where it was, I got out of my cycling kit and put a load on before attacking my stretching.
I had been allocated a room to myself, but as it had a spare double bed, I tried to see if one of the people in the Single Sub option wanted it. Barry was the only one who had to camp, so he ended up with me. I finished stretching and cleaned my self up for Dinner. I felt like a drink, but it turns out that this is a dry community and so they don't sell alcohol. A bit of a bummer for us, but it the first time this has happened, so it isn't the end of the world.
Tomorrow is a reasonably long day with 160km or so to cover. We are ending up in Halls Creek, which is only a bit North of the Wolfe Creek Crater, I can see a few jokes happening about the movie coming out tomorrow.
| | |
| --- | --- |
| Distance | 195.73 km |
| Average | 29.54 km/hr |
| Time | 6:37:29 |
| Maximum | 46.35 km/hr |
Images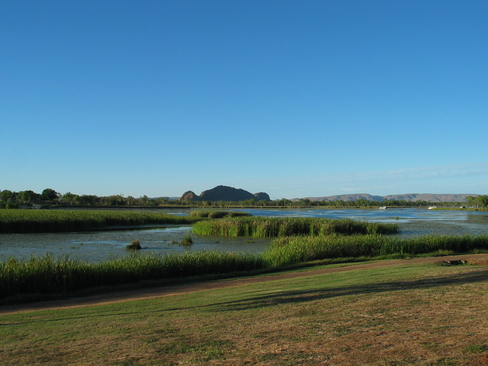 Lake Kununurra, which is fed from Lake Argyle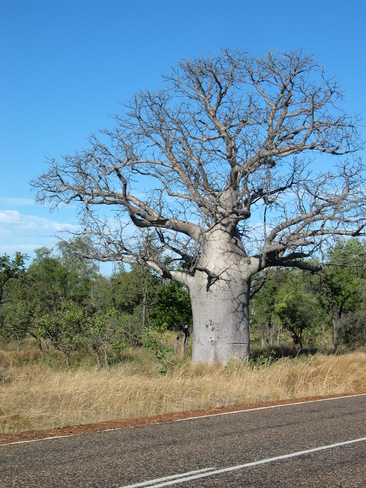 Another Giant Boab, some where small, some like this were huge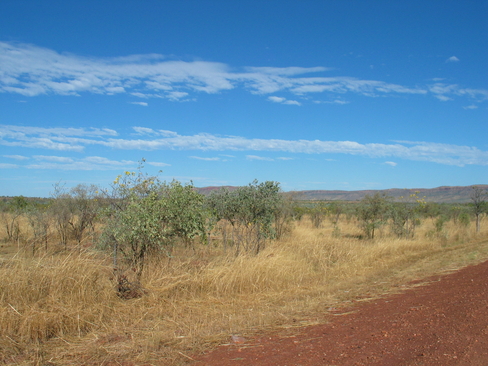 The ranges in the Distance, later on in the day, we threaded our way between a lot ofthem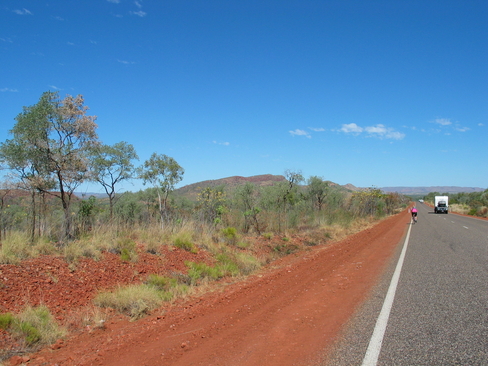 After the climb, comes the downhill, it isn't very steep, but anything down is a bonus, and we have great scenery to look at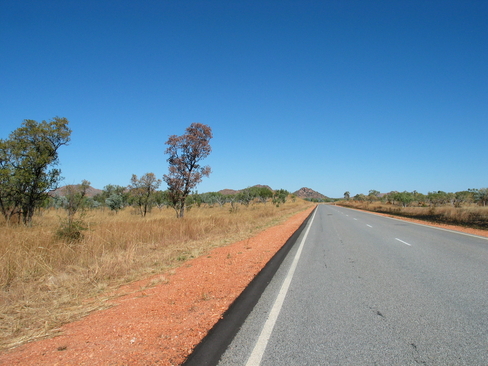 Scenery as far as the eye can see. No wonder I took so many photographs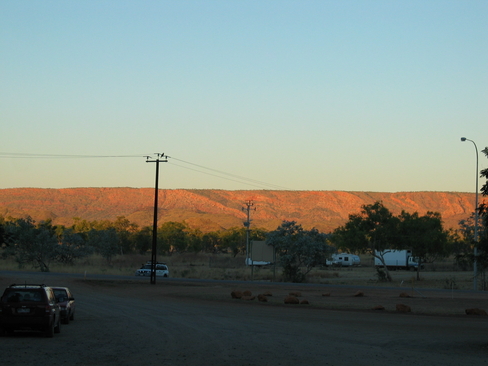 Warmun sunset
Click Here
for more Photos from Day 10.