Day 2 - Friday, 26th June 2009 - Adelaide River to Pine Creek
Yesterday afternoon, I took a quick ride down to the Adelaide River War Cemetery. I had the option of going there when I was passing through on the Territory Tour, but I missed the bus and I did my own thing. In hindsight, I am glad that I visited it after I had been to Darwin and the East Point Military Museum. It is a very sombre place, like any war cemetery, as it highlights the number of men in active service who had their lives cut so tragically short.
There is also a civilian section, which contains among others, the graves of the Darwin Postmaster, and his wife and daughter, who were killed in the 19th February 1942 Bombing Raid on Darwin. The things that really hit home for me, was a grave with the date of death being early September, 1939, which would have only been a few days after the war was officially declared, a large number of "Known Unto God" graves, which contained unknown sailors of the Merchant Navy, and the monument in the centre of the cemetery, which contained a list of names of military personal who had been killed in the war, but their bodies have never been found for various reasons.
While it may seem to be an unusual place to have a War Cemetery, it does make sense when you understand the role that Adelaide River played in the defence of Darwin and Australia during the Second World War. This was a very large staging area for a lot of troops, both American and Australian. It also had a major airfield, a munitions supply, and a hospital. All along the road between Larrimah and Darwin, are reminders of the number of airfields in the area.
Today started 30 minutes later than what had been planned. As before at Adelaide River, breakfast was pushed back by 30 minutes, and so that put pretty much the entire day out from there. It was Gill's birthday, who was turning 21 (and a little bit), and so we all sung her "Happy Birthday" at breakfast. Phil was hoping to limit our losses on time, but with more people to get moving, not a lot was saved in the end. I rolled out with Pat and Graeme at about 7:45am, and we were pretty much the last ones to get out.
Like our run into Adelaide River, we took the old Stuart Highway to Hayes Creek, and as before, it was a really enjoyable trip. The road is through some really scenic country with a twisting road that contains a lot of short ups and downs. Because it is now a secondary road, there wasn't a lot of traffic. It was mostly caravans, which is a whole lot better than Road Trains. We were slowly catching the groups and single riders ahead of us, and even despite the efforts that we put in yesterday, we were all feeling pretty good. Pat was complaining that he didn't have anyone to draft behind, as both Graeme and I are smaller than him. Pat is a bit taller than me, and I am slimmer, and Graeme is slimmer than me, but a lot taller. Pat was wishing that Barry was with us so he had someone to hide behind.
The day was already warming up, and in an attempt to keep hydrated, I had drunk a bidon of water before I left Adelaide River, I was drinking quite a lot even this early in the day. Our first stop was at the Daly River turnoff, which was our last stop on the way in. We came across Fiona and Gill, Gill had flatted, and so Pat, Graeme and I offered to help. Pat got the tyre off, while I put some air into her spare tube, and then checked her old tube. It was a pinch flat, so it made the job a lot easier as there was nothing to find in the tyre. Greg had pulled up by this time, so he offered the services of his Track Pump, so in the end, it only took about 5 minutes before Gill and Fiona were back on the road.
Pat, Graeme and I set off again, and a bit further up the road we hit our first major uphill. I knew from memory that it was only short, but it was still reasonably steep. I pressed on, and got a gap on Pat and Graeme. When I crossed the top, there was a white line and "KOM" (King of the Mountain) written on the road, so I guess that there is either a race held out here, or a club in the nearby area use it for a training ride.
I was by myself at this point, but I decided to press on and enjoy the trip as a solo ride for the next section, it was really nice to see the country a second time round, and to see it from a different angle. There weren't many riders ahead of me at this point, but I wasn't trying to prove anything or chase anyone down. My legs were feeling pretty good, and I was still turning a good cadence, so I knew that I was in pretty good shape. Pat and Graeme caught up to me, and there was another hill which Pat dropped off on, but I knew that our first stop, a Snack Stop, wasn't far away. In the end, we caught the front runners just as we made the stop.
Today, Graeme and Spencer were on the assistance list, but I still offered to help out where I could. Graeme got stuck into the chopping up, and once the stools where out, there wasn't a lot more to do. Despite it being a snack stop, Phil had increased it to a mini Morning Tea, so there was Tea and Coffee on offer as well, not that with the heat it would have been high on people's list of preferred beverage. Phil commented that as it was the old Stuart Highway, they used to get Road Trains on it, while we were at Morning Tea, we saw a Road Train heading in the opposite direction to us, and turn down Daly River Road, it wouldn't have been pleasant for us to meet him, and it wouldn't have been pretty for any of the motorists. Apparently, they used to just barrel down there, and you had to get out of their way. I am curious as to what their policy was when two of them met.
When it came to rolling out, I stayed back and helped pack up, and then I was pretty much the last rider out again. I knew that the next section was less hilly, but with just as much scenery to see on the way through. It took me a while to start closing down the gaps, but once I was amongst the tail runners, I saw a reasonable number of riders. Because I had the compass on the bike, I was able to see the direction that we were travelling in, interestingly, despite us generally heading South East to Katherine, we had one section where we were heading almost due North.
I slowly caught up to a large group, which had two of our Female riders hanging off the back. I commented that it was a large group, and they stated that they had just been in it. I offered to tow them back in, and they didn't need to be asked twice. They weren't far off the back, so it didn't take long, and once they were on, I pressed on anyway. Pat was in the group, and he asked where Graeme was, he had left behind me, and I hadn't seen him, so I was unsure.
The road was really dead, but as it was such a nice morning, although already starting to heat up, with no wind, and a really nice route, I didn't worry too much. I caught up the front runners of Fiona, Rob and Simon. When I went past, Simon abandoned the others and came across with me. We were swapping turns, and so we were turning the k's over pretty easily. I knew that there wasn't far to go to the Stuart Highway, and so I was enjoying the last of this section. Simon has a Tattoo on each ankle, one for the Giro de Italia, and one for the Tour de France, I asked him where the one for the Vuelta was, and he slapped his backside. Then said that as they keep changing their logo, he doesn't have one, he said that he had offered to Phil to get an All Trails one.
We turned onto the Highway, and although I looked several times, there was no traffic to be seen, and it took a few minutes before we saw any cars. A bit up the road, we saw the reason for there being no oncoming traffic, Road Works. Again. We were held up, and while Simon was keen to just ride through the cones, I didn't think that it was prudent. Fiona and Rob caught up to us, and the lights changed shortly afterwards. We made it through, and then our Morning Tea stop was on the right at Hayes Creek.
I again offered to help, suspecting that Graeme was a bit back, but Spencer was in not long behind me, so I was again superfluous. We were early for Morning Tea, so we were sitting around and talking. The heat was starting to take it's toll on the riders, and now that we had left the slightly shady corridor of the Old Highway, we were about to get the full brunt of the sun on us. I commented to Fiona, that I thought that Hayes Creek and the turn off were closer. They were about 7km apart, and I could have sworn on the way out, that they were closer than that. It turned out that it wasn't just my memory, as Fiona felt the same way.
The final riders were coming in quite a bit back. Amanda and her partner Rob were the last two in, and Amanda was really suffering in the heat. A few riders have commented about it, and as most of us are from the Southern part of the country, the change in climate has really hit them hard. I don't find it too bad, but then, I spent 2 weeks riding from Alice to Darwin, and then close to a week in Darwin before starting on this tour. Fiona and Patrick are the same, and I think that it has made a real difference to our performance compared to the other riders. I can now understand why the professional athletes like to get to a tournament several days early to get used to the climate.
Our next stop was scheduled at Emerald Springs, which was about 22km away. Phil proposed that while it was supposed to be Lunch, we should move Lunch to Pine Creek, and just have another snack there. I wasn't sure about the others, but I wasn't able to eat a lot because of the heat. I generally wanted something light, and just a lot of liquids. Phil's Proposal was pretty much a unanimous decision, and so it set us up for a late Lunch.
On rolling out of Morning Tea, I was again near the back, and I knew that there was a bit of a climb not far up the road. I had also advised people to look out for the Truck Crash that we had seen on the way in. While the hill was fun going into Hayes Creek, it wasn't a lot of fun going out. When I was at the base, I could see a large number of cyclists on it's slopes, it looked really great with the multi coloured jerseys. The heat was bearable when you were moving reasonably fast, but on the hill, where my speed dropped down below 20km/hr, the heat radiating off the road was quite intense.
Past the crest, I started to catch up to the remnants of the large bunch, and soon after that, we started to get overtaken by a lot of Army Trucks. I am not sure if there is a major exercise happing somewhere, or if this is a common occurrence, but I have seen more Army traffic in the last 3 weeks, that I have seen in my entire life. It was the odd Army Road Train, but mostly smaller vehicles carrying what appeared to be supplies and some heavy machinery.
I caught up to Pat and the others, and they were waiting at the side of the road, I checked to make sure that everything was OK, but they were waiting for some of the other riders to reform the bunch that had exploded on the hill. I pressed on, knowing that it was only a relatively short distance to Emerald Springs, and I again passed the Truck Crash site. Fiona had found out what happened here, and it was a two trailer truck that was carrying hay, and there was a roadside burn off. A Caravan ahead of the truck wasn't travelling very fast, and this meant that the hay was exposed to the smoke and embers of the fire for longer. An ember was able to ignite the hay, but luckily the driver realised and so he was able to ditch the trailers and save his truck. There were no injuries reported.
I pressed on, and caught up to a small group of three, they were showing a great example of chivalry, as Maz was on the front and leading. I overtook them, and then took over the lead. I kept my pace steady to ensure that they all stayed on, and then towed them to Emerald Springs. Eve though it was only about 22km from Hayes Creek to Emerald Springs, it was still a welcome relief to see the 2km sign. At about that point, Chris shot past me like an express train, but I simply swallowed my pride and let him go. Even though I could have left the others and chased him down, I didn't have any pressing desire to prove anything today.
We arrived shortly behind Chris, and I helped Phil set up the bike racks and the stools. Shade was at a premium, so we ended up in the ditch beside the road. It wasn't too bad, and at least it was shady. Again, the main priority of the stop was water, and like the previous two stops, I consumed an entire bidon while I was there. The other riders slowly came in, and we were all pretty knocked around by the heat. While most of us were surviving pretty well, you could tell that no one was performing at their best. I knew that I had to get some food into me, as I hadn't had any real cycling fuel since breakfast, but it was just too hot to eat, plus with the amount of water I was drinking, I wasn't that hungry.
When it came to departure time, Spencer was asking Phil about a problem with his bike, I quickly diagnosed the problem as a loose headset, but as Peter, who was in the van at this time had left, Phil was trying to help him. I thought that Peter had stopped just up the road, so I suggested that he ride up and get help. In actual fact, Peter was driving slowly, but I did manage to chase him down, get him to stop and advise what the problem was.
It wasn't long before I caught the front runners, and I kept on going. While today wasn't particularly long, it had started to take it's toll on me. A lack of food and the heat was knocking me around, so while I still had strength in my legs, I knew that I was down on power. I caught up to Greg, and it took me until I was on his wheel before I recognised who it was. We stayed together swapping turns. At times, I felt that I was really suffering, but when Greg took a turn, we weren't going any faster. The road surface had improved dramatically since the Old Highway, but at times it was still very dead. Plus the profile showed that we were supposed to be climbing till just shy of Pine Creek.
Several times, I could have sworn that there was a bit of a head wind, but the grass and the trees didn't show that there was a wind of any description, but when you were on the front, it did feel that there was one. At one point, I changed gears and I felt something sharp protruding from my right hand gear lever. I had experienced this before, so I knew what the problem was, my rear derailleur cable was frayed, and it would probably break in a day or two unless it was replaced. I asked Greg if he had one, but he didn't but advised that Peter might.
We finally passed a sign advising that Pine Creek was 5km away, and shortly after that Greg dropped off my wheel, I eased up initially, but he didn't seem to be closing the gap. Knowing that it wasn't far, I decided to press on and get the day over and done with. I finally rolled into town shortly before 2:30pm, really glad to be there. Even though Phil had his flour arrows down. I didn't really need them as I knew where I was going. I pulled into the Hotel grounds, leant the bike against a wall, and walked back around to the Pub for a cold (non-alcoholic) drink. It was very welcome. I asked the bar tender if it was unusually hot, as Phil had told us earlier that it was warmer than normal. I am not sure if she pegged me as a tourist, but she said that it was slightly cool if anything.
I went back around the back, and got my room key from Sue, I am with Tassie Tiger Graeme tonight, so I put mine and his bags in the room, and then started my stretching. Other riders were appearing, and Sue was setting up lunch, but she didn't seem to have many takers for quite a while. I saw that Peter was in, and I asked him about the rear derailleur cable, and luckily he had one. It was a weight off my mind, as I had been thinking about how I could get one if he didn't. He asked if I wanted to change it, but I decided to let him do the work. It isn't often that my bike gets looked after by anyone but me, but theoretically, I am on Holiday.
After stretching, I wandered over to Peter, and I had a look at the state of the cable in the shifter, it was pretty badly frayed, and I joked with him that I bet he was glad that he had offered to do it. He was a bit unsure about my bike as it had internal cable routing, but unlike some designs it is really easy to thread a cable through. I then got stuck into some lunch. They were some really nice sandwiches from Adelaide River, I thoroughly enjoyed two of them, and while I could have eaten more, I decided that I wanted to be able to enjoy my dinner as well.
I worked out today, that I drank about 6 litres of water throughout the day, normally you are advised to drink about a bidon of water every hour of cycling. I was doing that, but I was also drinking a full bidon at each rest stop. I think that most of the other riders were doing something similar and I think that it was a necessary amount of water to drink. Luckily, I am not a particularly salty sweater, if I was, I could be at real risk of diluting the salt levels in my body, which in extreme cases can cause death. In either case, I think that I will apply some salt to my food tonight to ensure that I am not at risk. Today was a tough day, it was the heat that made it really difficult. The first part of the day on the Old Highway was really enjoyable, but the later part on the exposed road was really draining. Hopefully, we aren't going to get too many more days like this.
| | |
| --- | --- |
| Distance | 127.94 km |
| Average | 29.20 km/hr |
| Time | 4:22:53 |
| Maximum | 52.32 km/hr |
Images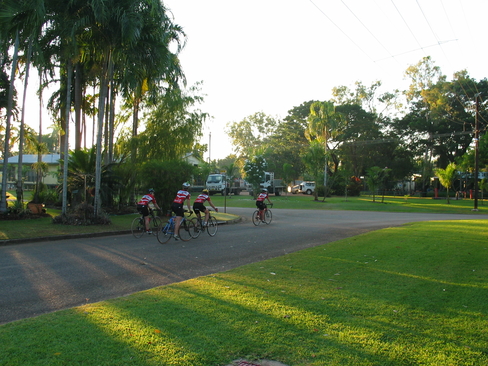 The Fantastic Four looking resplendent in matching Kit. This was for the Kinglake Ride.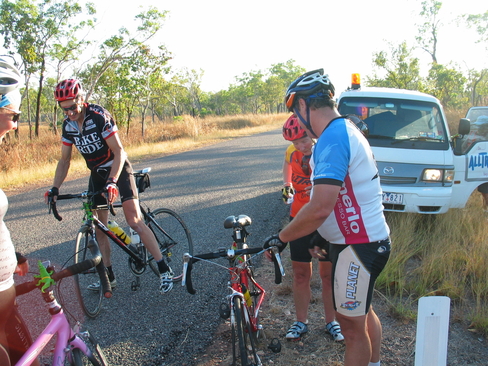 How many cyclists does it take to change a flat?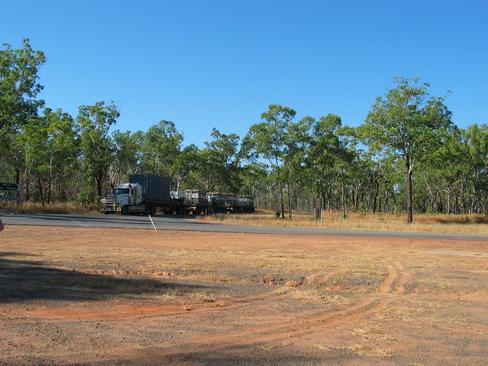 Proof that Road Trains still use the old road. Luckily, we didn't have to deal with him on the road.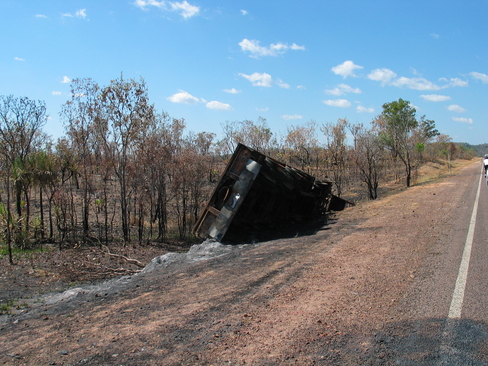 Half of the torched truck.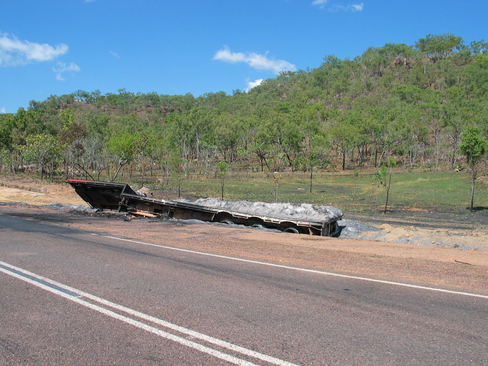 The other half of the torched truck.
Click Here
for more Photos from Day 2.