Day 3 - Saturday, 27th June 2009 - Pine Creek to Katherine
For last nights dinner, I had originally hoped that we would have a similar meal to what we had enjoyed on our way towards Darwin. Because we had extra riders, we instead had a buffet meal. At the briefing, Phil was explaining how it was really hot outside on the day, but all of the drivers had been enjoying their air conditioning in the vehicles. I commented with two words "You Bastard", and for once, he had nothing to say.
When it came to dinner, I had some of the roast meat on offer, but I basically went through the salad bar, with a large emphasis on the pasta salad. I had enough to fill me up, with what I was hoping was a good meal for energy. I decided to skip the desert despite them sounding like some very nice options.
I was sitting with Kirsten, Mark and Greg, we started discussing about diet and nutrition, as always it is amazing how many of our meal conversations revolve around things that are related to cycling, either directly or indirectly. Once dinner was over, I moved out to the pub area with some of the other riders, I wasn't drinking alcohol, but I did have a few glasses of water. Even at this time of night it was quite warm.
My chain was making some noise yesterday, which meant that it was time to get some more lubrication into it before it got any louder. Once back at the room, the bike was taken outside, the chain wiped down, and the lube was reapplied. Then it was off to bed after another long day on the bike.
As is usual for me, each morning starts 30 minutes before breakfast, before I got to bed, I have put everything away that I don't need for the morning, and I have already taken my cycle kit that I will wear for the next day out. I pretty much get up, apply some chamois cream to my nix, get dressed, and apply sunscreen. I am usually ready before breakfast, so I often wander down ahead of time in case they are open early. I tend to only eat cereal, and sometimes some toast. While I enjoy a full cooked breakfast, I tend to find that it sits very heavily for an hour or two on the bike.
Once back from breakfast, I finish packing and get my bags out to the truck. I did a quick lap around the block this morning on the bike to get the chain lube right through the chain and then gave it a quick wipe down to get rid of any of the excess lubrication. I set off quite late this morning, and I was only a bit ahead of Pat and Graeme. The morning had started off reasonably cool, so the hope was that the conditions would stay a bit cooler for the day. We had left shortly after sunrise, and for once, the sun didn't seem to have a lot of strength in it. It was warm, but unlike some of the previous days, where you could feel it cooking you as soon as it hit you, it was a lot milder.
Our first stop was about 35km up the road, in of all places, a truck parking bay. I set off solo, as I tend to warm up quicker than Pat and Graeme, and so I was soon by myself. Some of the riders had a pretty large start on me, but I was enjoying the morning, and riding within my limits, so I wasn't fussed if I caught them or not. I knew that last nights meal had done me a world of good, as I was able to turn my legs over really well. My cadence was pretty much where I like to keep it when I am riding well, not something I can do when I am tired, either mentally or physically. I think that yesterday was a lot harder than some of us were prepared to admit. The heat from the sun and the rolling terrain really knocked a lot of us around.
The road surface this morning was pretty good, and I was pretty sure that it was mostly like that on the way to Katherine, that again indicated that it would be a good day to be on the bike. There was no wind this early in the morning, and if we were lucky, it would stay that way. I slowly caught up to a lot of the riders, and as I have been doing, I just kept going. I wasn't sure what I was going to do later in the day, and for all I knew, my legs would blow up, but I was enjoying the morning, and I wanted to ride at my own pace.
I kept an eye on the distance, but I knew that I had a while to go, and I was also pretty sure that the truck parking bay was going to be signed, but I was determined that I wasn't going to miss another rest stop on this trip. At one point, I thought that I could see an All Trails Rider ahead of me, but they didn't seem to be moving, as I got closer, I realised that it was a rider, and they were standing at the side of the road. As I got closer, they remounted and rode off. It was Mark, who I met on the first night, and he had stopped at a river crossing to take some pictures of the bridge. It is something that I tend not to do, instead I just take some pictures on the fly and hope that they turn out OK.
Shortly up the road, I saw a sign for the Truck Parking Bay, and while I could see that some riders had gone straight past, I wasn't going to do anything but stop. I rode in, and Phil and Susan were at the far end of it, in a position whereby they would be out of the way of any truck that needed to use it. While we were waiting, a few riders had nearly rode past, and it was only because we yelled out to them that they realised that it was a rest stop.
I made use of the facilities (actually, a tree), as like yesterday, I was doing my best to ensure that I was keeping well hydrated. Morning Tea was served, and Graeme had to get a lift for the last 7km in, as he had managed to pull a cleat right off his shoe. He uses an unusual cleat position, so he had drilled extra holes in his shoes and pop riveted the cleats to his shoes. He must have been using too much power as he managed to break the pop rivets. Luckily, Peter was able to get the remains of the rivets out of the shoe, and was able to reattach the cleat to it, and so he didn't have to sit in the bus for the rest of the day. It would have been interesting if he hadn't, as tomorrow, while a Rest Day, is also Sunday, which may have meant that finding hardware would have been a problem, even in a town like Katherine.
I rolled out of Morning Tea pretty much last, we had about 15km to go to the Edith Falls turn off, and another 19km to get there. Initially, Pat, Graeme, and Greg took off past me, but I was still enjoying myself as a solo rider,so I let them go. The turn off was surprisingly close, and so we headed back to Edith Falls, my second visit. I soon caught and passed Pat, Graeme and Greg, and as I went past Fiona, I commented that this felt really familiar, to which she agreed. Some of the riders had opted to take the bus into the Falls, but I was still feeling really good on the bike, so I pressed on. I possibly went a bit hard, as about 5km from the end, I was feeling a bit flat, but I knew that there was a long break when we got there, so I just pressed on. If anything, I think that the views were even better this time around, as I think that the air was clearer. There were a few fires burning the last time we were on the road, and it put a lot of haze in the air. The other good thing, was that there seemed to be a lot of vehicles coming out, but not a lot going in, which meant that it would be nice and quiet.
I finally arrived, and I was ahead of the main bunch. Phil and Susan had managed to get the same area as last time, with a bit of gentle persuasion, so we had a nice spot to sit down and rest in. I showed Phil where the start to the walk was, and as other riders came in, we all settled down. I didn't plan on doing the walk this time, but I wanted to have a swim this time. I also wandered down to the information board, as I wanted to have a look at the two types of snakes that were listed as being present in the area, to see if I could identify the snake that I had met when I was last here.
When all of the riders were in, the options were stated, and this time we had 2 hours to spend here. I went and got changed, and then walked down to the waters edge. The signs state that the swimming hole is closed from 7pm to 7am as that is when the Fresh Water Crocodiles in the area tend to feed, but it does also advise that while they try and keep it Salt Water Crocodile free, they can still infest the waters. That didn't deter me.
I was the first rider down there, and Eddie wasn't far behind me. I stepped into the water, and it was cool, but not cold. Eddie was egging me on, and in the end, I just dived in to get it over and done with. It felt a lot warmer once I was fully immersed. There was only one other swimmer, and she wasn't with our group, but like us, was glad that there was very few people about. Fiona and Gill soon joined us, and as I said to them, once you are in it is fine.
I decided to swim over to the base of the falls, which was probably about 50 meters distant. I didn't break any records getting there, and it was interesting how out of shape I was when it came to swimming. When I was at college, I did a lot of swimming to stay in shape, and I have lost a lot of upper body fitness since I have taken up cycling. I will admit that I was a bit nervous while swimming over, I wasn't worried about the Freshies, as they are fairly timid, and only grow to a small size, but if there was a Saltie in there, and he decided that he was hungry, there wouldn't be a lot I could do about it. I probably wouldn't even see him coming. The falls into the lower pool were only small, but there was a fair amount of water flowing over them. Up close, they were really beautiful and there was an awesome amount of force at the base of them. I could see that it wasn't possible to get behind them, as there didn't seem to be a cave there. I played around in their wash, ad then started heading back.
On the way back, I tried my hand at a bit of freestyle, but I found it difficult because I was unable to get my breathing right. In the end, I just kept up my alternation between Breaststroke and Side-stroke to cover the distance. When I got back, quite a few more riders were in the water and enjoying themselves. I decided that I had enough, so a few minutes later, I jumped out and dried off. A towel almost wasn't needed, as in the dry air, I was able to dry pretty quickly anyway. I wandered back up to our base camp, and Pat was the only one there, Phil and Susan had set out on the walk, and he was minding the shop. I sat down and chatted with him, it was in the shade, and I had put my jersey back on to avoid the sun. There was still a good hour or so until Lunch, but the number of people slowly increased.
Kirsten came over and started doing a Soduku, I asked if there were any crosswords on the page, and we started discussing them. She gave us the quiz out of the paper, which we all did pretty well at. Considering that there were about 10 of us there by that stage, it was hardly surprising that we managed to correctly answer nearly all of the questions. Phil, Susan and the rest of the walkers had returned, and so lunch was shortly served. Luckily it was more sandwiches, not as nice as the ones that we had at Pine Creek the previous day, but still a welcome meal at that time of the day in the heat.
I changed back into my cycling kit and made ready to leave, and I was one of the later cyclists going out as usual. I was initially held up by a car, but I ended up overtaking them when they slowed down at a speed bump. There is a single cattle grid on the way out, and as I approached it, I remembered one of the other riders commenting that you can bunny hop them. I felt that you would have to be doing about 45km/hr to do so, and the lead up to this one was conducive to it. I debated with myself as I neared it, and in the end I decided to risk it. There was no reason, as it is very rideable, but I just wanted to see if I could do it. Luckily, I have had a reasonable amount of practice bunny hopping the bike on the way to work, so I was able to get over the grid with no incidents. I was well aware that it was something that could have ended in tears, and possibly taken me off the ride.
By this stage in the day, the temperature was starting to climb, and we could feel the heat in the sun and radiating off the road. We had about 60km to cover, and there would be a water stop at the end of the Edith Falls road, and then another one on the way to Katherine. I again decided to push myself on the way out, and there still didn't seem to be any wind around, something we were all very thankful for.
As on the way in, some of the riders decided to get transported out, so they were at the water stop before me, I pulled in and grabbed some water, and waited for some of the other riders for a bit. We were told that there would be another water stop about 15km away, which would mean that we would have about 25km to go to Katherine. I had already consumed a bidon on the way out, so I strongly suspected that I would be fine with that extra water stop. I set off a bit behind the front runners, and I was soon by myself off the front. I was still feeling really good, and turning a very high cadence, so I knew that I wasn't particularly tired or my cadence would start falling.
On the way back to Katherine, I was looking around for some of the scenery that I remembered on the way out, but having seen it from the other direction, when I was probably in a pack, did make it a bit hard. The profile showed that there was a bit of climbing, and then a lot of downhill to get us into Katherine. In either case, the up hills weren't too bad, and the downhills allowed me to push the speed up a bit. I kept a close eye on the distance as I didn't want to miss the water stop, luckily Phil and Susan were ahead of me, so I knew that it would be difficult to miss, but I did want to know roughly when to expect it.
In the end, they were about 2km earlier that I expected, so we still had about 29km to go into town. Phil filled up my bottle, I drank a lot of it, and then refilled again. Pat and Graeme weren't far behind me, and as they approached, Graeme pulled out into the lane to check with Pat to see if they were stopping. This normally wouldn't be an issue, except this time there was a Road Train no far behind him. He leant on the horn, and Phil and I were yelling at him, but luckily nothing eventuated as Graeme was able to pull back to the side of the road. You have to be so careful out there at all times.
Susan had asked if anyone wanted any food, most of us declined, but it didn't stop her from cutting up some fruit, and walking around with a plate of bananas and biscuits as well. She really can't enough for us. I set off solo again, and I still felt surprisingly good, on the first day out of Darwin, I felt that I didn't have enough rest, when in reality, it was just going to take me a day or two to get back into the swing of things. Today everything seemed to be coming together, and that meant that I was having a ball on the bike. I tried to avoid looking at the distances to go, as well as the time, but the distance markers at the side of the road did mean that I nearly always knew how far it was to go.
I encountered some road works, and they had sprayed water over the verge, at first, it really cooled the air down on the road, and it was really pleasant. As I moved further along, where the water had been on the ground for longer, it just started to push the humidity up. Not something you wanted with the temperature already pushing the low 30's.
I crossed the railway line, and the speed limit was starting to come down, so I knew that I was getting close, in the end, I pulled in ahead of Phil and Susan, but because we were at the same Hotel, I had no difficulty finding it. I parked the bike and then wandered to reception to let them know that I was there. I wanted to make use of the pool, and I didn't want them to think that I wasn't a Hotel guest.
Unlike last time, I stripped down to my nix, and dove into the pool first thing. I did a few short laps, and then jumped out to stretch. Just as I started, Pat, Graeme and Barry pulled in, and Phil and Susan were just behind them. I went through my stretching routine, while Barry made use of the pool, and Pat wasn't far behind him. I then grabbed my Hotel room key, and I am with one of the Rob's for the next two days. Our room is right beside where Phil parked the Trailer, so it meant that it wasn't far for me to move our bags into our room.
I grabbed a shower, and then looked at doing some laundry. I had already confirmed that the Laundromat was open tomorrow, but I felt that it would mean one less thing to do tomorrow. Barry also needed some done, so we pooled our stuff together and I wandered down. Last time I was here, the Dry Cleaners who run the Laundromat were open, so it was easy to get change, this time, as it was Saturday, they were closed. Luckily, there were some other customers in there, so I was able to get sufficient change to run the machine.
I wandered back to the Hotel, where Afternoon Tea was being served. I sat down and enjoyed some, but I suddenly felt like a beer. I checked with Rob who was enjoying a Bath at the time, and I then wandered around the corner to buy something. I bought a six pack, and I was asked for ID, I presented it, but was asked to take it out of my wallet. I wasn't that surprised until it was placed on a scanner and the details recorded. I asked about the system, and it was to ensure that the Aboriginals weren't able to buy alcohol at multiple locations, they are limited to how much they can buy per person per day. All part of the intervention.
I wandered back around, and sat down to enjoy my beer. It was very easy to drink, and I mentioned about the ID scan. Pat was there, and he explained how the system worked. He also mentioned that it isn't uncommon for some of the Aboriginals to beg for beer off people, when we were here last, one of the other riders was offered sex for beer.
By this time it was back down to the Laundromat to collect the washing which I was able to easily split up between mine and Barry's. Dinner and Briefing have been pushed back by 30 minutes. Tomorrow is a Rest Day, and I am off in the morning to do the Canoe Trip that I didn't make use of last time I was here. I am looking forward to seeing the Gorge from below this time.
Once the Rest Day is over, we are into new country for me, we have a new riding joining us at Katherine which was one of the options for the ride. The only problem, is that the first day out of Katherine is the longest one of the trip, not over 200km, but still very close to it. If I feel as good on Monday as I did today, I don't think that I will have an issue, but anything can change tomorrow.
| | |
| --- | --- |
| Distance | 128.46 km |
| Average | 31.79 km/hr |
| Time | 4:02:24 |
| Maximum | 48.48 km/hr |
Images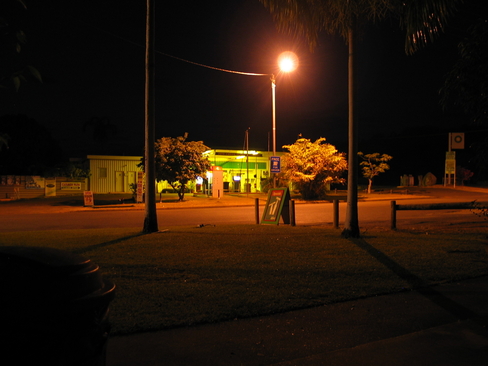 Pine Creek, early morning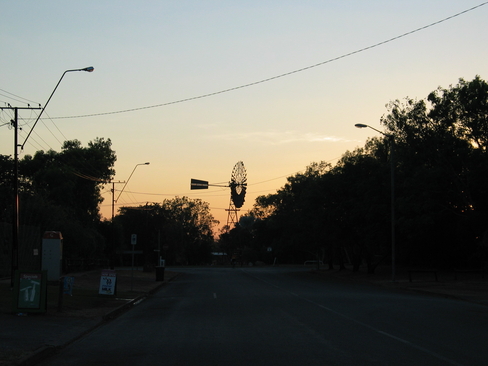 An early morning shot of the Windmill in Pine Creek.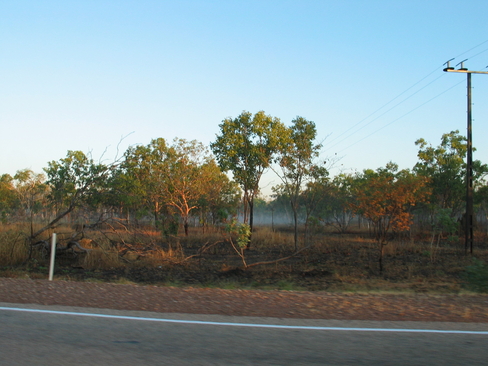 Smoke from some backburning the previous night.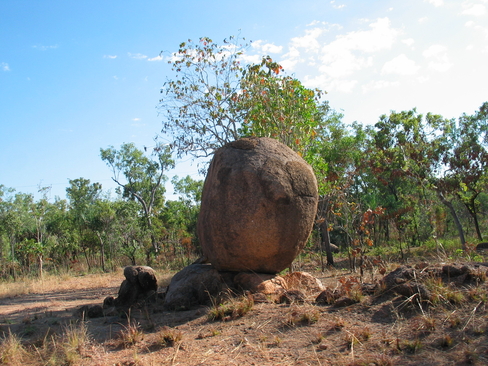 Some of the rocks piled up on the way into Edith Falls.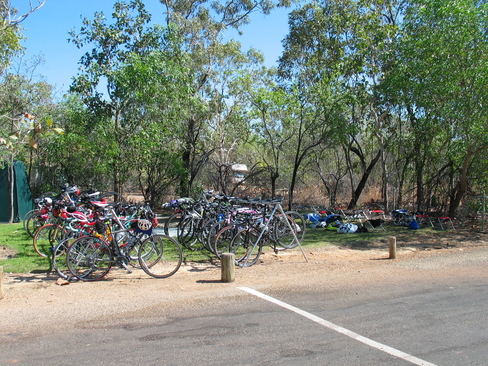 Our base camp at Edith Falls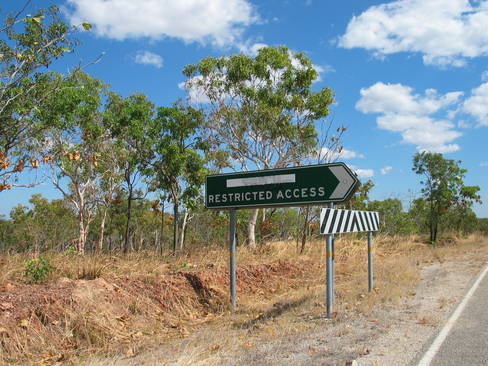 If you don't know where it leads, you probably shouldn't be on it...
Click Here
for more Photos from Day 3.