Day 4 - Sunday, 28th June 2009 - Katherine Rest Day
Last night, we had the same menu as we had when were last in Katherine, I made sure that I simply did the reverse of what I had enjoyed the first time around. So it was a rack of Lamb, and a plum pudding for dessert. I was sitting with the Fantastic 4, the girls from Melbourne who are a laugh a minute as well as Mark. Another very enjoyable evening with a very nice meal and company.
Despite today being a Rest Day, it started early for Rob and I, we were both on the morning session of the Canoe trip, so Breakfast was at 7am, for a 7:30am depart. I had been paired up with Kirsten for the canoe, while Rob was with Chris. This time, the transport down was in the All Trails bus, and the back of Phil's Troopie. I piled in the back of the Troopie with some of the others, and we set off. There was a bit of a minor emergency on the way out, as Kirsten, who was driving the bus was unsure if there was enough fuel to get her there and back again.
Phil had Macca on the radio, and we managed to catch some of the news. It was interesting to hear some, as I have been mostly out of touch for the last few weeks. I knew some of the major stories, but I suspect that there have been incidents that have started and finished in the media while I wasn't following it. It is one thing that I do enjoy about these sort of holidays, I normally follow the media very closely, so I am usually very aware of anything that is happening, both here and abroad. So it is a real change to escape from it.
Once down at the Gorge, we were dropped off quite close to the starting point, so we wandered down and got ready to get going. After signing our lives away with the fairly typical disclaimer, Kirsten and I got into our Canoe and set off. I was the Captain for this section, with her being the Stoker. We had about 3km to cover to the end of the first gorge, and while we could walk further, we weren't allowed to keep canoeing. We weren't allowed to lug our canoes over the rocks, and while there were canoes, they were there for people who had a full day hire, as opposed to us with a half day hire.
We set off, at a reasonably leisurely pace, and we had real problems keeping the canoe going in a straight line, we kept having to correct our course, and the canoe seemed to want to steer to the left. Neither of us were particularly worried, as we had plenty of time, and the river was pretty calm, so there was no risk of us getting tipped out if we ended up crossways to the current. There were some really nice sights looking up to the cliffs from the water below, and there were also several sandy beaches which were closed because Fresh Water Crocodiles were using them for nesting sites. Freshies are typically only aggressive to humans when we threaten them or their nests directly. They are more designed to catch fish and other slippery prey rather than something large like us.
Kirsten and I chatted away as we enjoyed the morning slowly making our way up the river, we were pretty much the last to arrive at the end of the Gorge, and once there, we beached the canoe and walked around to the start of the second Gorge. There were some really nice views looking up, as well as at the junction between the two Gorges. I was able to see the two places I had been to on my first trip, so it did give me some perspective. We walked back to the first Gorge, where some of the others were enjoying a dip I the water. I joined in, and the water was really nice, a little bit cool, but not too bad once you were used to it. Like the water at Edith Falls, the water was fresh, which made a nice change from most of the other places I had ever been swimming at. Salt and Chlorine either smell, or leave you with a sticky layer on your skin, while the fresh water was just like taking a bath.
We mostly just stood around in the water, splashed about and chatted and joked. Some of the others stayed in the shade as they were either not keen on swimming or hadn't brought their swimming gear. After about 40 minutes or so, the decision was made to head back, as it was about another 40 minutes away, we had the Canoes until 12, but there is only so much you can do once at the end.
Kirsten and I swapped our positions in the canoe, and so I was Stoker on the return leg. Our fortune at keeping the Canoe straight hadn't changed, but we were pretty much used to it by this stage, so we just kept the pace nice and steady and covered the distance at a nice pace. I was able to tell her some of the information about the area as well as information about the relationship between some of the yellow flowers and what it meant to the Aboriginal People before European Settlement. It is an indication that Fresh Water Crocodiles and Turtles are carrying or laying eggs. This was evident by some of the tracks up the sand areas which did seem to be from a Fresh Water Crocodile.
We made it back to the start of the Gorge, and we were pretty much the last of our group to arrive. We had to wait a bit for area to clear before we could park our Canoe, but that didn't stop at least one pair from rushing in ahead of us. We beached and unloaded, and wandered up to Barry who was nearby, he was curious as to what was happening now, as he had left his Shoes with Phil and Susan, and so he didn't want to walk too much. We headed up to the Visitors Centre for a bite to eat, and when I got there, I realised that I didn't have my water bottle.
I headed back down to the Canoe point, but it was no where to be found, I was pretty sure that I had left the Canoe with it, and one of the attendants checked it for me to no avail. I asked at the Kiosk, and also no luck. I was annoyed with myself, as I am normally very good with my possessions. I knew I could get a replacement bottle, but I liked the style of the two that I had, and it would be annoying to get a different type.
I purchased some lunch, and mentioned to the others that I had lost it, then Barry checked his bag and produced my bottle. He had inadvertently picked it up when we joined him after the Canoe trip. I admit that I was unsure if I should curse him or bless him. After lunch, we had a bit of a wander through the Visitors Centre, but as I had been there before, there wasn't a lot to hold my interest. Kirsten called Phil and Susan, and they were on their way with another load of Canonists, so they would be able to pick us up shortly.
We piled back into the vehicles, and headed back towards Town, but instead of stopping at the Hotel, we went straight through, and a bit of a way up the Victoria Highway, Phil wanted to visit the Hot Springs at Katherine. They weren't far away, so it wasn't a big diversion, they are really accessible, and only about a 100m walk from the parking area. They have been developed into a pretty decent swimming area, and while they aren't hot, they are definitely tepid.
I walked up to the source of the water, and it was certainly a new experience for me seeing the water just coming straight out of the ground. I have seen plenty of waterways, but this is the first time that I can recall having seen the actual source. I walked down a bit and the water was amazingly clear. I am not sure how comfortable they would be in high summer when the temperature is already pretty high, but this time of year, they certainly seemed to be a popular swimming hole.
We piled back into the vehicles and went the few minutes back to the Hotel. I grabbed a shower, and then headed to the shops for a few supplies. There are some things that you are going to run out of or low on on a Holiday of this length, and I felt that Katherine was the last major town until Kununurra, and I don't know how big that is, so I felt that it was prudent to get what I could here while I could.
Despite it being a Sunday, the local Woolworths were open, but not a lot else was. On my way out, one of the local Bottle Shops had just opened, and it seemed like some of the locals had nothing better to do than wait until it did open, it felt like rush hour in there. I unloaded once back at the Hotel, and then headed out to sight see to the North of where we were staying.
Katherine used to have the railway line running through it, and it actually holds a lot of it's history to the rail line. The link used to be between Darwin and Pine Creek, but it was extended early last century to Katherine, and then onto Mataranka. It was this link, as well as the bridge across the Katherine River that really allowed Katherine to prosper as a town. It's History was then further extended during the Second World War, as like Adelaide River, it was an important place for the defence of the North of Australia. It did come under attack by the Japanese once, but most of the attack was focused on the airfield, there was only one reported casualty.
There was an old steam engine that was still on the rails and had been painted with an Aboriginal Design, I was really quite impressed with it, and really like the way that it looked. The old railway bridge is now a walkway, so I wandered across and took a few photos of the river. It is a long way down, as the bridge is about 18 metres above the normal water line, yet it can still go under when the Katherine River really floods.
On the other side, I got chatting to a guy who was touring his way around Australia, he was heading out to the Roper River to meet some friends, and he had about 300km to cover in 3 days, so plenty of time for to get there. He was waiting on a call from a friend, and he was considering continuing onto Mataranka before the day was over. We talked about several topics and he sounds like he was pretty switched on, and just really enjoyed touring. He was from Western Australia and Perth originally, but he had been travelling for a while. I mentioned that we were going to Victoria River tomorrow, and he backed up something which I had heard last night, that the end of the day tomorrow is going to take us into some really spectacular scenery.
I headed back into town, and on the way, I saw a few Hawks or Kites circling. I had seen similar on my other days in Katherine and it was really amazing to see a couple of them in the centre of town. While I was watching them, quite a few more showed up, and when I finally moved on, there were about 15-20 of them in the air. I have no idea what they were hoping to catch, but the bush telegraph was obviously working perfectly well for them.
Tomorrow is one of the big days of the tour, it isn't the longest day, but it only misses that distinction by a mere 3km. According to the profile, there is a lot of ups and downs for most of it, and then a reasonable amount of downhill for the last 40km. Considering that we only lose about 175m over that distance, it isn't going to allow us to break the land speed record, but it is better than trying to climb it instead. It is an early start though, so I am going to put the bike lights out, as I can see that I am going to need them before sunrise.
Images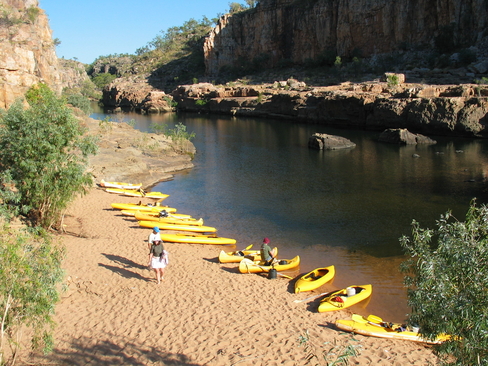 Our canoes at the end of the First Gorge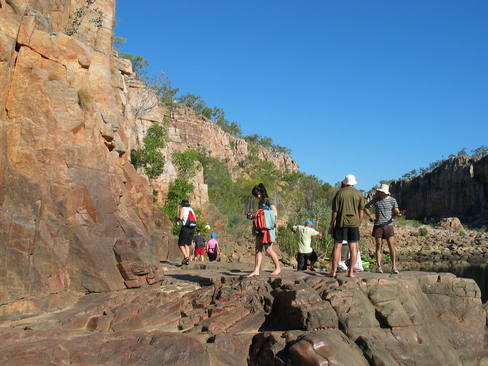 Our group at the end of the walk into the Second Gorge.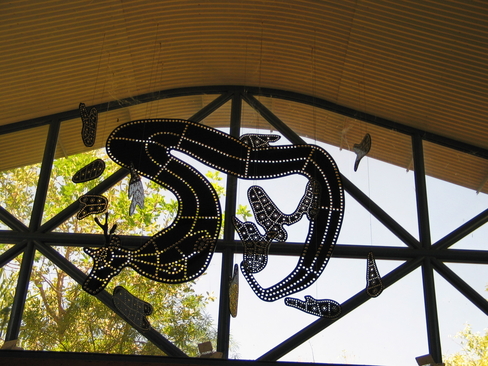 The logo for Nitmiluk National Park, it is based on the Aboriginal Dreamtime Story that tells of the Gorge's Creation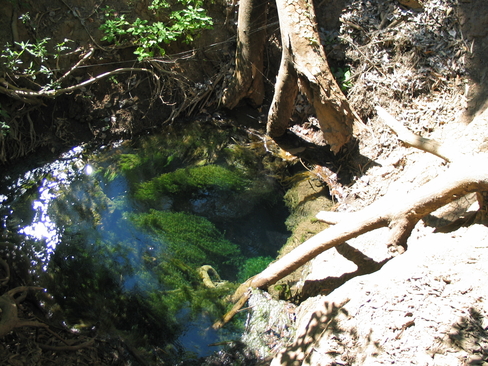 The source of the Katherine Hot Springs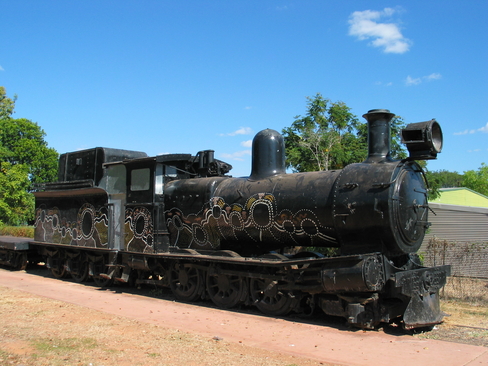 The engine painted with an Aboriginal Design.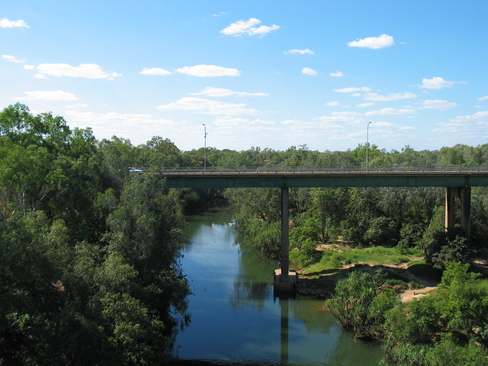 The Katherine River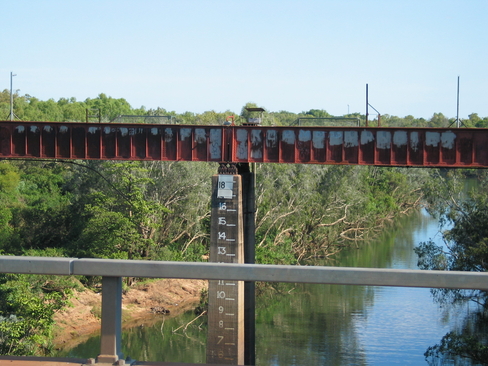 The Depth Markers on the side of the old railway bridge.
Click Here
for more Photos from Day 4.