Day 5 - Monday, 29th June 2009 - Katherine to Victoria River
Last night we had a briefing for today, there wasn't anything that was unexpected, but it is always good to know that nothing has changed for the next day. After that, there was dinner to organised. There had been a large booking made at the Country Club, which is where I and several others ate at when I was last in Katherine. There was going to be a shuttle bus over there, but a fair number of us where happy with the option of walking. While some of the people had a GPS with them, and it was linked into a mapping site, I still knew where we were going, so it wasn't difficult.
I must say, I was very impressed with the way that they handled our orders. I don't know how much notice they had for us showing up, but I am pretty sure that everyone bar Phil and Susan was there, so about 33 people. The ordering system was a bit cumbersome, but after that, our orders showed up in a reasonable time, and as far as I know, no one missed out. I had the Pasta of the Day, as I knew that the distance today would require a reasonable amount of energy to get through. It was a Sweet Chilli Chicken in a Pasta Sauce on Spaghetti Pasta, not something I would have thought of, but very enjoyable. I decided to forgo dessert, as I had had enough in the mains.
Generally, everyone had a good time and was impressed with the size of the meals for their price. I was opposite Lyn, who had ordered the beef schnitzel, and it looked like it had come from a dinosaur. It was a fair size. Again, despite the offer of a bus trip back to the Hotel, a fair number of decided to walk back instead, for me at least, I wanted the meal to settle slightly before I went to bed tonight.
We have been joined by another rider yesterday, Carl. There was an option of joining the ride at Katherine, and only one rider took that option up. It was one that I considered, but the accommodation was limited, and it would mean camping out most nights. I felt that I wanted a bed as many nights as possible, so I decided to forgo the option. Even though I have now ridden from Katherine to Darwin and Darwin to Katherine, I can honestly say that I haven't regretted it.
The morning started early, today was going to be our second longest day. On this trip, we don't crack 200km on any of the days, but today, and the day after Kununurra both get pretty close at over 190km. Breakfast was at 6am, and Phil was hoping to get us away at the latest of 6:30am or so. Despite the offer of a Hot Breakfast, and I knew that it was going to be a long day in the saddle with only 3 rest stops, I decided to skip it as I didn't want it sitting in my stomach for the first who knew how many kilometres. I was one of the last to set off at about 6:40am, Graeme and Pat were with me initially, but they hung back with Barry who was yet to make an appearance.
I turned onto the Stuart Highway, and then followed the signs to what I was hoping was the Victoria Highway and would take me towards Kununurra. As it turned out, I was right, and I was going in the right direction, but it wasn't a big sign showing all of the distances that gave it to me, it was a sign that simply showed the street that I was in within Katherine. Katherine seemed to stretch on for longer that I would have thought, and it seems that it is basically built in a cross, extending along the road to Nitmiluk National Park, the Stuart Highway (mostly to the south of the Katherine River), and along the Victoria Highway to the west. Apart from that, there isn't a lot to the town, it is the Territory's third largest town (after Darwin and Alice Springs), but it would only be about 10-12,000 people, so not a lot larger than Tennant Creek.
I noticed some more Army, but they were to the side, and it looked like they were getting ready to move out. They chap I spoke to yesterday told me that the Army up here only do exercises in Winter or the Dry Season, so they plan very heavily in the Wet Season, and then make the most of the time in the Dry Season. There were a lot of vehicles lined up, and I assume they were getting ready to move out in convoy, but I didn't see a lot of activity besides the vehicles.
On my way out of Katherine, I was hoping to see a large distance sign that listed the major destinations on the road and the distance to them. I like to photograph them as they are an interesting reminder of the journey. This road was not going to give me one. I started to think, that it was the sort of road, that if you didn't know where it lead, then you probably shouldn't be on it.
I crossed over the new Railway line between Darwin and Adelaide, and I saw the rail yards that service them at Katherine, there was no sign of a Passenger Terminal, but I can't see a town like Katherine not having one. There were quite a few hawks flying around this early in the morning, and as I crossed the railway line, I saw one sitting on a sign, I watched him, and he looked ready to fly away at a moments notice, it was the closest I had been to one of them, and in the early morning light, he looked pretty amazing.
I was riding solo, and I was loving it. The road was in good nick, and there was enough sunlight that I was able to easily see what was happening, the scenery was fantastic, and it was still cool enough for me to enjoy it. The forecast for the area has been for some really hot temperatures, apparently, it is about 4 degrees warmer than normal, and I know that I am really noticing. I think that I am going to suffer when I get back to Sydney, as I am going to be used to midday temperatures of closer to 35 than 15.
A bit further up the road, I saw a couple of Hawks swooping something on the road, but when I got there, I couldn't see what it was, maybe they were juveniles just practising. They were flying ahead of me, and I slowly caught up to them, until I was riding almost directly underneath one of them. I must admit that I wasn't watching the road too closely, as I was more interested in watching him. He was just gliding along almost effortlessly with only the occasional beat of his wings, but he was always looking around, I could see his head turning to the left and right as he was seeing what was around him. It was absolutely magical.
I had also been keeping an eye on the skyline behind me, as there were some fantastic colours in them for the sun rise, we were generally heading to the South West today, so the sun would rise at our backs. The colours in the sky were amazing, and I wanted to get a photo of them. I pulled over as I didn't want to risk trying to take a photo backwards. I am reasonably proficient at the forward ad side shots, but backwards on the fly are pretty difficult. Once the sun was above the horizon, it started to light the crowns of the trees up ahead of me, there has been a reasonable amount of burning done in this area, so some of the trees had leaves that had been killed off by the heat, in the early morning light, they seemed to be glowing red, and when contrasted with the normal green, they looked simply stunning.
I caught up to and passed Carl and Leslie, our couple from NZ, I commented on the fantastic morning and pressed on from there. I suddenly saw Phil and Susan going back the other way. I knew that there were only 3 riders behind me, Pat, Graeme and Barry, and I hoped that they hadn't had a fall, the reason for Phil and Susan backtracking. I put it out of my mind, as I knew that there was nothing I could do, but I soon had to stop to get rid of some excess liquid. While that was happening, Phil and Susan drove past me again heading in the right direction, so I felt that everyone had stayed upright, as I don't think that they would have turned around so quickly if someone was on the asphalt.
I had left quite a while behind the other riders, so I didn't expect to catch up to some, but I did see a largish bunch a fair way ahead of me. Before I could get to them though, I had to pass some road works. We were detoured off the main drag, and at first, I thought that Pat was going to have wasted his time cleaning his bike yesterday, as we would be on a dirt section. The detour was quite long, and they had laid some tarmac down. It wasn't the best and it had a reasonable amount of potholes in it, but I was still solo so I had no issue in navigating most of them.
I caught up to a large pack, which had originally been two packs, but had now formed into a single one. Dee was on the back, and I chatted to her for a bit before deciding to press on. I was enjoying the morning, and by this time, there wasn't far to go to our Morning Tea stop. I caught up to Spencer and Trevor, and the decided that my wheel was a good thing to follow, and jumped on, a bit further up the road, we caught Peter, who was riding the morning session, and he jumped on as well. We passed over Camalley Crossing, which I knew was also the name of the Rest Stop, so I knew that it was close. Trevor decided to have a go at a Sprint, and I easily held him off.
Despite it being nearly a 200km day, we only had 3 stops for the day, roughly spaced at 50km each. The first stop wasn't far away, and I finally pulled in there shortly after 8:30am. Some riders were ahead of me, and Morning Tea wouldn't be served until most of the riders were in. Pat, Graeme and Barry pulled in just behind me, and as it turned out, Barry had slept in, so he only got away at about 6:50am, Pat and Graeme had waited for him, and they had then powered through the first section. That was really evident by the fact that they had nearly caught me, despite being close to 10 minutes behind me when they set off.
There were some very nice Pastries on offer for Morning Tea, but I stuck to a couple of bananas and some other fruit. Some of Sue's Scroggin was also available, so I grabbed a bag and dropped it in the back pocket. I shed my lights and normal glasses into my Day Pack, as I wouldn't be needing them any more for the day. I was again towards the tail end when the riders moved out, and I helped Phil pack up a bit, and I also helped Susan finish off some fruit that she wanted to get rid off instead of throwing away.
The Rest Stop had a lot of campers, and as I commented on my way out, if they weren't awake before, they are now! When you get about 30 cyclists who have been on the road for about 2 hours, and up for about 3, you can almost bet on the fact that they are going to be noisy.
Pat, Graeme and Barry were ahead of me, but I had enjoyed the first section solo, so I felt like riding by myself again. Even over the short distance from Katherine, the scenery had changed, it was still pretty flat, but the low eucalyptus had vanished and been replaced with more grasslands, with some trees spread through them. I saw the super bunch, with Fiona off the back, as I passed I offered to get her back in to there, and after a couple of minutes we had both caught them. As I was riding past them, Renee to discovered that she had a front flat. I pulled over, grabbed my saddle bag kit and went over to assist. She said that she had the clock on me, and I soon had the tyre off and the tube out. Peter, who is sharing the Mechanics job with Greg was riding, and he was also there, Kirsten soon showed up, and she did an excellent job of Supervising.
I couldn't find anything in the tyre, and Peter also had a look, he couldn't find anything either. We checked the tube, found where the hole was, and still didn't find anything. It turned out that Renee's spare tube wouldn't hold air, but she did have a backup tube. I put it in, and pumped it up with my pump. Peter was a bit put out that I wasn't prepared to use his pump, but I know my own tools, and I know their limits.
All up, the change probably didn't take much longer than 5 minutes, so Renee was back on the road with the rest of the bunch (who had also stopped to wait for the change). I was behind the others as I was putting everything back on my bike, and I caught up, confirmed that the flat was OK, and pressed on.
I was again riding solo, and I really enjoying the morning. The sun was warming the air up, but it was still bearable. I was keeping on top of the fluid intake, so I wasn't worried about dehydration, and the scenery was really nice. I was probably enjoying it more, as it is now a new road for me to be riding along. As nice as the leg from Darwin to Katherine was, I had already seen a lot of the terrain, even if it was from the other direction. For me, this was the first real day of this ride.
The distance to Lunch was roughly the same as the first leg to Morning Tea, so I was expecting to cover it in under 2 hours. I had no idea of the time for the Lunch Stop, but I knew that I would be within the time limits. The Limits that Phil sets down are designed for a rider at 25km/hr, I was always above that, so I never had any fear of missing a cut off and having to climb in the bus.
I was still having a good look around me, and I while the termite mounds around here aren't as large as the ones North of Katherine, the make up for it in their sheer number. In some cases, it looked like a field of Termite mounts. I saw one small one that had three peaks, from the angle that I was approaching it, it looked like two adult side by side, with a child standing in front of them.
I could see a large bunch ahead of me, and I also knew that it wasn't far to lunch, I suddenly made it my goal to catch them before lunch. I was pushing pretty hard, and I managed to do it with about 500m to spare, but I did have to slump over the handle bars once it was done. Lunch marked us at about the half way point for the day, and I rolled in just behind Fiona.
Renee rolled in behind the rest of the Fantastic Four, as it turned out that she had had another front flat, my repair had only lasted 5 km. She had fixed it again, but wasn't running a very high pressure. Not a big deal as it was only on the front wheel. Peter and I poured over the tyre and the wheel during lunch trying to locate the cause of the flat to no avail. I even resorted to rubbing a cotton wool ball around the tyre to try and locate anything that could have caused the flat. Both of the punctures were in pretty much the same location, so we thought that we could locate something. In the end, we put another tube in the tyre and put it back on the rim.
Initially I was going to wait for Pat, Graeme and Barry to leave, but I rolled out solo. Only a kilometre or so up the road, I saw a pool of water on the road, and a bidon which had been ridden over. Considering that it was starting to warm up, I suspected that someone was going to have a rough time over the next leg. A few kilometres further up the road, I came across the big pack again, as Renee had flatted again on the front, whatever was causing the flats was pretty stubborn, as Peter and I hadn't found it at lunch, but it was still in the tyre. Peter arrived on the scene and he was going to just give her his front wheel to get her on her way. I decided to roll on, as there was nothing I could do.
A bit up the road, Pat, Graeme and Barry rolled past, but I decided to let them go. I was still enjoying looking around, I was feeling good, and I didn't want the pressure of riding in a group. I was mostly able to keep an even distance from them, and I was even able to catch them occasionally on the hills. This all came to put when I was swapping water bottles over. I typically use the bottle that is on the down tube, and the one on the seat tube is my reserve. I was swapping them over as I had finished the front one, and I dropped it instead of getting it into my rear bottle cage. Phil and Susan were behind me, and my first thought was "Don't run over it!", they didn't and it rolled to the side of the road. I jumped off the bike, walked back and retrieved it.
Only a few hundred meters up the road, there was a memorial to Noel Buntine, it was at the junction between the Victoria Highway and the Buntine Highway which goes out to Top Springs. This is somewhere which I am sure I saw a sign to on the way up from Alice Springs. I will have to check it out when I have Internet access again. I pulled in to have a look, and there wasn't a lot of information about Noel Buntine, just a memorial dedicated at the opening of the Highway. Fiona was there ahead of me, and she was talking to Phil, as she had a noise coming from her rear wheel. Phil wasn't sure, but felt that maybe one of her rear bearings was on the way out. He felt that it was safe enough for her to ride the distance to the Afternoon Tea stop and speak to Peter and Greg there.
I rolled out with Fiona initially, but Greg rolled out with us, and so they stayed back to try and listen to the noise coming from her bike to see if they could work out what it was without a full diagnosis. I pressed on, and despite the climbing temperature, I was enjoying myself on the bike. The road surface was generally really good, and for a long section, we were riding on a strip at the side of the road where it had been widened to two lanes. At one point, we turned a corner, and the road went on like that for a long way. The original road had been white, and with these two black stripes down either side, it was an amazing feature.
I caught up to and passed other riders, and I was starting to get a bit worried about water. We only had about 50km to cover between Lunch and Afternoon Tea, and I had drunk a lot of water at Lunch, yet I was starting to run low several kilometres short of where I expected our next break to be. I caught up to Chris, and he said that it was about 5km or so away. With what I had left, I felt confident that it would get me close enough that I wouldn't be hurting myself if I had to finish with no water. I turned a corner and I thought that I could see Phil's truck near the end of the road, but as I got closer I realised that it was just another sign.
I suddenly realised that I was being followed again by a white van, Kirsten was just behind me in the All Trails bus. It was a weight of my shoulders as I knew that she would be carrying water. I turned another corner, and while Kirsten vanished, I could now see Phil ahead, so I knew that I was there. I had about 1/2 an inch of water in the bottom of one bottle, and nothing in the other. So maybe about 50ml of water in total. A lot of other riders were the same, they had either had to get refilled by Phil, or pretty much run out of water on their way to the stop. I don't know how some riders out here are running only a single bottle on their bike.
Renee had suffered another puncture on the way to Afternoon Tea, about 5km short, her rear tyre had failed, and the tube had gone with it. She had to get a lift I the bus to get there. The only solution for her was to get a new tyre for the rear, and she was still running on Peter's front wheel. I drank a lot of water while at the Rest Stop, but I didn't eat a lot of food, when you are drinking a lot of water, it is very hard to eat a lot of food. The Scroggin that I had picked up at Morning Tea was still in my back pocket, but it was now a melted mass, the chocolate hadn't survived the trip, and it had mixed with everything. Barry was eating his in the same condition, but I decided to keep hold of mine for later. Because of the heat, people were crowding into any shade that was available. I think that we managed to fit about 20 odd riders into the shade of Phil's Troopie, we were cramped in pretty close, but it was cooler in the shade with a body on every side, as opposed to being in the sun.
According to the profile, it was pretty much all downhill from here, but having had past experience with Phil's profiles, I knew that there could still be some minor uphills and flats. I set off near the front, as I didn't want to get in too late. Unlike a lot of the other riders, I have accommodation tonight, the majority are camping. I had heard that this particular area of the route would be a "photo a minute" and as soon as we started the descent, it was proving to be the case. Some of the riders had stopped near the top for a picture. I took some on the fly, but the camera wasn't able to do it a reasonable justice, it wasn't just one spot that was nice to look at it, it was an entire panorama that made the ride so spectacular. It felt like as soon as you had taken one picture, that there was another one that you wanted to take. I had a feeling that I was going to do the last 40km with thee camera nearly constantly in my hand. Yesterday, I had noticed that the rubber hand grip on my camera was coming loose, I wanted to get some PVA glue to stick it back down again, but I didn't get in Katherine. I had been careful all day to ensure that it was staying on, but it was really starting to come loose in the heat. I pulled the camera out of my pocket, and this time the grip came loose and went off onto the road. I just let it go.
I caught the riders who were ahead of me, and soon after that, Pat caught up to me. I caught up, and we were riding side by side for a bit and chatted. We could see that Gill was behind us and we didn't push the pace, but neither did we particularly ease up. We saw some cyclists who were heading the other way, they were loaded to the gills with a lot of panniers each. They weren't doing a huge pace, but when you are carrying that much stuff, it is pretty hard to move very quickly. We have seen several cyclists who are touring like this, and I am very impressed with them doing it that way. Phil and Susan caught up to us and while Patrick had a reasonable amount of water he pulled them over to get some more. I felt that I had enough, as I had consumed just under half of my water, while covering just over half of the distance.
The scenery continued to improve, and I was taking a lot of photos on the approach. I could see that Graeme was ahead of me, but I didn't think that I had a chance of catching him, he was too far ahead of me, and I didn't have the legs to close it. We passed some road works, and there was some water sprayed over the road, I was torn between riding in the water to get a cooling effect from it, and avoiding it to keep the bike clean. In the end I went through some of it, but avoided the bulk. I went past some of the machinery near the end of the road works. They were probably packing up for the day. I looking at the dust that a grader was kicking up, and it wasn't being moved by anything other than the draft from it directly. We didn't really have a lot of wind today, we have been hoping that we would get some tail winds along this section of the ride, but it wasn't to be. On the bright side, we were very lucky when it came to riding to Katherine from Darwin, on the way up, we had some really good tailwinds, and it would have been hell if the winds had been the same on our return leg.
On the approach to the Victoria River crossing, I saw some more roadwork's, and they are constructing a new bridge, I can see why when you consider the height of the existing bridge, the new one is probably a good 5 or 6 metres higher. I pulled into the Roadhouse, and I saw Sue walking beside the accommodation, I got my room, and I am in a single Donga, on the bright side, I have a room, even if it is only very simple. I went to the Roadhouse, but they were all out of flavoured milk. Not a good way to impress a bunch of cyclists. I bought a juice and a snack bar, but it wasn't the same. I went back and grabbed some shade to do some stretching, and then I grabbed a shower. The shower cubicle was not good for anyone who is claustrophobic, and you had to be pretty good at Yoga to be able to wash yourself.
I wandered over to the Camp area to grab my day pack, and I noticed another cyclist who was camping and had a bike next to him that was also loaded up. He had been resting here today, but was heading to Timber Creek tomorrow. He is out here from Yorkshire in the UK, and he is hoping to ride to Perth. For him the problem is trying to carry enough water if he is unable get to water supply at the end of the day. He is going to make a decision when he gets to Broome.
I saw that Pat and Graeme were heading for the Pub, and I joined them, we each had a couple of beers, and it was amazing how well they went down. It was a long day today, but there are many harder ways to do 194km. A tailwind would have made it a lot easier, but no wind is better than a headwind. Tomorrow is a shorter day, and then two more to Kununurra for another Rest Day. This ride is unusual, as we have 3 days, Rest Day, 4 days, Rest Day, then 7 days to finish. But right now, I am looking only as far as tomorrow.
| | |
| --- | --- |
| Distance | 194.65 km |
| Average | 31.71 km/hr |
| Time | 6:08:13 |
| Maximum | 46.35 km/hr |
Images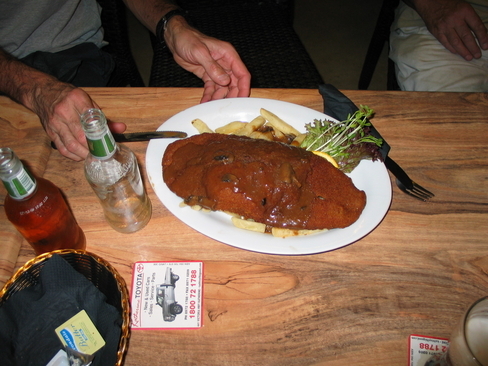 John's Dinosaur Steak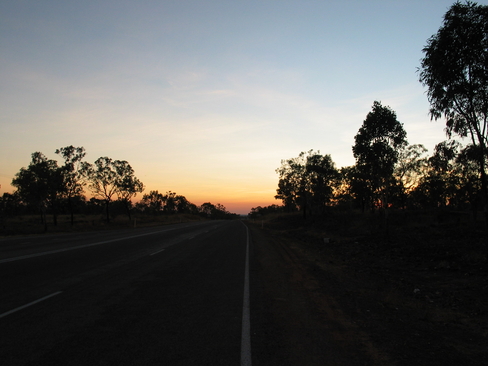 Looking back towards Katherine for the sunrise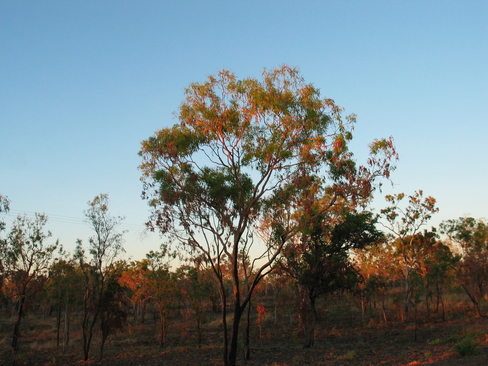 The sunlight hitting the top of the trees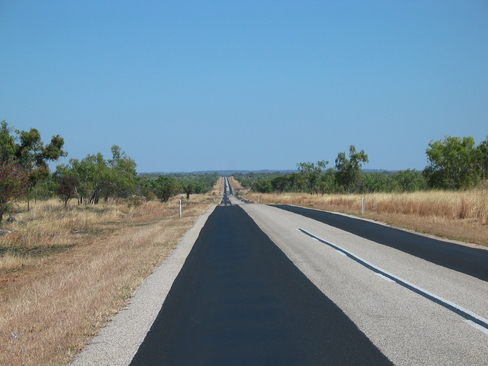 Chasing another Horizon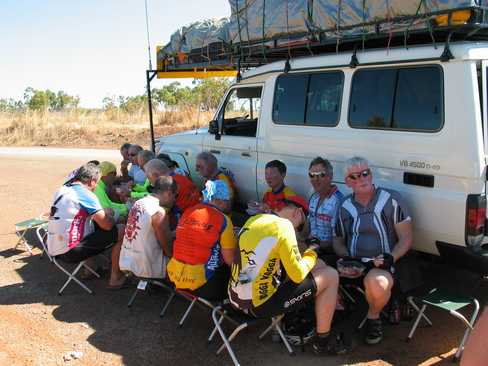 Do you think that it's hot?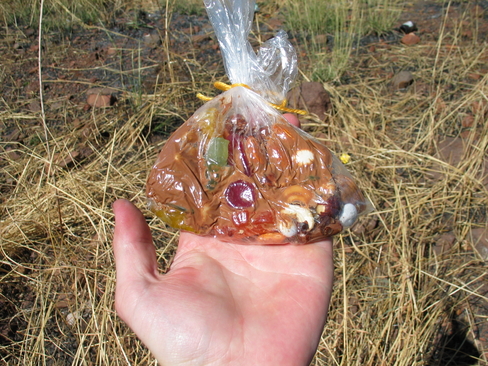 Sue's Scroggin, melted, it was actually quite nice once it solidifed the next day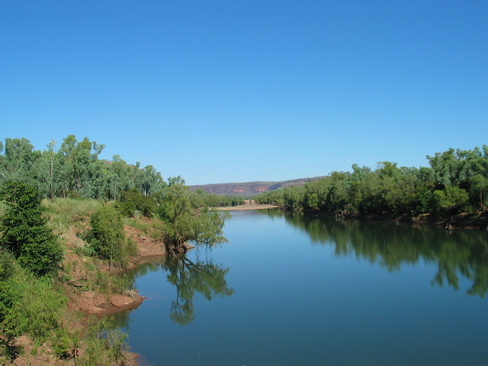 The Victoria River
Click Here
for more Photos from Day 5.