Day 6 - Tuesday, 30th June 2009 - Victoria River to Timber Creek
Last night, Pat Graeme and I were looking at a map that Pat had managed to get which showed a 4WD trip between Cairns and Broome, as a result, it covered the route that we are taking between Katherine and Broome which we are currently on. We still have a lot of south riding to cover, and we end up nearly as far south as we were at Larrimah. While we were there, a wallaby hopped into the camp ground, I wasn't sure where he came from or went to, but it was still pretty amazing.
There were four of us in Donga's tonight, and while they are a very basic room, on the bright side they have air conditioning, and a good bed. When it comes to simple accommodation, there isn't a lot more that you are usually after. I was up early, as although we only had 90 odd kilometres to cover, Phil wanted us on the road early as there was an option for a cruise. I don't think that any one was complaining, as it would mean that we were going to be mostly riding in the cool of the day.
Breakfast was some home made toasted muesli, which was very enjoyable, I must admit, that I am having difficulty trying to serve out what I would consider a reasonable amount to eat. After breakfast, I had to call my parents, as it was my Dad's Birthday, I didn't have a lot of time left on my phonecard, but it was still enough to have a brief chat. I wandered back into Breakfast, and it turned out that Renee's rear tyre had gone down again. She must have done something to piss the Puncture Gods off.
We got away shortly before sunrise, and as we are heading West, the sunrises are getting later, but on the same token, so are the sunsets. With the sun coming up, the colour in the red cliffs was really amazing. The morning ride would have been even better if we didn't have to deal with road works. A few k's up the road, there was a set of traffic lights holding us up, I got lucky at the first set, and I was able to get through just as I got there. I set off, and Walter, who is on the dual suspension bike, shot past me like I was standing still. The road was pretty rideable, and I must admit that I did set off after him at a reasonable pace.
A bit up the road there was a turn off to the old Victoria River crossing, I had heard that this was something to see, and I had told Peter that I was going to have a look if I could. I set off down the road, and it was not sealed. I had to see if it was rideable. Near the start, there was a lot of soft sand, but it did get better not far in. I had the option of either corrugations, or soft sand. Not an enviable choice. I did see a wallaby cross the track ahead of me, which was a really nice touch to the ride. I managed to stay upright, but a bit further down, I came across a sign that warned that it was 4WD only beyond that point. I decided to press on, and not much further, the road got even worse. I decided that that was far enough, and I stopped, and Walter pulled up behind me.
It was a nice spot, and it would have been even better a bit further down. I took a few pictures, and Walter and I took a picture of each other to prove that we had done it. Then we had to make our way back. Again I managed to stay upright, but the riding in soft sand and corrugations did test my limits. I am glad that I have lots of experience on the bike, and I think that it did pay off. We turned back onto the highway, and the scenery was still amazing. I was still taking a lot of pictures, and as it was like yesterday, it wasn't just a nice view in one direction, it was an entire panorama that gave the fantastic sights.
A bit further up the road, there were more road works, also controlled by a set of lights. I stopped, but when Walter and then Barry showed up, they decided to roll past, but I felt that I should do the right thing and wait for the lights. Fiona, had purchased a new wheel last night as one of her bearings in her other wheel was shot. She had changed the wheel magnet over, but she wasn't getting any information from it. I was prepared to look at it, but I wanted to wait until the other side of the road works. Fiona was prepared to wait until Morning Tea, which made it even easier.
There was a good sized group waiting at the lights when they finally changed. They are a good idea as it reduces the risk of the Go-Stop men who used to do the job, but at least when there was Human interaction, they could get you through a bit quicker. I set off, and I went the correct way, which was down what I later referred to as the Low Road. It was really tough riding, but I did see road bike tracks through it, so I knew that I wasn't the first to go through. I was keeping to the right of the lane, and there was a Ute behind me. There was a real mixture between a hard surface, soft sand, and large rocks to navigate. At one point, I did have to veer suddenly to my left, and unclip to stay upright. I stopped, pulled over to the side and got the Ute past me. I then carried slowly on my way, and I finally cleared them. I later found out that most of the riders took the High Road, which was theoretically closed, but the riders were able to fit through.
I caught up to and passed Walter, and I then saw Barry on the road ahead. They are doing a lot of road works along this section including pavement rehabilitation (but I would love to know what it has done wrong to deserve rehabilitation) and new bridges. I caught up to Barry, but he was taking it easy as he hadn't managed a lot of sleep last night. He was tenting it, and he had to put up with some noisy neighbours. In desperation, he had returned to the roadhouse ad slept in a chair at the front. I chatted briefly, but as he had taken the High Road at the road works, he had had it pretty easy. I offered him a wheel to follow, but he pointed out that he finds it difficult to draft behind me as I am such a small person compared to him.
I pressed on, and our Morning Tea stop was at about 42km or so. I was riding solo, but as it was a short day, I really wasn't bothered. I slowly caught up the big group of the day, and pressed on. They queried me, as they knew that I should have already been ahead of them. I told them about the Old River Crossing, While I was with them, I saw a sign stating "End Roadworks" but I was unsure if it was the end of that particular section, or the end of them all. I checked a sign facing the other way, and it was advising of road works for the next 30km, so I knew that we were no out of it. I left the group behind and kept on at my own pace I saw another rider ahead of me, and it turned out to be two. I didn't think that it would be Pat and Graeme, as despite them thinking that they would take it easy. I felt that I wouldn't have a chance of catching them.
The scenery had certainly changed, it was no longer as spectacular as what we got through the Victoria River area. This was good and bad, it meant that the view wasn't as nice, but it also meant that I wasn't trying to get the camera out every 30 seconds for another picture. It had flatted out a lot, but there were still some hills that were evident on the horizon, but I could only see them when I was at a slightly higher point compared to the surrounding terrain. I slowly got closer to the two riders, and I could recognise Simon, but not the other rider. I finally worked out that it was Ernie. They were swapping turns, so I sat on the front and talked to whoever's turn it was for a few minutes. I again pressed on, but I knew that I wasn't putting a lot of time into them.
There was still a reasonable amount of bird life around, mainly hawks, but a few cockatoos and galahs. I did see a wallaby hop onto the road ahead of me, but he was long gone by the time that I reached that point. I saw some Kites or Hawks eating some road kill, but they abandoned it when I went past, it was pretty ripe, so I wasn't that keen on hanging around to get a photo when they came back.
I finally made it to Morning Tea, and it turned out that I was the first rider there. I was told then that Pat and Graeme were still behind me. I helped out to set up, but one of Susan's helpers were in by this stage, so I wasn't needed. I waited for everyone to get in before Morning Tea was served, and when Fiona rolled in, I grabbed her bike to fix up her bike computer. Her wheel magnet was on backwards, and once it was the right way around and aligned, everything was working as it should.
I ate the Scroggin from yesterday, and it was actually quite nice. The chocolate had melted and so it had mixed it's way through everything. So it was a now more like a chocolate bar with jellies, nuts and other goodies mixed through. I ate some fruit, but I let everything else go. I didn't think that I needed a lot of energy to get through the rest of the day.
When it came to rolling out, I had already decided that I was going to get away early, as I needed to do some washing when I got in today. I didn't want to have to fight over the washing machines with everyone else. Although I was near the back when I rolled out, there wasn't a lot of ground to cover before the lead riders. On my way through the group, I picked up first Mark, and then Chris and Peter as riding companions. The profile for the day showed a reasonable amount of climbing from the Skull Creek crossing, for about 15 kilometres or so, we had worked it out, that while it looked like a really steep gradient, it was only about 1% or so. We rode along, and Mark asked how long the turns were on the front. I asked if he desperately wanted a go, and Chris and Peter both laughed. I was prepared to sit on the front the whole way and basically give them a free ride.
As we were riding along, we disturbed a large flock of Cockatoos, I wasn't sure what type they were though, they were pure white, but they weren't Sulphur Crested, they were too small, they had a crest, but it was only short. Some Red Tailed Black Cockatoos then took off, and as they tend to do, they spread their tail on take off which gave us a great view of the colours.
We crossed first Skull Creek Major, and so we assumed that Minor wasn't very far away. We crossed it about 200m up the road. The road did then start to go upwards, it was noticeable, but at about the gradient that the map showed. I made sure that the other riders were still with me, but I knew that 15km or so of climbing was considerable, so I was conscious of keeping my pace even. We had one slightly steeper section, and Mark said that he was done, and started to drop off, it was only a short section, so the road eased up afterwards, and Mark was soon on the back. We thought that we had reached the top early, as we saw a lookout to our left, and there were some fairly spectacular looking views out that way, and the road then went downwards. Our elation was short lived, as the road soon went back upwards, and we realised that it was just a dip on the way up.
We kept on riding, and I was still keeping a good eye back to make sure that we stayed as a group of 4. A bit further up the road, we were overtaken by a vehicle warning of an oversize truck behind him. It took a while, and we were starting to think that it was a false alarm, but we were overtaken by an over width truck. He was carrying some sort of tracked mining equipment, he wasn't as wide as some of the trucks that we have seen, and he did catch us on a very straight section of road so it wasn't a huge problem.
We finally got to the top of the hill, and I asked if anyone was going to go for the King of the Mountain. Chris took off, but he realised that I was stirring the pot, and he was the only one who took the bait. We started the descent, and it was much like the way up, only a gentle descent. We did get moving quite well, but the road was reasonably rough, and it did slow us down a bit. To make matters worse, some sort of tracked vehicle had driven along the road at some point in the past, and cut groves in the road. They weren't visible, but you could feel them through the bike. I was going from the middle of the road to the left hand edge in an attempt to try and find out where the smooth bit was, but the groves seemed to be pretty wide, and there wasn't a lot of escaping them.
We went past the junction to the Buchanan Highway, and interestingly, it also was a way of getting to Top Springs. I found a map at Timber Creek, and it did show that it does join up with the Buntine Highway to the South.
The hill on the profile showed that it was pretty much downhill all the way to Timber Creek, but the road flattened out long before we got there. The pace was still pretty good, and we were staying together as a group of four, so I was still sitting pretty on the front. We had only about 15km to go at this point, and it was starting to drag. I find that on long rides when you don't know where you are going, that the last few kilometres can seem to take a lot longer than you would expect. When I am at home on rides I know, the last kilometres seem to take no longer.
There was a monument to Durak about 10km out of town, and it was shown as a place to stop at. I asked if the others knew who Durak was, having no idea myself. Peter said that he might have been an explorer, and then changed his option to a cattleman in the area. Looking at the monument from the road, his latter guess did seem to be accurate. More research for me when I get home.
We started to see a few signs for Timber Creek, and the road actually swung back to the North before we finally made the Road House. We saw our English cycle tourist ahead of us, just as we finally pulled in. I have no idea what time he must have left to have got there at the same time as us. We rode through the Service Station trying to find Phil and Susan, initially to no avail. Some other riders started to pull in, and I went back to another Hotel/Camp grounds and I found them there. I found out that I was back at the other end, and I grabbed my Day Pack and headed back.
When I got there, I confirmed with the newly arrived riders that they were at the right point, and I was told that some had ridden straight past, or headed back out. I was then told that I had to go and catch them. I retorted "Why's it suddenly my job!" and took off. I could see one rider, and I knew that I was in for a hard chase. Luckily, they turned around just before I got to them, but I could see some more up ahead. They had stopped, so I was able to then confirm that we were back where we had been originally, and that I had found Phil and Susan.
The confusion had arisen as the map we had been given showed the accommodation opposite Wilson Street, and where we were, wasn't. I started riding back with them, and Graeme tried to turn up Wilson Street, I advised him against it, and we finally rolled back into the Road House. Mark and Peter had actually ridden up Wilson Street to see if the accommodation was at the other end of it. It turned their day into a 100km one. I was going through my stretches at this stage, as even though it was a short day, I always feel that they are worthwhile. It is one reason why my legs feel so good day after day. The only day that I have skipped them so far, was the day into Darwin at the end of the Territory Tour.
We found out from Susan that our rooms weren't ready yet, but I decided to jump the gun and get some laundry done. I had located the laundry, but I didn't have enough $1 coins to run it. When I got to the Road House for change, Walter was thinking the same way as me, and so we decided to use a single load for our washing. There was some initial confusion, as there were two washing machine sites, and we went to different ones. I changed out of my cycling kit, as I wanted to wash as much as possible, and I was then sorting through my bag to work out what else to wash. Simon, and then Barry asked if they could join in as well, and we pretty much filled the machine.
Instead of leaving our bags and bikes laying around we were advised to put them into rooms which were ready. I put my bags in Barry's room, and I then decided to grab a shower in the block before lunch. When I went to move my bike, some of the girls had grabbed it for me and put it into Peter's and Greg's room. I showered, and then realised that I had no socks as I had fed them all through the washing. Barry lent me a pair that I will have to return to him in Kununurra as that is going to be my next place I can do washing.
Lunch was a nice cooked pasta option with salad and garlic bread. I am trying to keep my meals reasonable so I don't put on weight, it is very easy to overeat when it is all you can eat. After lunch, the washing was done, and Walter and I sorted through what we had. We hung it up on the balcony outside of what were due to be our rooms, but still weren't ready. I wandered around for a bit and had a look at the souvenir shop. We had an option of doing a Victoria River cruise, but I was only prepared to do it if I didn't have other obligations, I was hesitant, as at $80, it wasn't cheap either.
We were told that our rooms would be ready at 2:30pm, and on my way back around, Walter saw me and said that I had to take the washing down as it was "ruining the ambience" of the place. I thought that it was a bit laughable, but rules are rules. Even in the hour that it had been up, nearly everything had dried, so I wasn't too fussed. I grabbed my bags out of Barry's room and set up in the shade to wait for our room to be ready, when there was suddenly another drama.
They ask that the guests don't go into the room before they are cleaned. Walter had been able to get into his room, and so the cleaning lady thought that we all had, and so she was refusing to clean the rooms up the top here. This affected Walter and Lyn, Chris and I, and the Fantastic Four. We explained to Susan that we hadn't gone into our rooms, and she then spoke to the cleaner.
While waiting for our rooms to be ready some of us were lounging around in the shade of a nearby tree, Lyn was having a nanna nap, and I suddenly realised that I didn't know where my cycling shoes where. I could remember taking them off to stretch, but after that I didn't know where they had ended up. I checked the obvious areas where they could have been, to no avail, I checked Peter's and Greg's room, where my bike was, also to no avail, which left either Barry's room, or nowhere. I managed to track Barry down, after walking between one campsite and the other about twice, and luckily they were in his room, albeit, under one of the beds. I am normally very good at keeping track of everything like that when we get to a spot, but with the chaos of trying to get washing on, having a shower with no room, having lunch. It became very easy to forget something.
In the end, our rooms were ready just before 3:30pm. Most of us were pretty annoyed with this. It was a really hot day, and while I had grabbed a shower, not everyone had, they may have changed clothes, but they really wanted to get clean. For some of us, this place didn't make a good impression.
Tomorrow night is one where everyone is camping. We are getting to the Rest Area fairly early, as we don't want to be left with the spots the grey nomads don't want. We aren't going to be able to get showered and the like there, and we are going to be getting a meal cooked on an open fire. It is certainly going to be a new experience for me on an All Trails ride.
| | |
| --- | --- |
| Distance | 97.61 km |
| Average | 30.02 km/hr |
| Time | 3:15:07 |
| Maximum | 44.84 km/hr |
Images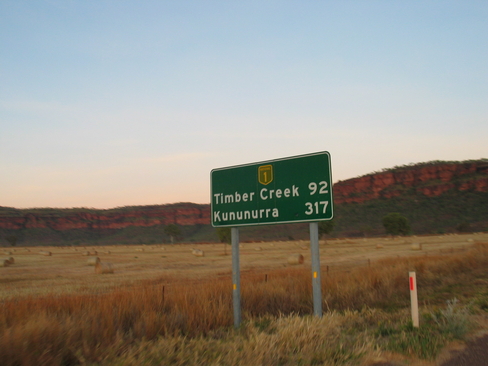 Only a short day today to Timber Creek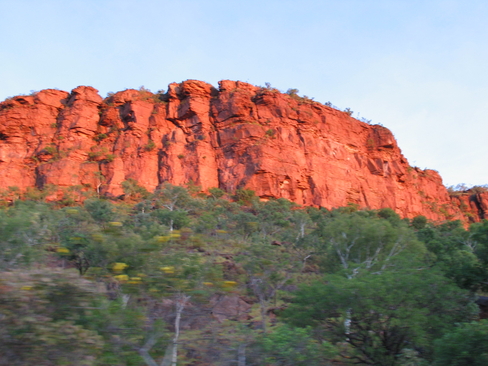 The early morning sun on the hills was magical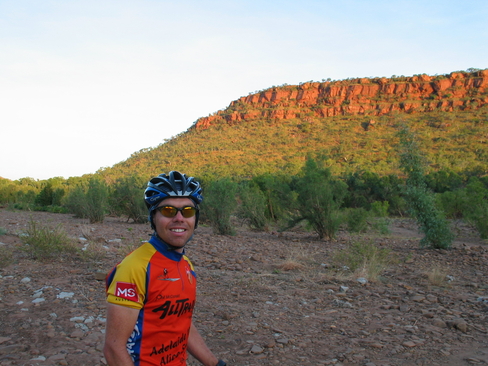 Down near the old Crossing, this was as far as I was prepared to go on the road bike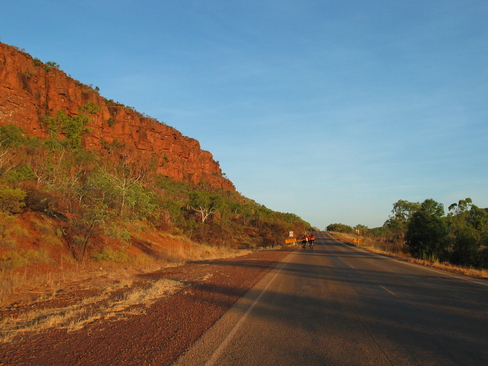 Beautiful Scenery was the staple of the day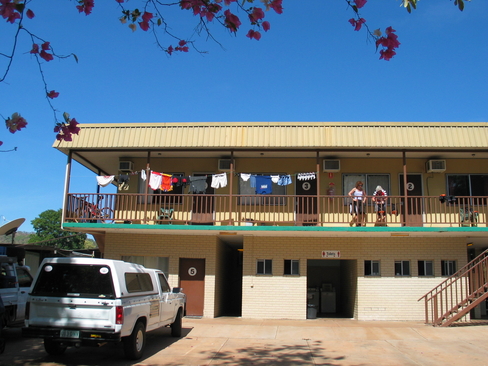 Lowering the Ambience of the place...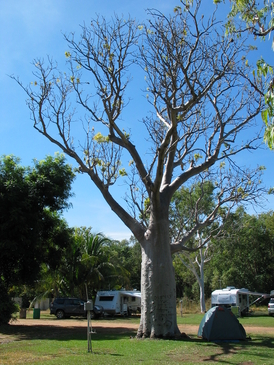 A Boab in the campground
Click Here
for more Photos from Day 6.