Day 7 - Wednesday, 1st July 2009 - Timber Creek to Saddle Rest Area
Yesterday afternoon, I felt that the bike needed a clean, after the road works over the last few days, there was a reasonable amount of mud accumulated on the bike. The first problem that I had was trying to get something to use. The Supermarket was no good, but I was able to get some cheap detergent and sponges from the Service Station. By the time that I was finished, it was almost not recognisable. It was amazing how much dirt it had picked up, most of it in the last few days. I also reapplied some lubrication to the chain, as I had no doubt washed nearly everything off while cleaning the bike.
I wandered down to the bar and found some of the other riders who hadn't gone on the cruise, and they were planning on going out to a lookout to watch the sunset. I was just in time for them to leave, and we all piled into a couple of vehicles, and headed off. We ended up at a place called Policemen's Point, and it over looked the Victoria River, there were a few caravaneers already there, and we talked to them while we watched the sunset. We were also discussing the different birds, and I found that the small white birds with a short crest were cockateels.
After that it was back to Timber Creek, and another drink in the bar before dinner at 7:30. It was later tonight because a large number of the riders were on the cruise, and it wasn't due to get back until then. I was chatting with Colin, who we met at Victoria River, and we will be shadowing each other for next few days. He is planning on getting to the same place as us for tonight.
I must say that Dinner was a bit of a disappointment. There were chops and sausages, veggies and salad. I had a look at the chops, but they didn't look the best, and I settled on a couple of sausages. The veggies reminded me of my time in boarding school, as they had been over boiled. The salad was about the only redeeming feature. From what I heard from those who did have the chops, is that they really weren't worth the effort. I decided to skip on the dessert, as I felt that I had had enough, but they did look like some nice options.
Chris and I who where sharing for the night, decided to retire. We had a devil's choice, as we could leave the air conditioning on, but it was noisy, or leave it off, and potentially get warmer. We decided to leave it off, and run the fan. We did have an interesting event overnight. We got a knock on the door at about midnight. I looked out the curtain, and I saw that it was an Aboriginal woman, we knew that it wasn't for us, so we didn't answer it. She apparently then knocked on the girl's next door, and they answered it first thinking that it may have been Kirsten. They later had another knock even later, by someone pretending to be from the Hotel.
Chris and I were up at a reasonable time the next morning, and I went down to Breakfast a bit early. I started reading the notices on the windows of the Service Station, Bar and Restaurant. The one that took the cake was the notice advising that there was going to be some live bombing and artillery in the nearby military range in July.
Breakfast was open slightly early, and I was soon in. I had a good bowl of cereal, and I was then getting ready to leave. Because we were staying in to places for the night, we had to just pile our bags up for Phil and Susan to pick up. I went for a quick spin around the block to work the chain lube through the chain, before giving it a final wipe down. I packed some rag into my day pack so I could wipe it down at the rest stops today. Our first stop for the day was going to be at about 25km, where according to Phil's profile, there was a large Boab Tree that he wanted to get a group photo at. He had allocated 90 minutes for us to cover that distance, and so we were encouraged to take our time and enjoy the scenery.
I was ready to leave, and I went around to the other camp site to see if Pat and Graeme were still around. They had already left, so I set off, and I was pretty near the back of the pack. I soon caught up to Chris, Dee and Sharon, and I sat on the back and chatted with Dee. I heard that her chain was a bit noisy, and I asked if she had any chain lube. She didn't but said that she would get some from Greg or Peter. I then remembered that I had mine in my day pack, and so I offered to fix it at a break up the road.
I had found out yesterday that the Boab, while it is usually known as an African tree, the one that we have out here is an Australian Native. It only occurs naturally in the Victoria River region of Australia. There weren't lot initially, but we did see some. They varied in size from fairly small, to very very large, I wondered how long it took for them to grow, I would guess that they are a fairly slow grower, and they probably live for a very long time. Unlike a lot of Australia Natives, they don't shed their bark, so something carved into them would last the life of the tree.
A few kilometres out of town, we passed a fire off to our left, we could see that there was no wind, as the smoke was going straight up. There was obviously a temperature inversion, because after the smoke got to a certain height, it just levelled out. We then saw a sign to another lookout, and we decided to head up. There was a bit of a climb, and I quickly attacked and pushed myself on the climb. There was some argument later on, as I didn't think that it got a lot steeper than 10%, and some felt that it got a lot steeper.
Right at top, there was a monument to an Army group that had used the site as an observation post to look out for a Japanese Invasion. The Victoria River area was deemed to be a potential landing point for any possible invasion. The view from up there was really spectacular, and I could see why it was used as an observation post, you could see a long way to the North and towards the mouth of the Victoria River. I headed back down, and I had to be careful as there were a reasonable amount of potholes at the steepest part of the descent. I turned back on to the Victoria Highway, and kept riding towards the Boab. We were riding beside the Victoria River at this stage, and it was reasonably large at this point.
A bit further up the road, there was a bridge across the Victoria River, it was titled as the Bradshaw Bridge, and I rolled across it for some shots. The width of the river at this point was truly amazing. I don't know how far it is from the coast, but I have heard that the river is tidal at this point, but then again, this part of Australia does get some very big tides.
I set out, and I saw that a rider had left as I had neared the bridge. It turned out to be Barry, and I commented that we had to get a wriggle on. At first, I had felt that the amount of time to cover 25km was pretty generous, but at the rate we were going, and the distance we had to cover, it could be a near thing. Barry and I were on track to make it, and as far as I knew, we weren't the last. We rode together, and a bit further up the road, was another sign to the Gregory Cairn. We were currently in the Gregory National Park, and there are two parts to it, one around Timber Creek, and the other around Victoria River. I was interested to see the monument. I saw a sign for the Gregory Tree, but it was listed at some 39km, so I knew that I wouldn't get to there. I pulled in, but I couldn't see the Cairn.
I pulled out, and it was about 100m further up the road. I pulled in for a photo. Gregory had landed near the mount of the Victoria River and explored this area fairly heavily. They had carved details of their expedition into a Boab tree, and the details are still visible. There were some effects that were also buried there in case they didn't return.
I pulled back out and headed towards the big Boab on Phil's map. I saw them up the road, but there didn't seem to be enough people there. I pulled up, and Barry, Rob and Amanda were there. I was told that while this particular Boab was quite large, it wasn't the one that they were thinking off. Amanda had stopped as she was experiencing a noise in her headset, and Phil was trying to diagnose it. He wasn't successful, and advised that she should roll onto Morning Tea with the rest of us, and see if anything could be discovered there.
I normally find out how far to the next break at each break along the route. I didn't find out what the distance was, but I was told that it was only 5km, or so I thought. I set off, and as I passed Amanda, I listened to her bike, trying to locate the noise. I thought that it was coming from the back of her bike, but I couldn't locate any particular area. The noise only started up when she was going faster than about 25km/hr.
I set off again, looking forward to Morning Tea. I was a long way behind a lot of the riders, and so it took me a long time until I was able to see anyone. I caught up to and passed John, being supported by his wife Angela. I caught him at a creek called Alpha Creek. It was pretty small and desiccated. I said to him, that it if it was Alpha Creek, I would hate to see Beta Creek. He retorted or Zeta, we then had a discussion about the last letter in the Greek Alphabet. It is something that I should know, as it does show up in crosswords, but I couldn't recall it at the time.
I left John behind, and set off after another rider I could see in the distance. It took me a while, and just before I got to him, I saw a sign stating that there was a Rest Area in 20km. I caught up to Clive, and there was another sign showing a Truck Parking Area in 400m. Clive dropped in behind me, and while we were both hoping that this would be Morning Tea, we ended up disappointed.
I set off with Clive glued to my rear wheel. It didn't bother me, and because the sun was pretty much behind us, it was very easy for me to ensure that he stayed behind me. I was watching the scenery, and there were some really amazing hills on the North horizon. At about the 45km mark, we passed a really big Boab tree. I wondered if that was the one that Phil had wanted for us to have the photo in front off. The numbers of Boab's varied from sparse to quite dense. I saw three off to one side, and it looked like they were in a line. It was an optical illusion, but it was still pretty impressive.
I stayed on the front, pushing a steady pace, just in the low 30's and Clive was staying on my rear wheel. We slowly reeled in another group, and it was Baz and Maz, with a couple of others tagging along. Clive decided that he would sit with them, but when I got to the front, I just sat there with Maz until Morning Tea. We saw the signs for the Rest Stop and Trevor decided to try his luck at a sprint. I gave him a bit of room, and then chased him down. I was looking pretty well in the stop as I neared it, and I saw that Phil and Susan and a reasonable number of riders were in there. I then saw Phil's Flour Arrow, and I turned in.
I was glad to get there, as it was about 55km or so from Timber Creek, and I didn't have a lot of water left. Morning Tea wasn't ready yet, because they wanted a few more riders in before it was on. I grabbed my day pack and wiped my chain down, but there wasn't a lot that needed to be done. Dee rolled in, and I grabbed her bike too. Just as I was finishing it, Eddie rolled in, and he also had a really noisy chain. I got his bike, and I don't think that there was any lubrication at all on his chain. He commented that it had been serviced, and either what was put on had already washed off, or none was put on in the first place. Normally, I would wipe off any excessive lube, but for Eddie, I felt that it would be better to leave as much on as possible. Colin was in at the Rest Stop, and was having some Morning Tea with us, and he was heading for Saddle Rest with us. It would be a lot harder for him as he was carrying all of his own gear.
I rolled out of Morning Tea pretty much at the end, and it while this was due to be our only stop for the day, Phil was going to put an extra Water Stop on at about 25km up the road. That would mean that we would then have about 35km to go to the Rest Stop. I started off, and started chasing down the riders. Barry was first on my list, and while he has stated that it is hard to draft behind me, he decided that anything was better than nothing, so he came with me.
We caught up to and passed Lyn, and I didn't know it at the time, but he jumped on. I only realised a bit further up the road when I looked back and thought that I saw another rider. I had a challenge trying to find out who it was, as he was hiding behind Barry very well. I chased down another group and we went past, chasing down another rider. It turned out to be Chris, and he is easy to recognise from the back, he has a very distinctive riding style. He jumped in as well, and I was happy on the front and the others were happy to let me stay there. I could see another group ahead of me, but they were a long way distant, and they didn't seem to be getting any closer. We crossed over some interestingly named creeks. West Baines Minor, then West Baines Major, and then West Baines West Channel. They were really getting desperate for names.
In the end they were stopped at the Water Point when we finally caught up to them. Kirsten was in charge of the Water Point, as Phil and Susan were going ahead to the Camp Site to try and claim as much ground as possible. Kirsten was marking our names off, and we were asked to ration the water as she only had a very limited amount for all of us. When we finally rolled out, and I joined in with Pat and the rest of the group. I went to the front with Pat, and he commented that they were going to do the same system as before. I asked what it was, it was do 1km turns, keep the pace at 30km/hr, and everyone does a turn.
I was second in line, and Pat was going call the turns. When I pulled off, the group had grown, and it took me nearly a kilometre to get to the back of the bunch, there were about 15 or so riders in the group. I worked out that it would be about 2 turns each before we were finally at the end of the day. When I got the front the next time around, I managed to control myself enough to do just the 1 km, at the pace that was required. I went to the back, and I was looking around, but it does take a lot more concentration to ride when you are in a bunch. There were some nice hills to the North and West, but I didn't want to take a picture as it would mean taking my hands off the bars.
I was looking at the hills ahead, and I finally worked something out. We were heading for Saddle Rest Area, and the hills were in an obvious Saddle, which probably accounted for it's name. We veered to go around the hills, and then headed back to the South West on the approach. We saw the 5km sign, and I worked out I might get one more turn. A few on the front were trying to finish it, and I finally got back to the front. It felt like a slight headwind, but as is the case, there was nothing in the grass. We passed over Scorpion Creek, and then Saddle Creek. We saw the sign for 500m, and just shy, Graeme sprinted out of the bunch and took the stage.
We turned in, and Phil had put stools out in as much shade as possible for us. I grabbed what I thought was a good site, and then waited for lunch to be ready. There were already a good number of Grey Nomads in the Rest Area, and apparently there would be a lot more coming in before the night was over. Lunch was some very nice wraps, and as I had only a small dinner, small breakfast, and not a lot of Morning Tea, I probably overate. Phil then unloaded the camping bags, and mine wasn't in them. I hadn't seen it since I had landed in Darwin at the end of the Territory Tour, and I was hoping that Phil hadn't lost it. Fiona was in the same group, as she had mailed her camping gear to Phil and Susan before they left for Alice Springs. Phil had put ours in a different location. I got my gear later than everyone else, but I was able to set up pretty quickly. I didn't bother with the fly, and because the ground was so hard, I didn't bother with the tent pegs either.
We are all pushed in here pretty tightly, and Barry went to the far end as he knows that he snores. There are no showers here, so I just had a bit of a wash with a bar of soap and the tap on the tank in the Rest Area. It wasn't as good as a real shower, but it was better than nothing. I then found the problem with no fly, as the tent is pretty open.
Tomorrow we cross the Western Australian Border, a few of us had speculated that it was possible to cover the distance to Kununurra, but we would have had two problems, the first was if we had experienced a head wind, and the other was that the clock goes back 90 minutes when we cross the boarder. This would have made it tight on time. Tomorrow is going to be an interesting morning with us all to pack up our camping gear, and then get on the road. It is still relatively short though, so it isn't all bad news.
| | |
| --- | --- |
| Distance | 121.52 km |
| Average | 29.62 km/hr |
| Time | 4:06:08 |
| Maximum | 52.84 km/hr |
Images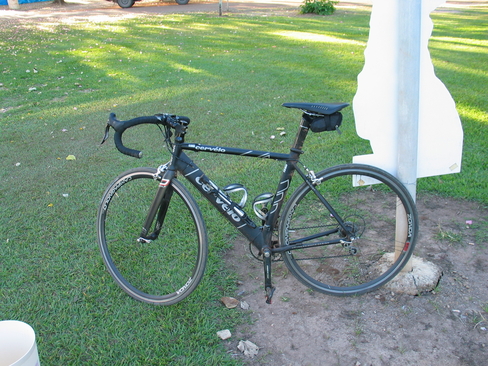 My trusty dusty steed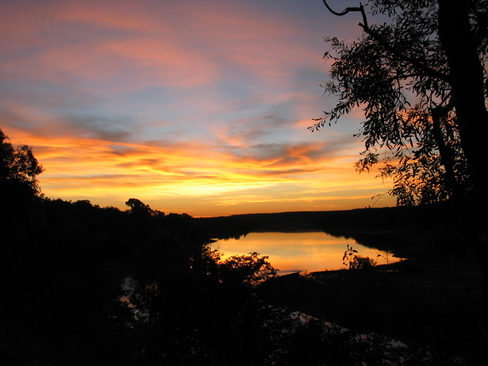 Sunset over the Victoria River from Policeman's Lookout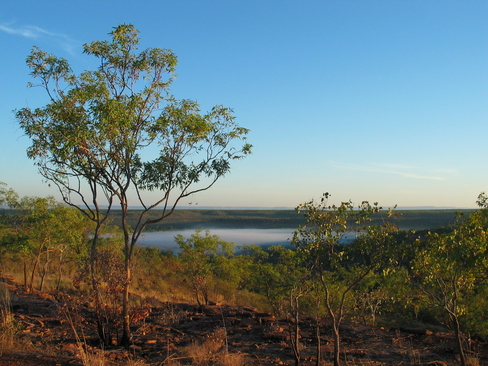 The view from the WWII Lookout, the climb was worth the view.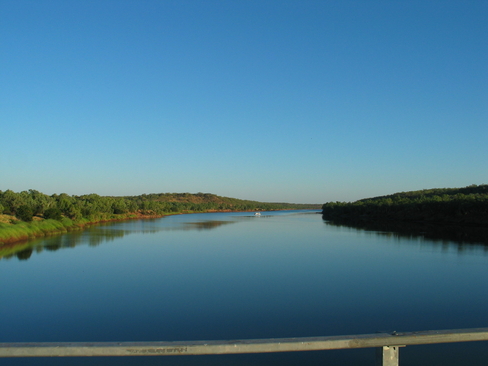 The Victoria River from the Badfield Bridge. The other side of this was a Military Test Range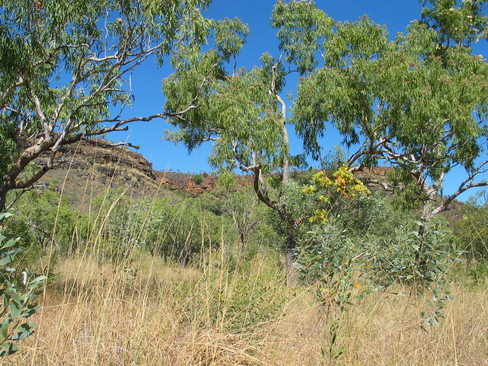 Some of the hills boarding Saddle Rest Area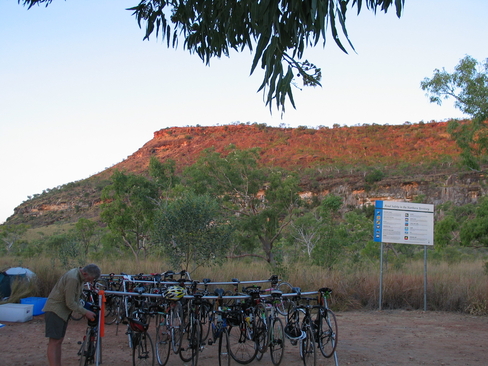 The hill that Phil, Pat and Peter climbed
Click Here
for more Photos from Day 7.