Day 12 - Friday, 19th June 2009 - Adelaide River to Darwin
Last night at Dinner, we had the presentation for having completed the ride, a certificate was given to each person, which contained a the photo that was taken at the Devil's Marbles, except for Fiona's which was the photo at Daly Waters Pub. I am going to put mine in a frame, but I am not sure where I am going to put it at this stage. When they were given out, each person was told of the nickname that Dave (mechanic) had given them. He had given me Lance, as he felt that I was a high cadence rider in the same fashion as him. There were some other really good ones and it was a good bit of fun. Also, we were all invited to talk about each rider as they were given their certificate. It was really nice that way that many of us had so many nice things to say about each other. It was great that at the end of a trip like this, that we are still a really close group.
Yesterday afternoon, another rider showed up who was cycling into Darwin today. Chris Roach is doing a self supported ride around the world. He started in Newcastle, NSW about 3 months ago, and was on the last leg of his Australia tour. He is planning on spending the next 8 years cycling around the world as a fund-raiser for Oxfam. You can see the details of his ride at
Cycle Strong Man
. It certainly makes our little tour seem like a walk in the park. He joined us for dinner, and it was great to see him welcomed into the group.
Last night was a bit of a late one, although we had 114km planned for today, many of us were prepared to push ourselves a bit further last night as it was our last night on the road together. Some are flying out early this evening, and some very early tomorrow morning. Pat, Fiona and I will see each other after a weeks break, but for many of us, it will be a while until we are next in touch.
Today's breakfast was supposed to be at 6:30am, but the Kitchen Staff pushed it back to 7:00am, so we had an extra 30 minutes lie in. I decided to have some of the cooked breakfast, so I indulged in some eggs on toast to supplement my usual cereal. When it came to rolling out, Pat, Alex and I were the last out and we were talking to Sue about the Darwin to Broome ride. She is really looking forward to us seeing some of that countryside. Just hearing her enthusiasm for it really makes me glad that I have more riding after finishing today.
It was a bit of a cool start this morning, but I didn't think that it justified the arm warmers. When I get to Darwin, a lot of my cold weather gear is going to be put into a parcel ad sent back. I can't see any point to keeping it with me, when it is only taking up space and weight. We set off, and as we crossed the first creek of the day, which was only about 500m up the road, we really felt the cold. Then, just a bit further away, there was a smoke hazard across the road. More of the roadside was burning, but there was no visible flames, but it had produced a lot of smoke. There may have been a temperature inversion, so that the smoke was kept close the ground. It was quite pretty with the sunlight spraying through the trees, but it was a bit foul to breathe.
I was on the front initially, and at first, kept my pace reasonable. I slowly picked it up as I started to warm up, but Pat and Alex were taking a bit longer to get going, so I eased the pace back so that they could warm up. I got off the front, which gave Pat a chance to set his own rhythm and pace, and warm up himself. The countryside leaving Adelaide River was really pretty. There were a lot of low hills that we were winding our way between, so the road was pretty flat, but there were a few minor ups and downs. We were crossing some rivers, and they still had some water pooling in them, but they didn't seem to be flowing very well. When we passed over them, we certainly knew about it as you could feel the cold coming out of them.
A slight wind seemed to be picking up, and as for the last few days, it seemed to be helping us along. We caught up to and passed Jan and Katrina, and then Rob a bit further up the road, and finally Fiona. I was sitting behind Alex in the group, and he is a great person to sit behind. He is a strong cyclist, and he is also a pretty big guy, so someone like me, who is quite small, gets a lot of drafting effect off him. The only problem, was that whenever I wanted to look around and see the scenery, all I could see, was Alex. At about the 25km mark, we caught up to the remaining riders, who had stopped for a quick break. We pulled in, and waited for those who were behind us to get there as well. Phil and Susan pulled in, and they wanted to grab a photo of all of us with the Darwin/Katherine sign behind us. After that was taken, the several people who had done the first Nullabour Ride, wanted a photo with just them. I decided to press on, and get to our Morning Tea stop.
I set off, and just up the road, I had to content with a Road Train overtaking me. He decided to stick to the lane as there were double white lines, and this meant that it pushed me over the white line. It was pretty hairy having three trailers pass within a foot of my head, but luckily nothing came of it. Generally the Truck Drivers are really good, but you only tend to remember the ones that have done things like this.
Our Morning Tea stop was at about 45km, so it wasn't too far away. We were getting a bit of two lane roadway at times, usually in the form of Overtaking Lanes. It was a welcome relief from the two way road that we had generally been having. I passed one of the ways into Litchfield National Park, which is somewhere I intend to visit during my stay in Darwin. I was really enjoying the ride on the bike, and I wasn't in any particular hurry. The wind was pushing us all along, so despite us leaving about 30 minutes late, it was highly likely that we would end up finishing the day early. I passed Rob, and I mentioned how much I respected him on this ride. He has probably had hardest time on this ride, he came in not knowing what to expect, on a flat bar bike, and he just kept plodding away every day on the bike. He had to take some trips in the bus, but he has done so much riding that it is really impressive.
I pressed on, and I was starting to get a bit worried about our Morning Tea stop, I couldn't remember if Phil and Sue were ahead or behind me, so I was a bit worried that I might miss the stop. I saw some riders coming up behind me, and it was Pat, Alex, George and John. I jumped on the back, and it wasn't much further until we reached our stop.
Chris was there ahead of us, having left very early to get there ahead of us, and he was going to try and stay with us to Darwin. We had a police escort once we got fairly close to the City Centre, but he obviously felt that it would be nice to have some company. On the last section, Pat had managed to break the Sub Lever off his right hand shifter, this meant that he could change up gears on the back, but not back down. Very similar to what happened to me last year on the Rock Ride. The bigger problem that he has, is that he will need to get it fixed while in Darwin, or it is going to make his trip to Broome a much harder experience that he was originally planning on. Having seen the profile maps for the Broome Ride, there is going to be some days when low gears are a necessity.
We enjoyed our Morning Tea, and having already made up the 30 minutes, Phil was able to leave his Drill Sergeants Hat off, and we were able to take our time. When we left, I set off behind the tail enders, and set about chasing. I quickly realised that I had forgotten to fill up my water bottles. I had one full bottle, but it was 55km to our next stop, and I didn't think that it would be sufficient. I saw a service station ahead, and I quickly pulled in, but I didn't sight a tap quickly, so I pressed on. Dave (mechanic) had stopped ahead to take some pictures, so as I went past, I asked if he could fill my bottle, and threw it over to him. I got on the back of the lead group, and a bit up the road, Dave had pulled over to return my bottle. I tried to take it off him, but it just bounced out of my hand. Trying to get a 700ml water bottle to go from standing still to 35km/hr was harder than it looked. Dave picked up the bottle, and then set off after us. This time, we had an overtaking lane, so I slowed up, and went to the right hand side of his vehicle, and he was able to pass it out to me from the drivers side window. A much easier way of doing it.
The group I was in, soon started to splinter, and it was just John, George, Pat, Alex and I for a while. The road soon became a dual carriage way, and it was evidence that we were getting close to Darwin. The traffic had also started to increase, but the speed limit was still 100km/hr, so we weren't keen to try and take an entire lane. So we were left to fight for survival on the shoulder, which was a bit limited.
We pulled in at a Rest Stop/War Information point up ahead, and it had some large pictures of the planes that had helped defend Darwin from the Japanese bombing raids. There was a Curtis P-40 Kittyhawk, an early Spitfire, and a Spitfire Mk VIII. John and George pressed on, and Pat and I soon went as well. Pat said that Alex wanted to stay and read, but he soon came after us.
Alex picked up an Ear Infection a day or two ago, and it was affecting his hearing, and also his strength on the bike. We kept a good pace, and we noticed yet more evidence that we were nearing Darwin. The signs were starting to direct people off the Stuart Highway into the outskirts, and there were a lot more businesses around. The traffic was continuing to increase, and I was starting to wonder where it was all going from and to. We could see George and John in the distance, but we weren't making a huge effort to catch up to them. Pat demonstrated that it was possible for him to still change down gears on the back, but it was a real manual job. Not something you want to have to do a lot.
We hit a good downhill, and Pat egged me to go faster as he was nicely tucked in behind me. I peddled as fast as I could, but as I said to him at the top of the other side. I realised that I am tired, as my legs couldn't have kept that up for too long. While I still have a lot of energy to maintain a strong pace, I don't have that burst of speed that I normally have. Hardly a surprise given the efforts I have been putting in over the last week or so.
Alex had dropped off on the up hill, and Pat said that he would wait. I instead bridged across to John, George and Ken. We didn't know it at the time, but Ken was up there as well. We started to hit Traffic Lights, and they had warning signs on the lead up to them. I have seen them in Sydney, but they are normally where the lights are past the crest of the hill, these ones were probably there, as it could have been the first set of lights that motorists saw since Katherine, or even longer depending on where they have come in from.
I stayed with the small group, and we continued to hit more shops, more traffic and more lights. Our final rest stop was at about 95km, and I was again keeping an eye on the distance to see where it was. Phil was pretty much on the money, and we found it very easily. We were ahead of time, as the wind had really helped us along. Everyone pulled in safe and sound, and Chris was still with us. We had a snack, and then rolled out as a convoy. We were led by Phil and Susan, then the cyclists, and then the two support vehicles driven by Dave (physio) and Dave (mechanic). We were only supposed to be doing 20-25km/hr, but Phil got a bit excited and we ended up doing quite a bit more speed than that. Everyone seemed to be keeping up, so it wasn't a problem.
We stopped off at some road works, as we were due to meet some of the Police who were going to escort us to our Final Destination, and try and control the traffic lights for us. It was really nice riding along getting cheers from some of the people at the side of the road. They didn't have any idea what we were there for but it was some really good encouragement. Makes a difference from the usual things that are yelled out to cyclists.
We turned off the Stuart Highway, and onto The Esplanade and reached the City Palms Resort, the final stop for the trip. Hands were shaken, Hugs were given and a lot of congratulations were passed around. It was only a small group that took part on this ride, but we were very close knit, and many of us knew each other from previous All Trails events. The other remarkable fact, was that there were no major accidents. There was one rider who took a spill at low speed in the gravel, but everyone who started was able to complete the ride. No one had to abandon because of injury, and there were no major falls along the way. This was a first for All Trails.
We had a Lunch beside the pool, and then a signed jersey was auction off with the proceeds going to MS. It ended up raising a total of about $800. A very good result. I rode off and found my accommodation for the next several days, I am in a local Backpackers on Mitchell Rd, which is pretty much the main drag of Darwin. I have a single room, so I should be able to sleep pretty well, and I know that all of my stuff is more or less safe. Phil and Susan are going to hang onto my Camping gear for the next few days as I have no need of it here. Even so, it was probably quite a sight seeing me riding along with my large backpack on. I made it with no issues.
I am really looking forward to these next few days. Some time off the bike and a chance to send an end of the Country that I have never been to before.
This was one hell of a journey, and for me, this ride has been an amazing journey. It allowed me to complete the leg from Adelaide to Darwin which I started last year. The best thing about it though, is that I still have more to come.
| | |
| --- | --- |
| Distance | 114 km |
| Average | 30.97 km/hr |
| Time | 3:40:49 |
| Maximum | 54.90 km/hr |
Total
| | |
| --- | --- |
| Distance | 1559.55 km |
| Average | 31.01 km/hr |
| Time | 50:17:18 |
| Maximum | 68.62 km/hr |
Images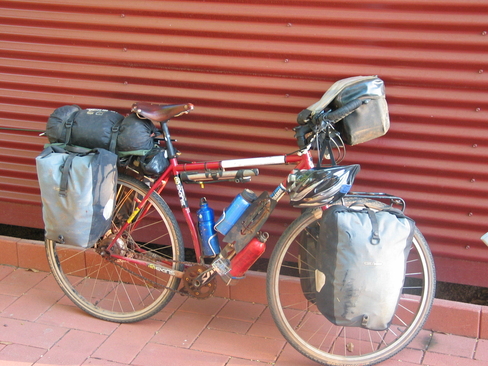 The bike that Chris is riding, all up, about 60kg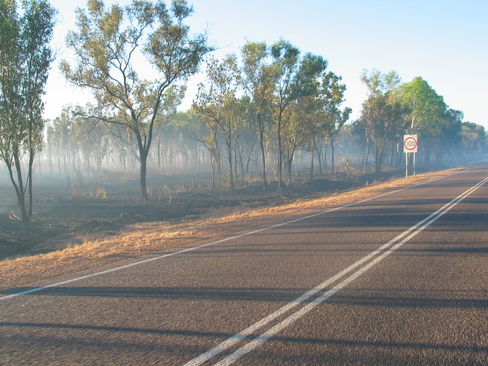 The smoke haze early in the morning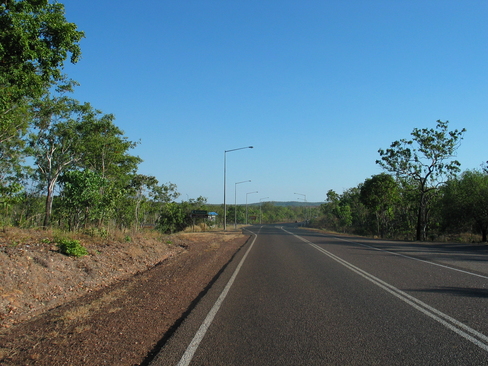 Are we there yet?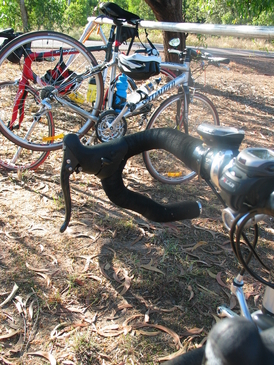 The missing Sub Lever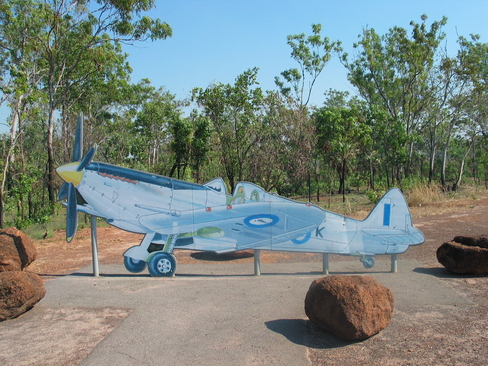 Spitfire MkVIII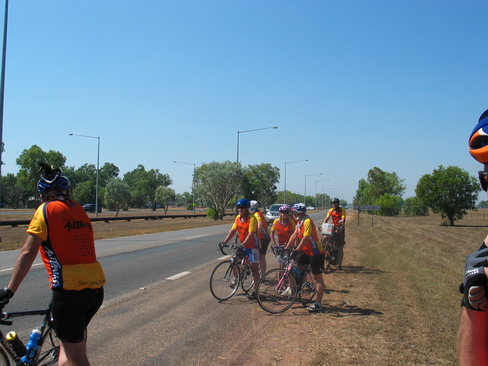 Getting ready to roll out as a convoy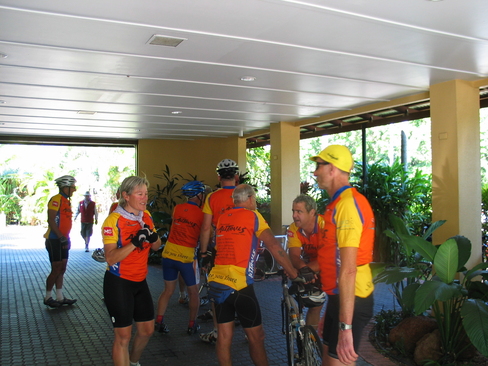 We All Made It!
Click Here
for more Photos from Day 12.