Day 4 - Thursday, 11th June 2009 - Tennant Creek to Renner Springs
Last night at dinner, there was a map on the wall showing the Northern Territory with a lot of the places that we had visited as well as those that we would visit. We couldn't locate Renner Springs, and at first, I thought that it had been renamed from Helen Springs, which seemed to be in roughly the right spot. As it turned out, Helen Springs is one of the many properties that is part of the Kidman property chain, and Renner Springs is a few kilometres further one.
The units at the Hotel last night were also interesting, they were a hexagonal shaped unit that were a modular construction, there was a plate on the back of the door advertising them. They had a lot of space within them despite their odd shape. It also meant that they were able to be arranged quite efficiently around the grounds of the hotel. It was better than some of the previous places where the door to the bathroom just misses the toilet bowl.
During the night, we all heard the wind pick up, and in the morning, our fears were confirmed, it was another easterly. On the past few days, we have always had some grace before the wind started blowing, but it wasn't to be the case today. The weather was also noticeably warmer, it was forecast to be a low of 10 degrees, significantly warmer than the 4 degrees we were getting in Alice Springs. I was able to get away with just the arm warmers again this morning, and I suspect that a few days further up the road, I will be able to dispense with them as well.
I tried to get a synoptic chart on the TV this morning, but no luck. When I checked the forecast charts for the next few days last night, I felt that the easterly winds would continue for a few more days yet, I was a bit hopeful that there might have been a southerly trough that would give us a slightly more southerly component to the wind.
Because today was a longer day than yesterday, we were to get away at about 30 minutes earlier compared to yesterday, with an hour shorter morning tea, our arrival time was forecast to be about the same as yesterday. We were all a bit sceptical about this as the wind was likely to be a major factor for today's riding.
Everyone got away on time or early with me being the last rider out, as I said, I'm not being tardy, I just want to be able to ride at my own pace, and being at the back initially gives me a chance to do that without getting too far out in front. A few hundred metres into the ride, there was a set of traffic lights, luckily, they were for a pedestrian crossing, and there were virtually none around, so they stayed green for me to be able to roll through them.
The wind, while reasonably strong, didn't seem to be too much of a problem, and it was rarely directly on our right shoulder, and more usually slightly behind us, it was never a true tail wind, but it was certainly able to give us a decent push along. Just north of Tennant Creek, there were a few small climbs to negotiate before the terrain really flattened out. With the sun still low on the horizon, they made for some pretty spectacular shots. On one of the last passes before the plains started again, it was possible to see a long way, and it looked like we were leaving the low scrub behind and getting into some sparse eucalyptus trees, they seemed to stretch for a long way.
I was amongst the back markers in the pack by this stage, and we only had about 28km to cover before our first stop for the day at Three Ways, which was at the intersection with the Stuart Highway and the Barkly Highway which goes out to Mount Isa. By the time that I got there, I was with the lead bunch which included Jan and Katrina. They were doing today as a trial run for tomorrow which is a longer day which they are both hoping to complete.
We pulled into Three Ways about 30 minutes ahead of the planned time, and also ahead of Phil and Susan. The innuendo started up about the name of the place, and many laughs were had by all. This was only a snack stop, and we had about 50km to our proper Morning Tea. I went to have a drink, and I realised that I hadn't yet drunk anything from my biddons. Despite the weather being warmer, the wind had a distinct chill to it, so I decided to keep the arm warmers on for the time being.
Three Ways was also home to the John Flynn Memorial, who is most famous for setting up the Royal Flying Doctor Service, which we saw in action during last years ride. They had a map of Australia showing the areas that didn't have good access to Medical Services before he set the RFDS up, it was about two thirds of the country that had no medical facilities. The only areas that did were the East Coast to Port Augusta, Tasmania, and a bit around Perth. He really was a man with vision.
I had walked up to the memorial while everyone else had ridden, so I was again the last to leave and it again meant that I could chase down the other riders. On catching up to the main bunch, I rode along with them for a bit, I stayed off the front, as I knew that I would probably push the pace too high and it would cause Jan and Katrina to drop off, not the goal for the day.
We stopped off for a breather about 10km out of Three Ways, and when we got going again, I simply pressed on and headed for Attack Creek, our Morning Tea stop. The wind was certainly helping me along by this stage and I was pushing a pretty good speed for most of it, but every now and again, the road would turn and I would get slowed down. One of the hills, while only slight, did slow me down, as it was into the wind, and on very dead road. Something like that is hard mentally as well. Luckily, once past the crest, I turned more towards the North, and got more of the wind behind me, the road also improved and slightly down hill. There was a cattle grid just past the top, and I remember chuckling to myself as I rode over it as I was comparing it to the other grids that we have ridden so far on this trip and the ones on last years. I must have been bored.
I made it into Attack Creek shortly behind Phil and Susan, and I had to wait for the other riders, they weren't that far behind me, and even Rob, our tail gunner for the day was still in soon after the main bunch.
There was a memorial marker at Attack Creek to commemorate the most Northerly Point that Stuart made on his1860 journey. At this point, illness and hostile natives forced him to return, hence the name of the locality. There was also a memorial for a Mounted Constable John Charles Shirley, who perished in the area in 1883. We had a fairly leisurely 30 minute break, before we were given hour marching orders by Phil. Churchill's Head was just up the road, and when I pulled out (last again), I wanted to go and see it. It was on the turn off for the Old Stuart Highway, but as I turned on, I saw George coming back the other way, I asked him if it was any good, and he said that Dave was turning everyone back. Ken managed to see it, but he said that it was a bit of a disappointment and that it had recently been vandalised by people, so it had lost some of it's character.
We had about 50km to cover to lunch, which was at another Rest Stop. I caught up to Katrina on the road, and we were briefly talking about the scenery, there were a few places here where we were slightly higher than the surrounding area and you could see a long way to the horizon. It was good to back in Big Sky Country. My bike didn't feel a 100%, and I thought that maybe I had a rear flat, I asked Katrina but she said that it looked fine, I decided to keep riding, and if it was going down, I would change it when I knew that it was flat. We had a good downhill and it was just nice to be able to get some decent speed up without having to pedal for it. On my way down, I saw a vehicle approaching, and it was warning of an oversize vehicle behind him. I noticed that the truck was painted in green, and the two guys in the lead vehicle seemed to be wearing Army Fatigues. Sure enough, the Truck was carrying an Army Tank, not something that you see every day on the road.
A bit further up, another one was also coming towards us. I jumped off the bike and managed to get a pretty good shot of him. The thought did cross my mind with the Anti-Terrorism Legislation that there may have been issues, but my fears seemed to be groundless. All up, about 5 trucks with Tanks on them passed us, I termed them a "5 piece Heavy Metal Band". I stopped briefly after this as one of the Dave's had stopped, and I checked my rear tyre. I felt that if I was going to change it I might as well do it where I had access to a Track Pump. It turned out that my rear tyre was still fully inflated and I must have been imagining things.
I pressed on knowing that I was opening up a large lead, but I was enjoying myself. It was a really nice day for riding by this stage, and while the wind wasn't always at my back, it was there enough to really help me along. The road was generally pretty good, and so I was able to put a pretty good turn of speed down. I saw some signs advertising Banka Banka station, which amongst other things offered "Hot Showers", "Cold Drinks" and "Green Grass". This might sound trivial, but when you are travelling out here, they can be pretty welcome.
Dave (our mechanic) caught up to me, and he had Rob riding with him. He had decided at Morning Tea to get a lift to Lunch and then finish the day from there. Dave told me that Turtle (Phil as he carries his house with him) had a puncture and so he was quite a way back. Dave was sticking with me, which was good for me as it gave me some protection from the traffic. Generally it has been pretty good, and even the Road Trains have given as much space as they can. You do still get the odd idiot who doesn't want to give you much space (even if there is nothing coming the other way), but they are the exception rather than the rule.
Generally today, as for the past few days, we are running perpendicular to the river channels, so we are passing over a lot of waterways and flood ways. This also means that we are getting very long, very slow undulations a lot of the time. It would also make this road interesting in the wet season as it would easily get closed off, even to the large vehicles. It was also funny seeing the name's of some of the creeks or rivers, they would be signed, and then just further up the road, was the same name, North.
I did see another vehicle indicating that there was another oversize vehicle, it turned out to be "Massey on the Move", the vehicle didn't seem to be overly large, but it was obviously big enough to warrant the warning vehicle. I wasn't sure what it was about, but I did see a sign on the side of his trailer advertising a charity.
I saw a sign at one point that was for a T intersection, but it was for Authorised Vehicles Only, I was curious about what constituted an authorised vehicle for the road, and just before it, there was an underpass with a road. That piqued up my interest even more. It turned out that there is a Manganese Mine out to the East, and that was the access road for it.
I was hoping to land at the Lunch spot at about 12:30pm or so, and I had a banana to keep me going at about noon. I was pushing a good pace and all seemed to be going pretty well until I passed some road maintenance. A slasher was mowing the grass on the side of the road, and because of the wind, it was blowing a lot of dust across the road. I must have got a piece in my eye and it took me a while to dislodge it. I thought that I was going to have to get off the bike to deal with it, but I was able to do it carefully while still on the bike.
Dave pulled up beside me, and I questioned where the lunch stop was. According to Phil's Map, the Lunch Spot was at about 122km or so. Dave was out of Radio Range so we weren't entirely sure. In the end, there was a truck parking area and Dave waved me over. We decided that we should wait for Phil and Sue to catch us up. It turned out that Dave's Radio wasn't working, and so he couldn't get in touch with the rest of the convey. I was chatting with Rob while waiting for Phil and Sue, and it turned out at the end that we had picked the right spot.
I helped set the Lunch Site up while waiting for the other riders, and they all pulled in way ahead of the planned time. Phil was moving the schedule forward, so that we would be able to get to Renner Springs ahead of time. Lunch was some sandwiches which were made up at Three Ways. Because I had been keeping my fuel topped up as I went, I wasn't ravenous, but the sandwiches were certainly very welcome.
When it came to roll out again, Rob got going ahead of the others, and I left at the back of the pack again. We only had about 37km to cover for the rest of the day according to the ride guide, but I felt that Phil was going to be out by about 5km today based on a sign that I saw way back. We were also going to pass the entrance to Helen Springs.
On leaving, I caught up to Katrina who was just off the back of a small bunch, I offered to try and tow her in, but she was happy doing her own pace and enjoying the scenery again. We chatted for a bit, and I was able to give her some more advice on riding her bike, she was appreciative of it, and I get the feeling that not a lot of people tend to ride in her area.
I pushed on, and quickly passed the other riders. I stopped off at Helen Springs Entrance, and when I was there, George, John and Ken roared past like no tomorrow, they were an impressive sight. I jumped back on the bike and headed off again, knowing that there wasn't a lot of distance to cover. The road was pretty average again, but I was fairly used to it by now, so I wasn't as bothered as I had been a few days ago. Dave (physio) passed me a few k's out of Renner Springs, and as we turned a corner, we sighted Lubra's Lookout, which reminded me a lot of Mount Conner which you can see on the Lassiter Highway on the way to Uluru. Dave had stopped to take a picture, and I managed to get some while still on the bike.
I then saw a sign showing Renner Springs to be 4 or 5km away, I said to myself "let's have ya then", and aimed to beat Dave in. I was feeling pretty good, so I was able to push a good pace, and was sitting pretty consistently in the low 40's. A few vehicles passed me, but none of them were Dave, I managed to beat him by a few minutes.
I got my room key from Sue, and quickly started my post ride stretching routine as the other riders came in behind me. Sam went looking for the Laundry facilities, and George and I put some of our stuff in there as well. Afternoon Tea was served by the Roadhouse, and it was some freshly baked scones and some fresh cut fruit. A very nice snack to celebrate the end of the day.
Today was a warm up for tomorrow, we have another 190km to get through then. If the wind stays as it is, then it shouldn't be too difficult, we were all pretty much an hour ahead of schedule at the end of it. If we are unlucky, then it will be a hard day.
| | |
| --- | --- |
| Distance | 162.15 km |
| Average | 32.18 km/hr |
| Time | 5:02:17 |
| Maximum | 55.40 km/hr |
Images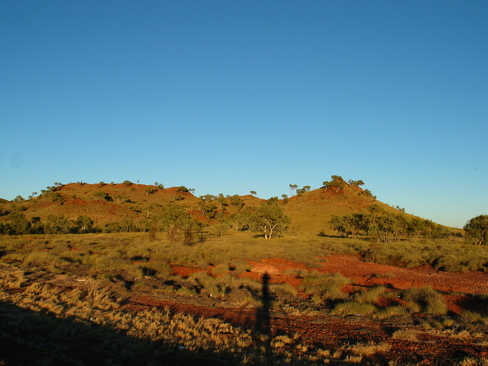 The hills just to the north of Tennant Creek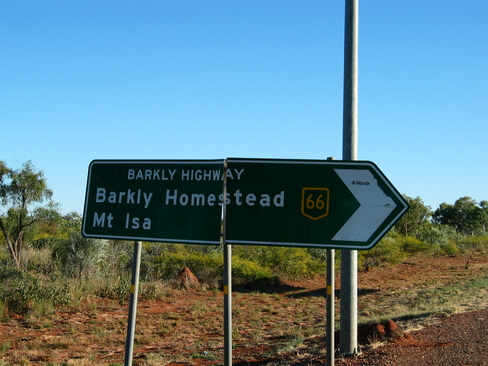 Turn off to the Barkley Highway. The only main road from the Northern Territory to Queensland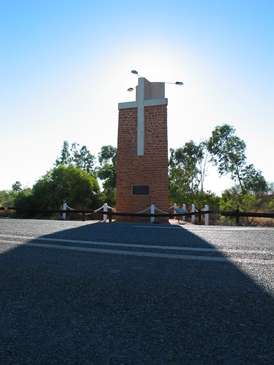 The John Flynn Memorial, who set up the RFDS that we saw in action last year.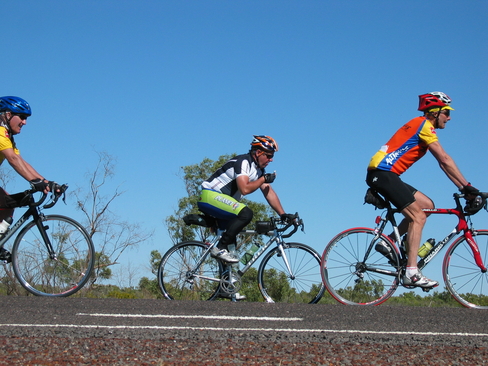 George, Pat and John leaving Morning Tea at Attack Creek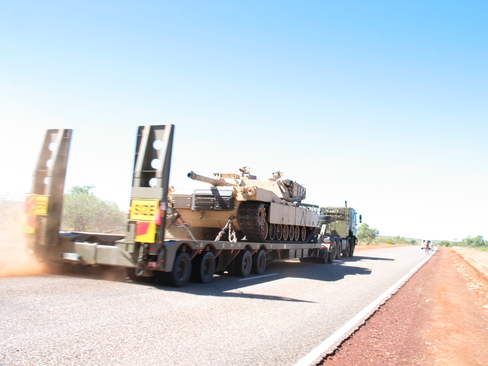 Heavy Metal. One of the 5 tanks that passed us on the road. The only warning that our support vehicles had was "3.7" that is their width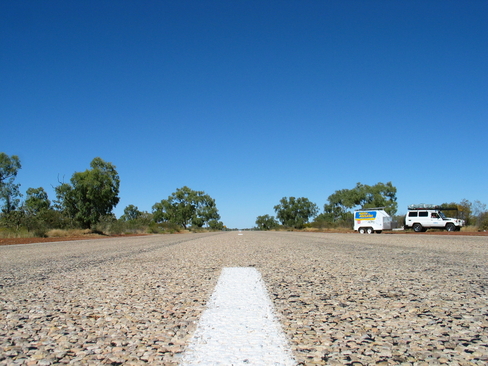 Not many highways where you can take a picture like this
Click Here
for more Photos from Day 4.