Day 7 - Sunday, 14th June 2009 - Larrimah to Mataranka
Last nights dinner was an interesting affair. There is a Husband and Wife that run the Larrimah Hotel, and they haven't been able to get any staff for a while, and they also had issues with their supplies for the last week. As a result, they didn't expect to have dinner ready for us until 7pm at the earliest.
We had a slightly longer briefing as we also talked about a motorist who came a bit close to one of the bunches on the road yesterday, there was discussion about the best way to deal with people like that. There are some motorists out there, that even though you give them all of the road, they still aren't happy. Most of the road users have been really good to us. Dave (physio) even mentioned about one bus driver who was behind him for about 10 minutes. Because the road was particularly windy at the section where he caught up, he was unable to overtake cleanly. He was content to sit behind the support vehicle and chat with Dave on the CB.
The two Dave's went out to the two other WWII Historical Sites that we passed on the way into town, the Hospital, and the Airfield. Both said that there wasn't really anything to see there. It is annoying that there are signs that pretty much point to nothing. You might stop at one or two, and then get frustrated, and as a result, miss one that is really good.
Dinner was a good meal. We had minestrone soup with Home Made Damper. I didn't have a lot of soup, but I certainly ate a lot of the Damper. I have always like good bread. The main meal was a pasta dish. The Hotel wasn't doing any meals other than for us, which was nice of them, but it does really show that they are understaffed. There were a few locals in the Bar, and Jan got talking to them learning about Australia from their point of view. From what I understood, it was a pretty steep learning curve for her.
Some of the other riders felt that the meal was a bit substandard, but as I pointed out, pasta and a simmer sauce, is a pretty good meal for cyclists, and it is a pretty easy meal to cook up for a reasonable sized group. It was a really social atmosphere last night, and while I left it at a reasonable hour to get ready for bed, some of them stayed up for quite a bit longer to chew the fat. Because I was sleeping on the floor in Sam's and George's Room, I didn't think that it would be fair to them, for me to come barging in after they had already settled down for the night.
Despite only having a small piece of floor at the end of one of the beds, I had a very good nights sleep, and from what I heard about those who did go out to the Station for their accommodation, it was probably a bit better than theirs. They had a diesel generator just outside their rooms which was running all night. As I said to them, one of the best purchases I made prior to this ride was the Ear Plugs. They have enabled me to get a few good nights sleep so far this trip.
Breakfast was a good meal, and we had all got up a bit early today. Some of us took a brief wander around to see what we had missed the previous afternoon and night. Breakfast was served, and as we only had a short day today, 80 odd kilometres, it was a bit more leisurely that we had had on the previous days. I stuck to my cereal, but I did give into temptation and have a sausage in a piece of bread. While we were at breakfast, a guy in a ute pulled up asking about Petrol. The only service station is one which is abandoned. When we left Hi Way yesterday, there was a sign warning of no fuel for 160km, which is to Mataranka. I assume that there would be one in Mataranka as well. Pretty foolish to have missed those signs and pressed on regardless. I don't know what the end result was.
When I finally rolled out (last), I pointed out to Phil and Dave (physio), that if I turned Right, it wasn't because I was directionally challenged. I wanted to get a photo of a sign showing the distances to the South. At Larrimah, Alice Springs was listed as 992km. However, we had done some trips off the main drag, so as a result, we had covered just a shade over 1,000km. In 6 days.
Once I had a picture of the sign, I about faced, and started heading north. Our Morning Tea stop was at about 55km, which meant that we got the bulk of the riding done before stopping. I slowly caught up to the other riders, and when I reached Fiona, I slowed up and starting chatting with her. She was only just off the back of the lead pack, so she asked if I could pull her up to it. I was more than happy to oblige, and when we had reached them I moved up to the front with George to help them out. I was feeling pretty good, but that is compared to how I have felt over the last few days. If I compared to how I feel when I have had a good rest, I am probably very very tired.
I was with the lead group when they were looking to have their 25km break, and we saw Phil and Susan pulled up ahead. Our first thought was that they had stopped to accommodate us, but we then saw that they were wanting to take some pictures, so we rode past them to avoid spoiling their shot, and pulled up about 100m past them.
It didn't take long before all of the riders were together again, and after about 5 minutes or so, we all pulled out. I was last out again, and this time, I felt like riding out by myself. I set off, knowing that it wasn't too far to Morning Tea, when I saw a lot of vehicles heading towards me. It turned out to be Army vehicles. I wondered if they were off to do some exercises, and they were linked up with the Tanks that we saw being transported a few days ago. I suspected this even further, when a second convey passed me as well, and this one had another 2 tanks with them. The other thought that crossed my mind, was that the Swine Flue (or Hog Wog) was getting out of hand, but I felt that sending in the Army with Tanks was a bit drastic.
In the end, I saw a total of three conveys heading south. There were Troop Transports, Fuel Trucks and what appeared to be supply trucks. I noticed a couple of riders behind me, and I was again philosophical about them catching me up. I saw a sign indicating that there was a Rest Stop 5km up the road, and that would have put it about 40km out Larrimah, so it seemed like it would be the right place to stop. It was on the right hand side, so I pulled in, and then I saw no sign of Phil and Susan. I knew that they were ahead of me, so I simply rode through it, out the other side, and back onto the main drag.
A bit further up the road, there was a truck parking area, and this was where they had their Morning Tea stop. While their were loos at the previous stop, they weren't there 12 months ago when they did their recon. As the Rest Stop was also on the Right, they felt that the Truck Parking Area was a better choice and it was only a few kilometres further along.
I was a bit early to Morning Tea, but it didn't take long for the second group of riders to catch up to me. It was Alex, George, Sam and John. They all felt like stretching their legs a bit after the 5 minute break. It turned out that they had seen me pull into the Rest Area, and they followed suit. I think that just about all of us ended up doing that.
We had some scones which were made at Larrimah for Morning Tea today, yet another delicious baked treat to keep us fueled up for cycling. We didn't particularly need it to day, as we had less than 40km to go according to Phil's map, but I think that you have a bit of trouble getting a group of cyclists to say no to food. I stayed at Morning Tea until 10:30am, and again I was the last out. Some of the lead riders had a few minutes on me so it would take me a while to catch them up.
Just out of Morning Tea, I saw a small termite mound that had two peaks, someone had scratched into it two smiley faces. It was really funny to see. This is the third mound that I have seen that has bee drawn into a face. The other two had them painted on, and one of them had an old car wheel which looked a lot like a hat. The termite mounds have become considerably bigger over the last few days, and I saw one this morning that would have been 2.5-3m high.
I slowly chased down the riders ahead of me, and on the way, we crossed over a bridge that gave us some pretty spectacular views of the river system that it spans. There was virtually no water in there now, but it would be amazing to see it when it is in full flow. I had been counting the riders as I slowly caught up to them, and on catching the lead pack, I was one rider short. I confirmed that it was Pat who was up the road, and I set off after him.
I passed a road that lead to several Stations, it was a dirt road, and the furthest Station was 144km away. And that would probably be to the front gate. It is incredibly remote up here.
I slowly reeled him in, and just as I reached him. I saw another tracked military vehicle at the side of the road. I thought that it was going to be a really good opportunity to get a picture of one of these tanks, but it turned out to be a lifting vehicle of some description. As I rolled off, it also gave me a chance to see the trailer, we saw some trailers that were one their way up North to pick up a wide load, but they were only a standard width at the time. The trailers are able to widened, which would allow them to travel without the need for escort vehicles when they aren't carrying any loads.
Pat stopped just up the road, and I pulled in behind him to make sure that everything was OK. It was and he was just having a quick breather and letting me catch up. We set off again, and we rode two abreast and chatted on our way into town. I had noticed that it was a lot hazier today compared to previous days. I didn't think that we would be seeing any pollution from cities up here, so it may have been a trick of the light in the heat, or as a result of some brushfires that we had seen the effects of.
We made our way into Town, and while it was about the size of Elliot, it felt like it had a lot more life, all of the buildings were in good condition, and many of them seemed to be open. Our accommodation was on the North side of Town, so we had to roll all the way through to get there. We kept our eyes open, and still nearly missed the sign, but we did make the turn OK. We followed the dirt track into the Territory Manor, and I could see Phil and Susan on the other side of the complex. We carefully rode over the track, which was a bit treacherous for the skinny road tyres, and the found out that we had to collect our keys from reception.
Pat decided to ride back, but I just legged it. We had a brief chat with one of the new owners. Her ad her family moved over here from Albany in WA about 12 months ago and were now owning and operating the Hotel and Caravan Park. They felt that it had a lot of potential, and they seemed to making the most of it. Some of the other riders pulled in at this stage, so we were all busy grabbing our keys. It was before Noon, so we had had a quick day in the saddle for once. It certainly made a nice change compared to our first 6 days on the bike. I was with Sam again, but our room wasn't yet ready as they were still cleaning it. I put some stuff in the room, and then headed back onto the Lawn to stretch. Everyone else had turned up by this stage, and some others came over to join me in stretching. We were all just doing our own thing.
Lunch was at Noon, it was a nice hot meal and salad which was very enjoyable. As much as I have been enjoying our Sandwiches on the road, it is nice to have a bit of civilization about a lunch for once. There was some Barramundi feeding at 1pm, but I wanted to take a quick wander up into town. There were some statues in one of the parks, as this area is famous for a book, which was later made into a film called "We of the Never Never". The statues were of some of the characters from the book. I will have to dig it out when I get home, as I have never read it, or even heard of it. I am familiar with the expression "Never Never" but that is it.
As it turned out, I did find a reasonably sized supermarket in town, but it was closed. I had forgotten that it was Sunday. The sunscreen that I have will see me through another day, and I will be able to get some in Katherine. I wandered back to the Hotel, pausing to take a picture of a fake termite mound. They also had some information about them, and it seems that Australia, and particularly, the Top End, has more than it's fair share the Termite Species that appear around the world.
I was just in time to catch the start of the Barramundi feeding, and it was a pretty interesting spectacle. They basically have about 2 speeds, doing stuff all, and going flat out after food. The guy was basically baiting them with a fish that was a couple of centimetres long, and you could see the fish watching it. They would slowly move towards it, and then suddenly surge and take the fish off the line. He wasn't using a hook, so the fish were able to get the food easily. The largest fish that he had was about a metre long. He had fair number in the pond, but only 2 made a appearance for the feeding.
After that, pretty much all of us piled into the buses and headed out to Bitter Springs which was why this area was originally on the map. They are warm springs that run all year round, and they are a popular swimming spot. I didn't have any swimmers (having forgotten to pack them), so I didn't go in, but instead just took a walk around the area. Nearly everyone had made the trip out, so it was still pretty much a group activity. Jan was extremely worried about Australia's Dangerous Creatures, and we were doing everything that we could to confirm the worst. As it turned out, the water in the Springs had very little oxygen in it, so it was unable to sustain large fish, this meant that there isn't sufficient food for crocodiles to live there.
After that it was back to the Hotel for some Afternoon Tea and most of the riders then headed out to the Mataranka Homestead. I stayed behind as I wanted to catch up on a few things. Dinner tonight was going to be a roast, but there was an option for Barramundi. As Sue was collecting numbers, I suspect it is because they are still yet to catch it. I think that this is going to be a bit of a highlight meal for the journey.
Tomorrow is only a short day again, just a shade over 100km, and then we get a Rest Day. Some of the riders are doing a Canoe Trip through Katherine Gorge. I am not doing this, but I will be doing it with the group on the Darwin to Broome ride when we stop at Katherine before heading west.
| | |
| --- | --- |
| Distance | 76.64 km |
| Average | 30.25 km/hr |
| Time | 2:31:59 |
| Maximum | 39.38 km/hr |
Images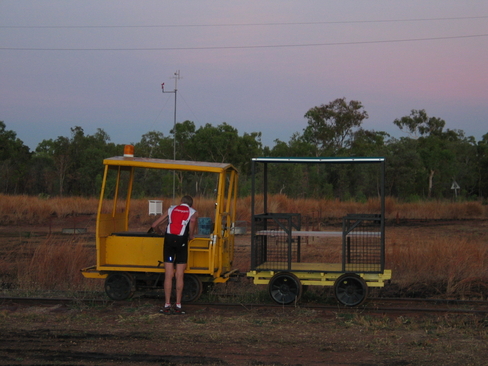 George was trying to work out if it was quicker to take this than ride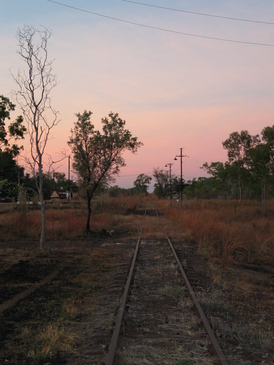 The rail line didn't go very far, the Adelaide to Darwin Link is about 50km west of Larrimah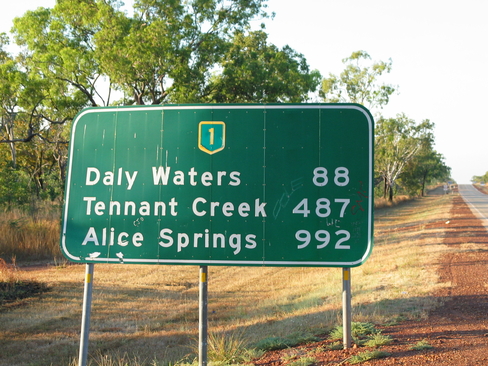 We've come a long way in 6 days...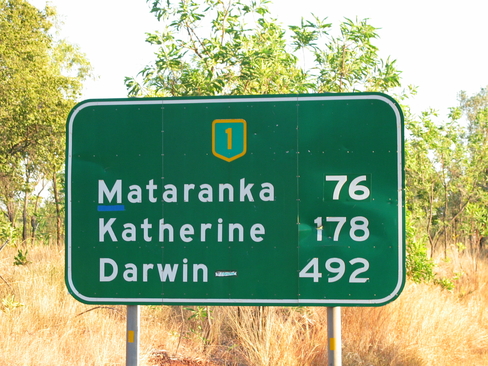 ...but we still have a long way to go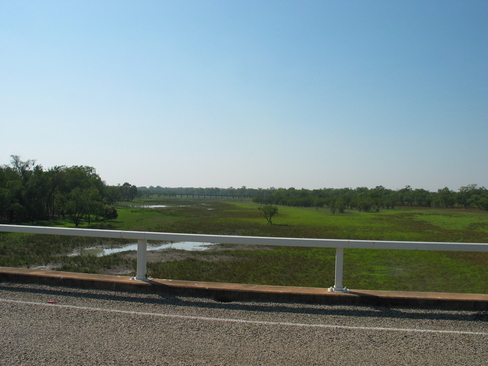 The Ponds shortly after Morning Tea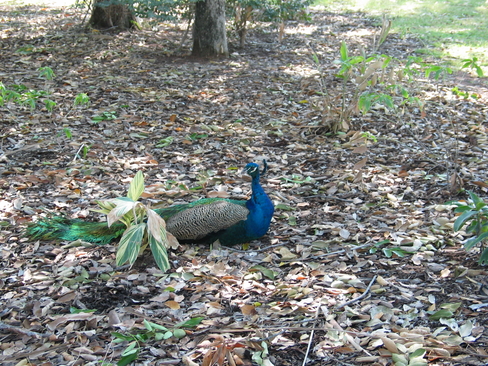 There were several Peacocks and Peahens wandering around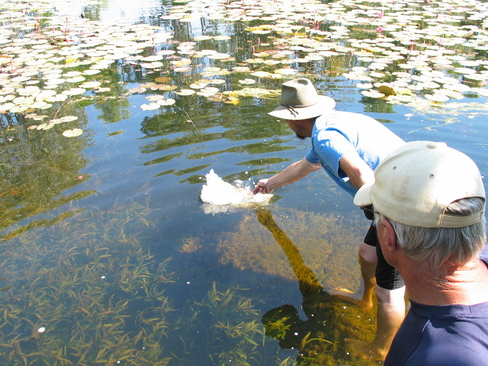 There goes the food you were holding. Barramundi Feeding.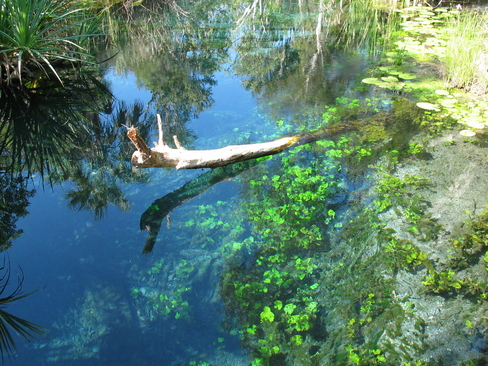 The water was crystal clear, and the minerals in it gave it a spectacular colour.
Click Here
for more Photos from Day 7.