Day 8 - Monday, 15th June 2009 - Mataranka to Katherine
Last nights dinner was as good as we were all hoping it would be. Pretty much everyone had the Barramundi, and it was nicely poached. There was an assortment of roast vegetables and salad, so we still very nearly had a roast dinner. Our dinner conversation was an interesting one, one of those that only cyclists are prepared to discuss. The various ways that we try and stay comfortable while sitting on a saddle for several hours a day. It was an interesting discussion, as while I was only on my second All Trails Ride, I had done other long distance cycling, as had many of the others. It did pretty much conclude what all cyclists eventually learn. Saddle comfort is something that you have to find out what works for you. What you think is a comfortable saddle, isn't comfortable for others and visa versa.
For dessert, we had the choice between Apple Pie or Apple Strudel, at the table I was on, we all opted for the Apple Strudel. John had to go and make a phone call, and there was a strong possibility that his dessert wouldn't have been there by the time he got back. Everyone really enjoyed the stay at Mataranka, and it was really nice to see the green grass. They have bore water there, so they are able to water the lawns all year round so the place looks really fantastic.
Sam and I retired to our room early, and switched the idiot box on. We caught a news update, but we didn't see news that was of major national or international significance. It is nice to detach from the world every now and again, and I do use these trips as a chance to do so. In the end we watched a fair chunk of a Telemovie on the ABC, but it was going a bit long and we had no idea when it finished, so we didn't catch the end.
It seemed that everyone slept really well last night, and I think that it was because we were starting to wind down to the rest day, and also with the knowledge that the bulk of the riding is now over. We only have about 450km from Mataranka to Darwin, and 4 days to cover it. Much lower averages compared to the first couple of days on the ride.
Breakfast was at 7am, with a 7:45-8am departure I was second from last out, with Fiona behind me. I stopped just out of town to take a picture, so I then soft pedalled until she caught up. We had about 55km to cover to Morning Tea, and then another 50km into Katherine to finish the day with. I rode beside Fiona and we chatted away for about an hour or so on the road. It was a really enjoyable morning and she is a really nice person to have along on this trip. She, like Pat and I is also doing the Darwin to Broome ride, so I will have her company for a few more weeks to come yet.
After about an hours riding, we decided to up the pace, so I moved to the front and pushed the pace up. Fiona isn't someone who screams "cyclist" when you look at her, but she was more than capable of sitting on my wheel when I was doing 30km/hr. The only thing that I had difficulty with, is that I am used to having someone sit about 2 inches from my rear wheel, where as Fiona was more comfortable about 2 feet away. Every time I checked our shadows to see where she was in relation to me, I had to avoid the temptation to ease up thinking that I had dropped her.
The only excitement for the morning (if you can call it that) was when a caravan decided that it was too hard to cross to the other side of the road, despite nothing coming, and it was far easier to pass within about 6 inches of us when he overtook us. I know that motorist never want to hit us, but how pathetic must your life be if you want to get a kick out of scaring a couple of cyclists.
We caught up to Rob, but he was unable to stick with us. He has been doing a lot of hard riding on this tour, as he hasn't been able to stick with any of the groups when they catch him up. This means that he has ridden a lot of the distance by himself, without having the benefit of sitting on someone's wheel for shelter from the wind, or being able to ride with others for company.
We ended up catching up to the main pack of cyclists as they had stopped for a break. Pat and Alex weren't in attendance, so I knew that they were up the road. Jan was worried that there was something wrong with her bike as she thought that there was something on the wheel rubbing against the frame. It turned out that it only occurred when she applied the brakes. The Smart Alec in me piped up at that point, and I stated that the brakes were meant to rub against the rim when you pulled them on. When we rode out, I got beside her and tried to get her to demonstrate. Sometimes you can have something stuck on your rim, or damage to your rim, and it creates a noise when you apply the brakes. She tried to replicate it, and it seemed that whatever the issue was, was no longer there.
I got to the front of the pack, and got instructions on their preferred speed and did my best to hold it. It wasn't that far to go to Morning Tea, and we were pretty much on schedule for it. A few kilometres short, I saw something I wanted to take a picture of, so I called out to Jan (who was behind me), if she trusted me, the answer was in the affirmative, so I promptly sat up off the handle bars to get my camera out of my back pocket. I heard Jan say "Oh Shit", and I just smiled and took the picture, before returning the camera to my pocket. As there was virtually no wind, I knew that it was pretty safe to do today. On previous days when we have had strong cross winds, I find it very difficult to ride with no hands.
A bit further up the road, we saw the sign that there was a Rest Area 5km away. When we saw the one for 2km's, Sam decided to try his luck at a Sprint Finish, Jan took off as well, and I invited anyone else to try their luck. Sam and Jan were the only two, and I let them ride as they wanted to, with me trying my best to hold the pace of the pack for as long as possible.
I choose my mark, and with the bike already in the big chain ring, I took off after Sam and Jan. They hadn't managed to get far up the road, so it wasn't long before I shot past them, and into the Rest Area. Pat and Alex were already in and once we were there, Morning Tea was served. I wasn't particularly hungry, so I just had a banana and some other fruit that was on offer. There were some nice Sausage Rolls which had been made up at Mataranka, but I decided to pass on them. When we had been there for about 10 minutes, a guy in a ute pulled up with a Wide Vehicle Ahead sign. He gave us an earful (with a certain amount of strong language) that we shouldn't be there, and they had a wide load that they wanted to bring in there.
Jan yelled back at him, and we had to try and hush her up before the situation got out of hand, the truck did pull in, and we had to move some of our chairs as well as one of the bike racks, but he was able to move past us. The Truck Driver gave us a friendly wave, so I think that it was just his support driver who had the major issue. It is an interesting point, there are dedicated truck parking bays, and they do state no caravans, and no camping, but the reason for this, is that trucks often can't get into the regular Rest Areas, so these dedicated ones are created. This allows a Truck to stop at night, or when they need to take a break, and have a sleep in their cabin. They aren't often used during the day, as the Drivers would prefer to be on the road. Phil wandered up to them and offered them some Morning Tea, but they didn't take them up on his offer. We ended up agreeing that the support driver was right, but he could have made his point without losing his temper. There was a certain amount of humour made at his expense then, with some of the riders pretending to be him and being overly polite in their request for us to move on.
I went out of Morning Tea last, and headed off after the riders up the road, I felt like doing the next 50km a bit quicker. It took me a while, but I caught up to the main bunch, but I kept on going. I didn't do a head count, so I had no idea who was ahead, but I knew that some riders were missing. I could see the other support vehicle up the road, but they were a fair way away at that point. I pressed on, really turning the cranks over, and feeling good on the bike. My cadence was lower than I would normally sit at. As Dave (mechanic) said, because we have been riding so much for the last week, we are starting to get neurologically tied, so we can't control ourselves as well. This means that I can't sustain a high cadence as well as I could at the start of the journey. Not far out of Morning Tea, we crossed over the King River Bridge, this was pretty much dry again, but it would be pretty spectacular in the wet.
On my quest to catch up to the lead riders, I saw a new variation on Road Kill. A Wild Pig. It wasn't a particularly large one, but still something out of the ordinary compared to what we usually see. I also had an unusual truck go past me. There must either be a V8 race up here, or there is a team up here returning from a race. This Semi was all decked out in their team livery, and the truck did remind me of the trucks from the Pixar movie "Cars". I was slowly making ground on the riders ahead of me, but the gap wasn't going down quickly. I got lucky when there were two short climbs. They weren't steep or long, but I really pushed the pace going up them, so I was able to eat into their gap.
When I finally caught up, it was Pat, Alex and Sammy. Sam has really been riding well this ride. He has gone out a couple of times with Pat, and they were pushing along a good pace, and they had been since Morning Tea. I joined in, and by this stage we had about 20km to go to Katherine. The distance signs were reasonable common, and I have been a bit lax in photographing every one of them. On The Rock Ride, they were few and far between, but on some parts of this ride, we have seen them every few kilometres.
The pace in the front group was pretty high, it wasn't uncommon for us to be pushing 40km/hr or so on the flat. I was on the front with Pat, and it was certainly hurting me. Luckily for me, the toll was starting to show on Sam, so we had to ease off the pace. We went past a turn off to an Air Force base, but unlike the previous ones which were old WWII sites, this one seemed to be operational. It wasn't too much further into town, and we soon had two lanes, this still didn't stop a motorist wanting to occupy the same lane as us though. There was an abundance of Black Cockatoos around, and we disturbed several flocks from the trees. When they took off, you could see the spectacular red in the tale of the male. They are a big loud bird too, so you certainly knew when they were around.
Dave (mechanic) left us to our own devices once we were in Katherine, as he wanted to return to the main bunch to assist them as well. We pretty much knew where we were going, and we had to turn right at our first set of lights since Tennant Creek (if you can call the pedestrian crossing traffic lights). We pulled into the Hotel pretty much smack on noon, and we were told to get our keys from reception and lunch was at 1pm. I got lucky tonight, as there is an uneven number of male riders who opted for Twin Share. So I have a room to myself for the next two nights. The room wasn't ready, so I went into the pool area as there was some nice grass to stretch on.
There wasn't any in the shade, so I had to stretch in the sun, not a big deal, but it was getting pretty warm. Pat and Alex made use of the pool, and once I had finished stretching, I stripped off my jersey and dove in just in my nix. Pat and Alex commented that the water was cold, but it was really refreshing too me. I did a couple of quick laps before getting out and seeing if my room was ready. A few minutes later it was, so I was in, and having a shower.
Lunch was delayed, but I joined several of the other riders who had already decided that it was late enough to start drinking, and I must admit that I felt the same way. Lunch was a nice light pasta dish and salad. Sue checked with me, that while I won't be canoeing with the group tomorrow, if I would still be interested in going out to the National Park. This was exactly what I had in mind, so it was one less thing that I have to sort out.
After lunch, I went up the road to the Laundromat to do my washing, and I may make this my last wash until Darwin. I have only 3 sets of cycling kit, and only 3 days of riding still to go. It is certainly very tempting. After getting my laundry on, I went in search of more sunscreen and some swimmers. When I was on Cycle Queensland in 2006, I also forgot to bring my swimmers along, so I had to buy some on that trip as well. I did a repeat on this ride. It is annoying, but I wasn't after an expensive pair, so it didn't break the bank.
We have dinner provided as part of the trip tonight, as well as breakfast tomorrow. Our lunch and dinner tomorrow are at our own cost, but we usually all find somewhere and go as a group. The weather forecast is for the maximum temperature to come down a few degrees which will be a welcome change. 32 degrees in mid June feels very strange to someone who is normally used to temperatures in the high teens or low 20's. Considering the distances that we have covered in the last 8 days, everyone on this trip is very glad of finally making it to the Rest Day, but having reached Katherine, it does also mean that we only have another 3 days of cycling before this fantastic journey comes to an end in Darwin.
| | |
| --- | --- |
| Distance | 106.19 km |
| Average | 29.05 km/hr |
| Time | 3:39:17 |
| Maximum | 50.81 km/hr |
Images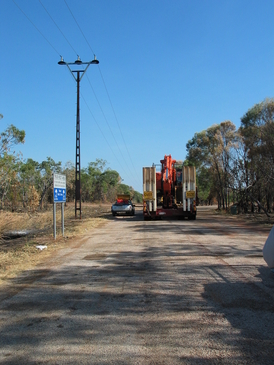 The wide load that wanted to use the Truck Parking Area at Morning Tea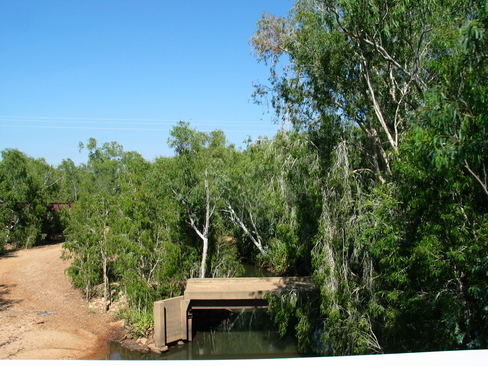 Looking over the King Bridge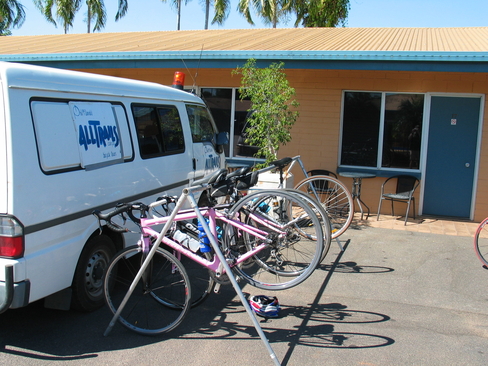 The bikes are probably looking forward to a break as much as we are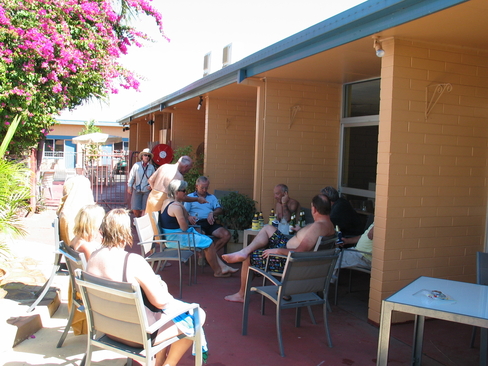 This is before lunch, didn't take us long to start winding down.
Click Here
for more Photos from Day 8.