Day 1 - Saturday, 4th September 2004 - Miriam Vale to Agnes Water
The day started early, very early. I had to get up at about 11:45pm Friday Night so my Uncle could get me to Nerang Railway Station for the bus to Miriam Vale which was leaving at 12:45am. I did my best to catch up on sleep, but not having had much practice at sleeping in moving vehicles, I didn't have much luck. I did manage to doze some so it wasn't a completely wasted effort. We stopped at Gympie (last years finish) for a brief stop over, before continuing onto Childers to pick up a few more cyclists.
We landed at Miriam Vale at about 7:30am, our expected arrival time. Registration wasn't expected to be open until 8am so I grabbed some breakfast from the local Lions Club. Once I had checked in and tagged myself I was able to collect my bike. Having boxed it with the real wheel in place, I was able to reassemble it much quicker and easier than last year. Once it was all together, I got changed into my cycling gear and went for a bit of a test ride.
As I still had the better part of 2 hours before the mass start at 11am I cruised around town a bit more as well as catching with a few of the cyclists who I hadn't seen since either Big Ride this year, or Cycle Queensland last year. We got away at about 11am exactly after the usual dignitaries speeches. I was quickly near the front of the group. I was working to try and bridge to the lead group and I soon was getting my own group built as we caught cyclists. The problem was that the pace was quite hard and the group slowly lost members and before too long only I was left.
I kept going but I soon realised that I wouldn't catch the lead group. I stopped to take a few pictures and I was passed by a small group as a consequence. I soon caught up to them but quickly passed them and kept going. It was interesting looking around, the ground up here is very dry, the only green was from the eucalypt trees. Most of the countryside was eucalypt scrub with very little sign of human habitation, a very different ride compared to Big Ride earlier this year. As I was riding without the CamelBak (Hydration System) I am carrying the camera in my back pocket, so I can take pictures on the move.
The pack behind me soon managed to catch me as they had a tandem up front and were making the most of it. I joined on behind them and followed them all the way to lunch. As I had made lunch at about 12:15pm I ate it there before moving on. I left with another cyclist and we soon caught a third so we had our own mini pack going, each of us taking our turns up front. Although the terrain was flat, there was a bit of a nasty head wind that made the riding a bit more difficult. It was good cresting the last hill and finally viewing the ocean, knowing the end was in sight. As I turned one of the last corners I was told I was the eight rider, I am not sure how accurate that was, but I was definaetly one of the early ones. So after having set up tent, had a shower and written this down, I think it is time to go looking for the pub.
| | |
| --- | --- |
| Distance | 56.75 km |
| Average | 30.01 km/hr |
| Time | 1:53:29 |
| Maximum | 46.00 km/hr |
Images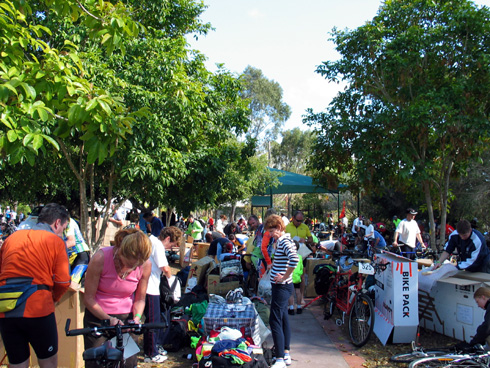 A view of all the cyclists getting their bikes put back together after the trip.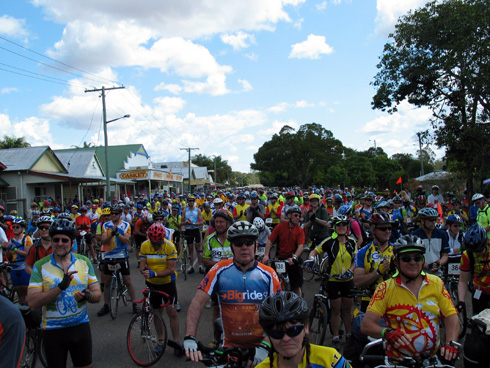 Cyclists grouping for the mass start. There were about 850 cyclists on the trip this year.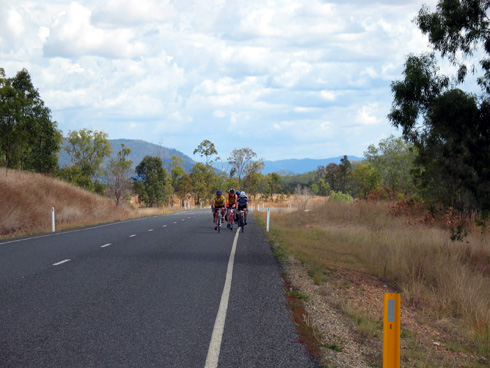 This is a small group of cyclists, by riding in a bunch those at the back are able to get a break from the wind.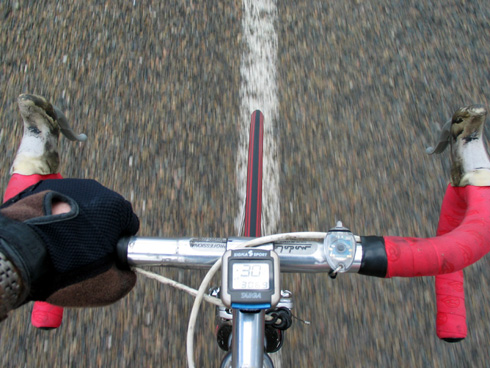 The cockpit. Yes I am doing 30km/hr when I took this picture.
Click Here
for more Photos from Day 1.