Day 2 - Sunday, 5th September 2004 - Agnes Water to Rosedale
Unfortunately, the sore throat that I had coming onto this ride got worse overnight, I think going to the pub which meant a lot of talking didn't help it much. I crashed early because of my throat and also due to tiredness from the bus trip down.
I left at about 7am and I was not the first cyclist out. I caught up to a few early on, but I was soon riding by myself. It was an amazing day cycling today. The weather was perfect, clear blue sky, still and not too warm. The country side again as very dry and was mainly eucalypt scrub again. It is an interesting area as you would not guess that you are within a few kilometres of the coast judging by the countryside. To my inexpert eye it seemed very similar to the Yass to Harden leg last year.
I seemed to be suffering as I wasn't doing a very good pace, but I soon realised that I was just bludging. I picked up the pace and I started to feel better, I stopped at a water point for a bit of a breather and to top up my bottles. Just as I left another cyclist went past and I jumped on his wheel. We started working together and we made good time to lunch. We stopped at lunch long enough to grab the food and eat some of the snacks. By this time it was about 8:15am and we had covered about half of the distance.
We kept on going and again Steve (the other cyclist) and I kept working together, after a while though the pace had started to take its toll and I said that I would drop off. Steve was kind enough to ease up though and we instead rode side by side and chatted. While not the best for my throat it was a lot more sociable.
We landed at Afternoon Tea at about 9:05am and had some of the fantastic food on offer. At Afternoon Tea we learnt that we were the fist two cyclists through which surprised both of us. We only had about 14km to go at this point so we set a relatively easy pace and landed at Rosedale at about 9:45am.
After hanging around at camp for a while which was barely set up, two more cyclists showed up. We took a roll into town to have a few before the luggage truck arrived only to find that the pub wasn't open. Instead we went to the local markets and grabbed some cold drinks. By this time the luggage truck had arrived, so we returned to camp and helped unload it. So again I am completely setup before noon and just waiting for the shower trucks. First though I am going to see if I can find something for my throat.
| | |
| --- | --- |
| Distance | 67.54 km |
| Average | 28.03 km/hr |
| Time | 2:24:36 |
| Maximum | 55.00 km/hr |
Images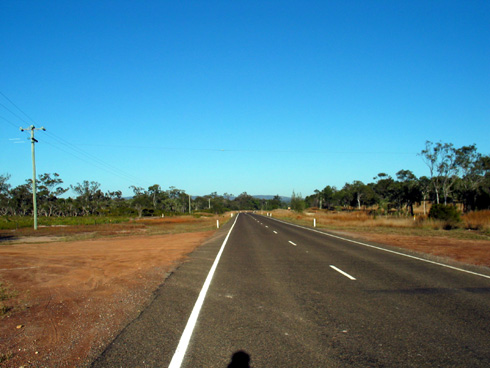 The view of the road ahead, this was taken not far from Agnes Water.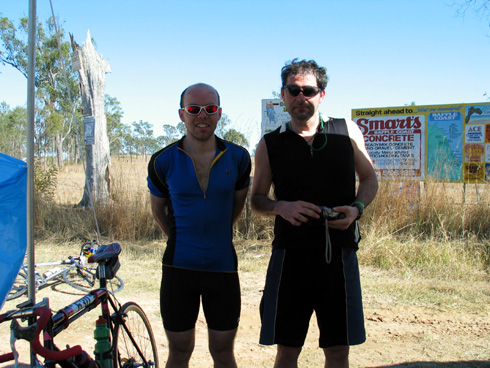 Steve and I at the afternoon tea, this was run by a community group from Rosedale.
Click Here
for more Photos from Day 2.