Day 3 - Monday, 6th September 2004 - Rosedale to Bargara
The second full day of riding and the last before the rest day. Today was expecting to be flat again, but it is longer than Sunday at about 78km. Again I was up early and I was packed before breakfast. There is something really wrong with packing up a tent wet. I was feeling pretty average again this morning, I had practically lost my voice, so it makes the socially side really difficult.
After breakfast I refilled my water bottles and rolled out of camp, a few minutes after 7am. I soon caught the cyclists ahead of me and was soon leading the riders. It was a cool start, but it was promising to warm up later. The countryside was again amazing, it was more of a eucalypt forest than we have had in the last two days and it was beautiful riding through it. We were warned of cane trucks passing us and I did see a few early on, but not much evidence of sugar cane.
I made morning tea at about 8am but just kept going. I was passed by a cyclists soon after, but I was happy at my own pace, as we approached lunch sugar cane farms were more in evidence and there were plenty of them around. I pulled into lunch at about 9:15am. Lunch today was going to be a hamburger of some description so it wasn't anywhere near ready. I hung around for a bit and Steve, the cyclist from yesterday came in. We decided not to hang around and we soon left lunch behind.
Steve was kind enough to lead me out to Afternoon tea, so I drafted him all the way there. Again Sugar Cane was the obvious farming product, at one point the ground was flat enough that you could see a long way all around, You could see there were a lot of Cane farms all around, all in various states of harvest. The main transport for the cane is on narrow gage railway so every now and again we had to cross over them. We turned into Bundaberg and knew that Afternoon Tea wasn't far away, first though we had to cross over two bridges, neither had much of a shoulder, we were told that the first was to be done under escort, but we were early enough that we were waved through. We just rode two abreast to ensure that no one tried to overtake us. The second bridge was a lot shorter and wasn't a problem.
Afternoon Tea was fantastic, all cakes were 50c each and the same for tea and coffee. At that price, I could see them selling out. After Afternoon Tea, we left and I took the lead, it was only about 13km to camp so I knew I could push myself. We went past the Bundaberg Rum Distillery as well as the Ginger Beer Factory. After that we left Bundaberg behind and we were in the semi rural area between Bundaberg and Bagara. It was still fairly flat but a head wind was starting to pick up. The main farming product was again, you guessed it, Sugar Cane.
Towards the end I started to flag and Steve took the lead again. We hit Bagara and just before camp we passed the sign truck that normally signs the route. Again Steve and I were the first two in and we landed at about 10:10am. Nothing was hear so we hung around till the luggage truck appeared. We helped unpack it and once my tent was set up, I went into town to see a Doctor, so armed with a script for antibiotics I hope to be much improved tomorrow.
| | |
| --- | --- |
| Distance | 78.11 km |
| Average | 29.06 km/hr |
| Time | 2:41:17 |
| Maximum | 49.00 km/hr |
Images
The first of many canefields that I rode past today.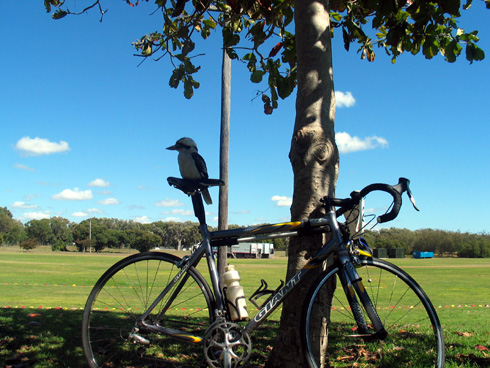 A kookaburra pearched on the saddle of Steves bike at Bagara.
Click Here
for more Photos from Day 3.