Day 5 - Wednesday, 8th September 2004 - Bargara to Woodgate
After my first really good nights sleep as I am finally getting over this sore throat, I was up at my normal time and packed before breakfast. They were pushing to get everyone out of camp early today and it showed when I went to put my bags on the truck, there was quite a queue and my bags were further back than they normally would be. There was a mini mass start this morning as there was a small group waiting to get going.
We got away at about 7am and we had a few twists and turns through some back streets. There was a slight variation to the route and this added a few extra kilometres. Soon after I started I joined three other riders who were going pretty well, I jumped on and as there was a bit of a tail wind along the flats we were pushing about 40km/hr. The countryside again was very much cane farming and we kept crossing tram lines that they use to cart the cane to the sugar mill. We kept up the pace all the way to lunch, and as I was feeling better I wasn't shy about taking my turns at the front. At one point as we neared lunch, my average was approaching 35km/hr, I think it got to about 34.9km/hr before we hit a few undulations that slowed us down.
We made lunch at about 8:45am, not too bad for about 56km. While I was at lunch a few more riders came in, so we weren't the only ones riding in fast. On leaving lunch I hooked up with Steve and John, as we knew that despite only 19km remaining, most of it was going to be a head wind. The only problem was I couldn't quite hang on so I was dropped after only a few kilometres. Although it wasn't the easiest ride I was feeling a lot stronger compared to previous days so I still did pretty well. The run into Woodgate was through similar countryside that we saw around Agnes Water, eucalypt scrub. The wind when I went through was about a North Easter, which is what was getting everyone to lunch so quick. It was forecast to be become an Easterly later in the day. There was no shelter or respite from the wind when I went through but I managed pretty well. I could see some people later in the day would suffer. I ended up at camp at about 9:40am.
As I am getting used to by now, there was nothing there so those of us claimed a space in the shade for our tents and then hoped that we could keep them before we got our bags. I helped unload the truck until I got my bags and then set up my tent. Once set up the beach was too good to resist so I strolled down for a quick dip. You could tell that today was a quick day as I think about half to three quarters of the bags had gone by the time I came back (about 12:30pm). Tomorrow is going to be a different story, it is about 90km and we are going to be hitting some hills as well. I think tomorrow is going to be a shock to a lot of people here, I just hope the North Easter is blowing when we leave.
| | |
| --- | --- |
| Distance | 79.03 km |
| Average | 33.12 km/hr |
| Time | 2:23:10 |
| Maximum | 56.00 km/hr |
Images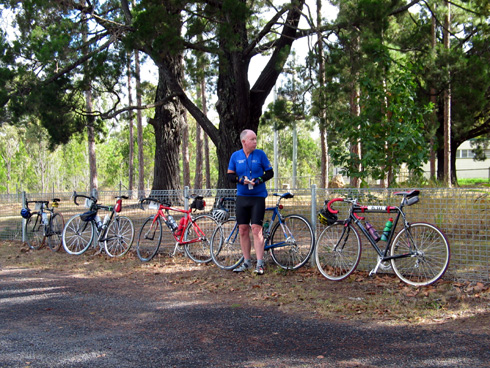 The early bikes at Lunch. John Lindsay is the cyclist.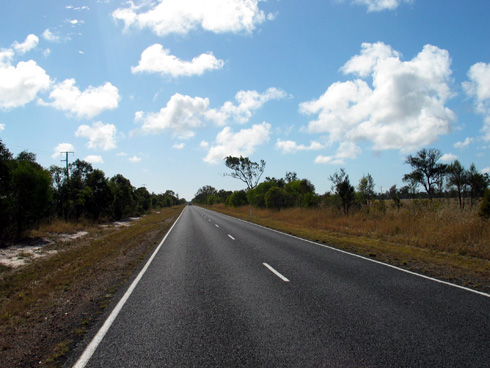 The road ahead. This was heading towards Woodgate. There was no shelter from the wind on this road.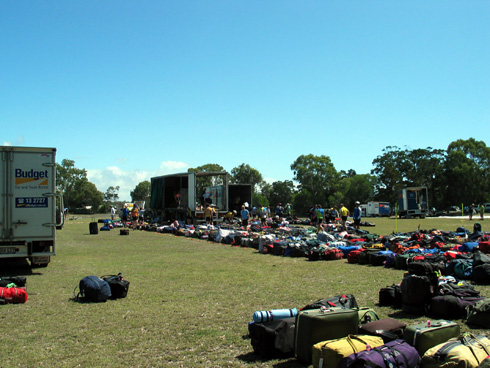 There are still a few bags on the truck, but this is a large number of them.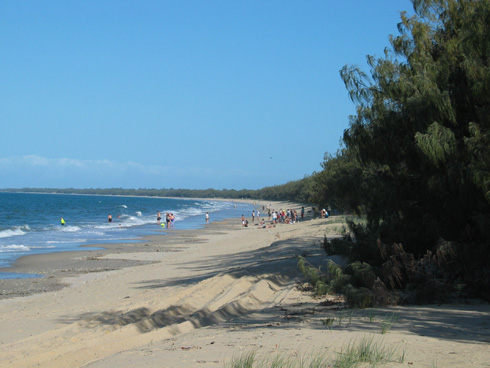 A lot of cyclists were enjoying the beach today.
Click Here
for more Photos from Day 5.