Day 8 - Saturday, 11th September 2004 - Gayndah to Goomeri
What a day. I f you wanted perfect weather to ride a century, today would be a difficult day to best as the perfect example. Today I was packed up surprising early and so I got to the front gate at about 6:35am. People were leaving and I asked the Volly on the gate. I was told that the ride organisers were prepared to let people go early as they would prefer people to be on the route and cycling than hanging around due to the 100km day. I chatted to a St Johns guy for about 10 min before leaving myself at about 6:45am.
It was an interesting start as we had the reverse of yesterdays route for the first 15km. The local Mayor was about 5km out of town cheering us on. He did the same yesterday and it gave a lot of cyclists a bit of a boost. The funny thing was one sign in town said Goomeri 100km, and the next said 101km.
I passed one of the Clarke families, they were on the ride last year. It is Mum, with child on Trailabike, and Dad with kid on Trailabike, with kid in Trailer. It makes an interesting sight. I went straight past morning tea and found that I was then riding better. I continued to chase riders down, but but this stage they were few and far between. I caught up to two guys who I meet last year and I joined up with them. We were only keeping a steady pace, but I wasn't interested in going super fast, I was happy to keep that steady speed. We then caught up to Julie who I also meet last year and all three of us knew her. We encouraged her to join in and just sit at the back. She was happy to do that and it allowed her to travel faster.
The countryside was again amazing. It seemed at times that we were cycling through a bit of a valley as there were hills on either side but never seemed to cross over them. We kept up the steady pace into lunch, where for once they were ready. I hung around at lunch for a while and left when Own and Basil did, the guys I rode in with. Basil was taking a while to get started again, so I broke away as I was feeling really good.
I was basically riding solo, but there were a few interesting hills, only short but they really got the blood pumping. The view was also amazing from the crest of some of the climbs. Afternoon Tea was about 18km after Lunch so I decided not to stop. I caught Julie just before hand and she was a bit worried about the hills we could see ahead. I powered up them and caught two more riders on the way. From here it was about 15km to Goomeri and the route just kept getting better. It was rolling, it was winding and the scenery was fantastic. All of this was on good quality roads as well. I kept feeling better as well as I was attacking most of the hills and really pushing myself.
I finally rolled into Goomeri at about 10:50am. I saw a rider at a cafe and so I rolled over and joined him. I was about the third rider in again. As other riders came in we called them over and we soon had a real crowd happening. Made me really think of my regular Saturday morning Coffee Shop rides. I ended up at camp at about 11:30am, just in time to see the last bags come of the truck. Today was one of the days that I enjoyed the most in the saddle, it was the longest day but a really enjoyable one.
| | |
| --- | --- |
| Distance | 104.11 km |
| Average | 28.29 km/hr |
| Time | 3:40:46 |
| Maximum | 54.00 km/hr |
Images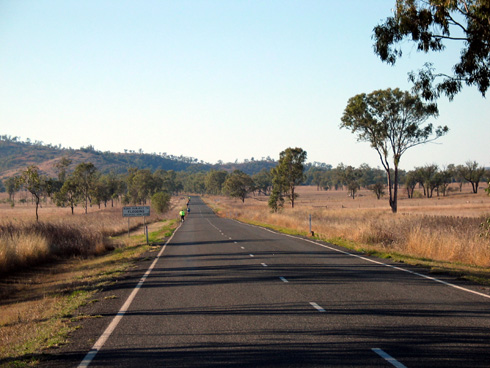 Another shot of the road ahead.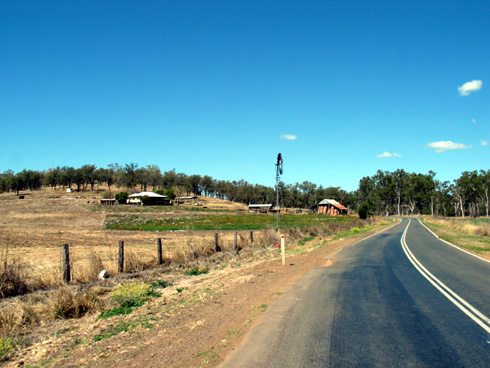 This small farmsted was about 2 kilometers outside of Goomeri.
Click Here
for more Photos from Day 8.