Day 9 - Sunday, 12th September 2004 - Goomeri to Kilkivan
Last night they announced next years ride at the briefing. Goondiwindi to the Gold Coast. So it looks like they are following NSWs lead and giving a downhill route. A few people who know the area did say that there were a few hills along the ways so it sounds like a lot of fun again. We had the C & Q party as well last night and because I had recovered from ill health I made an appearance. The C & Q party requires you to go as or in something beginning with C or Q. I took the lazy option and went as a Cheetham. Some of the costume ideas were very clever though.
This morning breakfast was at 6:30am rather than the normal 6am. Subsequently the route opened at 7:30am, 30 min later and they were asking the slower riders to leave earlier and the faster riders later as there was a mass finish at Kilkivan, a first for Cycle Queensland. Although I tried to sleep in, my body decided otherwise. I didn't pack up the tent straight away as I wanted it to dry out a bit first. Even so I was still fully packed and ready to go at about 7:15am.
I wandered over to the gate, but had to spend about 5min clearing all of the gunk out of my cleats so I could clip into the bike. I ended up rolling out at about 7:25am. The route had a slight variation, but it wasn't going to add extra distance. I was soon passing the cyclists who were ahead of me and just having a great time. There were some great hills as well, both up and down that made it a lot more fun. I soon noticed a rather large grey cloud passing over and I was a bit worried that I was going to get rained on. Luckily it didn't eventuate, what did develop though was a strong breeze, that was, depending on which way the road travelled was a head wind, cross wind, or everyone's favourite, a tail wind.
I was really feeling strong on the bike so I was really attacking the hills, and some of the views from the top were pretty amazing. However as today was only 30km it wasn't going to last and I soon made the golf course which was the staging area for the mass finish. I was about an hour early, but that just gave me a chance to do some last minute catch up with the people I had met. When we amassed for the finish I cut across the ground to end up near the front and we pretty much rolled out on time at 9:30am. It was good fun going through town en mass, which I hadn't done since Big Ride 2003.
As I crossed the finish line I did a Petacchi style salute, but I was indicating 9 days rather than 9 stage wins. I had organised for a Bike Box at the finish which I collected and I then boxed up the bike for the return journey home. My Aunt and Uncle had showed up by this time as they were kindly giving me a lift back to their place. I went around and grabbed peoples details so I could keep in touch before next year which I think I will be doing.
Again I had so much fun that I can't see any reason as to why I should miss it. Although this years route was very flat it was still a lot of fun and again I recommend these riders to anyone who enjoys cycling and meeting other people. So as I say always, I hope to see you next year.
| | |
| --- | --- |
| Distance | 29.24 km |
| Average | 32.48 km/hr |
| Time | 0:54:03 |
| Maximum | 63.00 km/hr |
Total
| | |
| --- | --- |
| Distance | 565.69 km |
| Average | 29.66 km/hr |
| Time | 19:04:27 |
| Maximum | 63.00 km/hr |
Images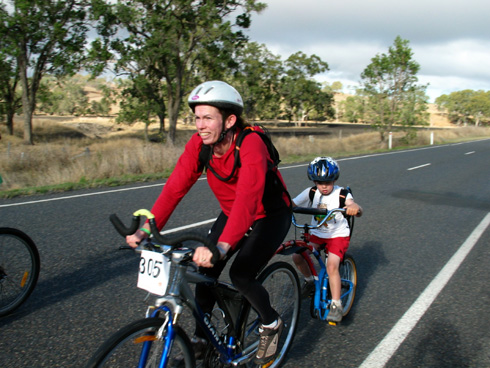 Half of the Clark family.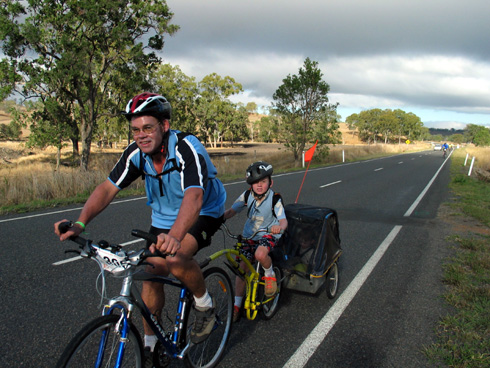 The rest of the Clark family.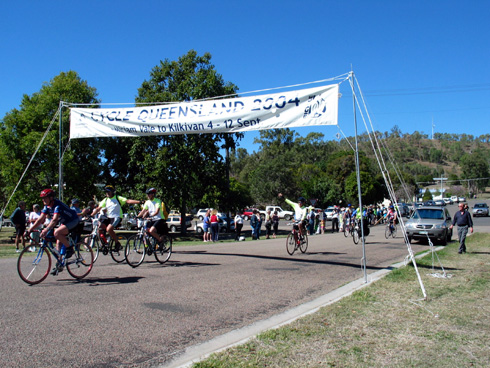 Cyclists crossing the finish line in Kilkivan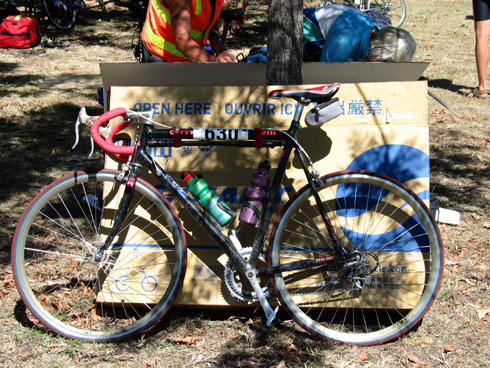 The bike that got me from Start to Finish.
Click Here
for more Photos from Day 9.